Should you buy an Apple Watch?
The prices on some of the older models are falling – but should you really buy an Apple Watch this year?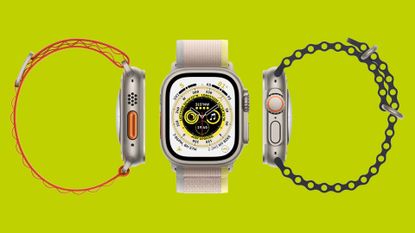 (Image credit: Apple)
Thinking about getting an Apple Watch? There are three key models you need to consider: the Apple Watch SE, the Apple Watch Series 8 and the Apple Watch Ultra. You can think of them as the cheaper one, the "normal" one and the hardcore one with a bunch of feature you probably don't need. They are among some of the best fitness trackers that we've ever tested, but they're not exactly cheap. The basic Apple Watch SE will cost you $249, while the Ultra comes in at $799. For context, something basic like a Fitbit Luxe would cost you less than $80.
You can also find the older Apple Watch Series 7 models on third-party retailer sites for around $300. Apple doesn't manufacture these models anymore, so you won't be able to get them through the company's online shop, but places like Target and Best Buy sell them for discounted rates.
Before you buy, it's worth considering whether or not you really need to upgrade to the latest model. We're going to take a look at what separates these watches, how much money you might be able to get off their original prices during the holiday sales, and outline a couple of reasons you might want to hold off from buying them just yet.
Best Apple Watch deals right now
Prices and discounts
Apple's Watch SE model starts at a relatively low $249, while the basic Apple Watch Series 8 costs $399. If you opt for a Series 8 model that uses either an aluminum casing or a stainless steel one, you'll have to pay a little more (around $699).
This higher cost shows the Apple Watch Ultra is perhaps a better deal than you might think. It starts at $799 and has a Titanium case, which is typically a more expensive material than stainless steel in wearables.
During sales periods, we expect to see reductions of around $50 - $60 on current gen models, like the Apple Watch 8. Anything bigger than this represents a pretty good discount.
We might see bigger price crashes on the Apple Watch 7. As outlined above, this has been discontinued by Apple, but is available from third-party retailers. As it shares many similar features with the Apple Watch 8, it might be a better option if you're trying to spend a little less.
For context, we've previously seen the Apple Watch 7 retail for as low as $283. Anything below this would be a standout deal (and offer a significant saving over the $399 Apple Watch Series 8!)
Health and wellness features
What separates the three current generation Apple Watch models on the health and fitness side? Let's start with the top one and work our way down.
The Apple Watch Ultra is an adventure-style watch, the first in the series to deserve that title. Highlights include multi-band GPS, which offers better tracking accuracy in areas with weaker GPS signal, and a depth gauge for divers. Apple says you can go diving at a depth of up to 40m, thanks to the watch's 10ATM water resistance.
You lose these fringe case benefits in the Apple Watch Series 8. But it still has excellent 5ATM water resistance, location tracking via GPS, blood oxygenation readings, a temperature sensor, 24/7 heart rate readings and ECG. That last feature stands for echocardiogram, a way to check for signs of heart arrhythmia.
The Apple Watch Series 7 doesn't have the temperature sensor and it lacks the crash detector of the newer Series 8 model, but it packs in all the other features.
Stepping down to the Apple Watch SE, we lose the ECG and the blood oxygenation stats. And the temperature sensor introduced in the Watch Series 8, which can estimate ovulation times each month to aid cycle tracking.
However, not everyone needs to care about these features, particularly if you want an Apple Watch primarily to track exercise and for everyday smartwatch fun. If that's the case, you might be better served by a really basic, budget fitness tracker.
Smartwatch features
All three current-gen Apple Watch models run the same core software. They have the same processor too, an Apple S8, so should be equally responsive. The Series 7 runs on the older S7 processor, although most reports indicate that it's still fairly fast.
There are some important differences to note between the more expensive models and the Watch SE, though. The Watch SE has no always-on display mode. Where the Series 8, Series 7 and Ultra can display the time all day if you like, the Watch SE only lights up when you flick your wrist around or actually interact with the thing. In our opinion, "always-on" makes wearables far more enjoyable to use as actual watches.
If you splash out on an Ultra, screen brightness doubles too, from an impressive 1000 nits in the Watch SE and Watch Series 8 to a borderline ridiculous 2000 nits. Considering how bright 1000 nits is, you may only appreciate the Ultra extra if you find yourself walking across a snowy wilderness in blazing sunshine. But, hey, it is an adventure-ready watch.
Finishing up on features, the Apple Watch Ultra has a much better speaker than the other two, in order to facilitate the 86-decibel emergency siren (we told you – it really is an adventure companion).
Reliability and performance
Battery life is the clearest way the Apple Watch Ultra outperforms the other watches. It is rated for 36 hours of use, double that of the SE and Series 8. That said, we've always found Apple's battery predications to be a little conservative, as we can easily make the Apple Series 8 last a day and a few hours.
The Apple Watch Ultra will also have an edge for GPS accuracy, as it has Multi-Band GPS. This allows for more accurate location tracking, and better maps of your runs and walks.
However, we have never had any significant issues with the last few generations of Apple Watch. The benefits of Multi-Band GPS are going to be most obvious when you head out to areas where signal is poor. Your local park is unlikely to confuse the Apple Watch SE's regular GPS.
All Apple watches also have excellent heart rate sensors, able to produce results very similar to those of a dedicated heart rate chest strap. Runners looking do a couch-to-5K program, or train for a marathon, are likely to be happy with any of these watches — if they can stomach the relatively short battery life.
Verdict
The Apple Watch SE might be our number one recommendation here, were it not for one missing feature: an always-on display. Not everyone needs ECG or blood oxygen readings, but all can appreciate how much better an Apple Watch Series 8 works as a plain old watch than the affordable SE model.
Apple's Watch Ultra mostly brings benefits for adventuring types: those who snorkel a lot or dive, and folks who want to be able to go away for weekends and actually see their watch last.
Finally, if you want most of the Apple Watch 8 features but don't fancy the price, have a look around at prices on the older Apple Watch 7 model. There might be some large discounts during this year's sales.
We'd only really recommend splashing out on the latest Series 8 model if there are some wild deals around – or if you're desperate for the temperature tracking and crash detection features.
Get the Fit&Well Newsletter
Start your week with achievable workout ideas, health tips and wellbeing advice in your inbox.
Andrew is a freelance contributor to Fit&Well. He has written about health and fitness for more than a decade, specializing in consumer tech. When not testing fitness tech for Fit&Well he writes about fitness for Forbes and contributes to publications including WIRED, TechRadar, Stuff, Trusted Reviews and others. Andrew runs to keep fit, and can often be round jogging around the parks of South London with several wearables and a heart rate strap attached. He also enjoys indoor cycling, using a turbo trainer and platforms like Zwift to get some kilometers in while avoiding London's busy streets.