Turbo trainer vs exercise bike: which home cardio machine is right for me?
Can't decide between a turbo trainer and an exercise bike? Here are the things you need to consider before getting either (or both)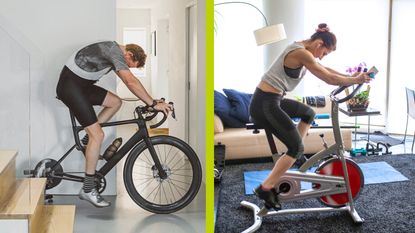 (Image credit: Getty Images)
Indoor cycling has come a long way and nowadays, you can train almost the same way indoors as you can on the road. Better still, you even have options on how you want to train: you can give your glutes a beating by mounting your bike on a turbo trainer or spin away on a stationary bike.
Both types of training have seen a surge in popularity in the last few years and especially in the last 18 months, for obvious reasons. No wonder indoor cycling on one of the best exercise bikes is so popular, it's one of the best ways to drop a few pounds all the while improving cardiovascular health.
One study on the topic concluded by saying that "indoor cycling associated with a restricted diet is an excellent option in controlling obesity", which is really all we can ask from any type of workout.
There isn't a better time to find yourself a piece of indoor gym equipment like a
There are a few key differences between riding a turbo and pedalling away on an exercise bike, as detailed below. To make sure you choose the right one for you, we listed all the pros and cons of both turbo trainers and exercise bikes. Let's begin!
Reasons to use turbo trainers
Turbo trainers come in many shapes and sizes but one thing is for sure: most turbo trainers are way smaller than the best exercise bikes and therefore can be hidden away more easily when not in use. Most turbos can be folded up and stored out of sight when not in use which is not something you can say about hefty exercise bikes.
Another benefit of turbos, smart turbo trainers to be precise, is that they enable cyclists to ride in 'virtual worlds' using apps like Zwift and Sufferfest, which is more fun than just riding your bike while staring at the wall. Smart turbos automatically adjust incline and resistance as the terrain changes on the screen, making it feel like you're actually riding those virtual hills. For the best experience, complete your turbo trainer setup with a smart TV and a fan.
Reasons to avoid turbo trainers
As amazing as smart turbo trainers are, unfortunately, they are also very expensive. For example, the recommended retail price of Tacx's best smart turbo trainer, the Tacx NEO 2T Smart Trainer, is over £1,000 in the UK, plus you will also need a bike to mount on it, punching an even bigger hole in the family budget.
Not to mention, the actual mounting process is a bit cumbersome too: you need to take the rear wheel off and mount the frame on the trainer, creating an absolute mess in the process. Some models do allow bikes to be mounted with the rear wheel on, but these will wear off the tyre quicker.
Reasons to use an exercise bike
Exercise bikes are less of a fiddle to set up compared to turbo trainers, and can be used all year round without having to get your hands covered in bike grease every time you want to give it a go. And while turbo trainers are geared toward pro cyclists – or people who think they are pro – exercise bikes are accessible for most people.
Better still, premium studio-style bikes such as the Peloton Bike+ or the NordicTrack S15i Studio Cycle, can effectively recreate the sensation of attending spinning classes, right in your living room, thanks to their massive displays and a range of live and on-demand classes available to their users.
Another benefit of exercise bikes is that they tend to be more stable than standard bikes mounted on turbos. This is true to almost all exercise bikes but especially the recumbent variety, which is also the best option for people with joint issues. That said, if you're concerned about your joints, please consult a medical professional before you order your new recumbent bike.
Reasons to avoid exercise bikes
Although they are generally not as big as treadmills, exercise bikes, given their larger frame, will take centre stage in any room they're placed in. They can't be folded away and pushed under the sofa when not in use, sadly, so make sure you check the dimensions before you get one.
They are not only big but some higher-end exercise bikes also cost a lot of money. Peloton is infamous for its expensive bikes, coupled with an expensive app subscription fee. That said, not all exercise bikes are expensive: Decathlon's Basic Exercise Bike 100 only costs £250 and will probably not fall apart after a couple of uses either.
Turbo trainer vs exercise bike: verdict
Should you get a turbo trainer or an exercise bike?
If you already happen to have a road bike or an MTB and are trying to get ready for a race, we would argue that a turbo trainer is a better option for you. During summer months, you can ride the bike outdoors as and when it pleases you, and switch to indoor training using the same bike during the colder months without losing your training momentum.
On the other hand, stationary bikes are a great choice for more casual riders and for people who like spinning classes. Considering the accessible nature of exercise bikes, they are also a better choice for less tech savvy people and those who prefer to ride more and tinker with gears less.
Get the Fit&Well Newsletter
Start your week with achievable workout ideas, health tips and wellbeing advice in your inbox.
Matt has been writing about fitness for a number of years across various Future titles including Fit&Well and T3. PR reps describe him as 'nice guy' but his family members beg to differ. He's always looking for new ways to improve his overall fitness and wellbeing, and is particularly fond of home workout - mainly lifting weights. At any given point, his home is overrun with fitness equipment, running shoes and wearables. And he loves it.