What are the different types of walking?
There are several types of walking, from a gentle stroll to a power walk, that positively impact our health and wellbeing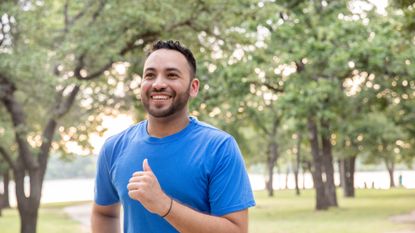 (Image credit: Getty Images)
Have you ever wondered which type of walking would be best for you? Walking is one of the most accessible forms of exercise; it uses little to no equipment, it's free, and you can even build it into your everyday life.
Whether you lace up a set of the best shoes for walking, you can start moving by getting off the bus a stop earlier on your commute or going for a short walk around the block on your lunch break. But there are several types of walking for when you're after some variety.
Then, consider what you're hoping to get out of your walk. You might suit a brisk or power walk if you want to build cardiovascular endurance. A gentle stroll could be an easier option if you're looking to get out in nature and enhance your mental well-being.
Here, we'll cover the different types of walking you can enjoy, including tips for getting started with this low-cost self care idea and a look at some of the benefits of taking a regular stroll.
What are the different types of walking?
Although you can head outside and take a walk in any way that feels comfortable, several types of walking have emerged over the years to help you reach specific goals.
Stroll walking
We think of this as everyday casual walking to get us from 'A' to 'B.' Stroll walking is done at a regular or slow pace and doesn't provide much cardiovascular benefit because the legs are kept at a short stride. In fact, the benefits may be more mental than physical since it allows you to slow down and take note of your surroundings.
Brisk walking
This type of walking is done at a moderately quick pace (faster than your average walking pace) and requires the body's muscles to work harder. According to a study published in the British Journal of Sports Medicine, walking at a brisk pace reduces your risk of developing cardiovascular disease significantly more than at a slow pace.
Power walking
You might have spotted power walkers at your local park or even as part of an organized race. Power walking is done at a quick jogging pace and uses rigorous arm movements at a 90-degree angle to build cardiovascular endurance.
Nordic walking
What is Nordic walking? This slightly more unusual type of walking involves walking on reasonably flat terrain at a brisk, athletic pace using poles to propel yourself forward. You set off holding a pole in each hand and generally place each pole on the floor as you walk while stepping forward on the opposite leg. This engages the arms, shoulders, back, and core.
Hiking
You might be wondering what the difference is between hiking vs walking. Put simply, walking tends to involve flat surfaces, whereas hiking involves different terrains, ascents, and descents.
How to get started with each type of walking
At its most basic level, walking requires no real instruction. Besides walking shoes, you don't need to wear any particular clothing or buy any equipment because it's not designed to work up a sweat so much as to increase your mental well-being.
Whether you prefer walking with the best workout earbuds and a podcast or being mindful of your surroundings, keep to a slow, steady pace and enjoy yourself. Are you heading out for a brisk walk?
Keep your back straight, your shoulders relaxed, and your head facing forward. Your arms should swing by your sides. Brisk walking is done at a pace of around 3mph, or 100 steps per minute, according to the CDC. You should be able to talk but not sing.
Power walking requires slightly more technique. Good posture is everything — stand tall, relax your shoulders and pull your abdominal muscles in slightly (but don't tense them). Tuck your bottom in, tip your pelvis forward slightly and hold your arms comfortably at 90 degrees by your side.
Power walking is generally done at a pace of around 4-5.5mph. As you walk, you want to keep your arms at that 90-degree angle and pump them backward and forwards. Try to avoid overstriding as well; keep to faster, shorter strides.
Dr. Suzanne Bartlett-Hackenmiller, Chief Medical Advisor at Alltrails, also tells Fit&Well that for beginners, she recommends finding 'easy' rated trails that are short in distance and have little elevation change.
Dr. Suzanne Bartlett-Hackenmiller
Suzanne Bartlett Hackenmiller, MD, is the Chief Medical Advisor at Alltrails and a physician certified by the American Board of Obstetrics and Gynecology and the American Board of Integrative Medicine. She and her husband lead workshops combining mountain biking, hiking, kayaking, integrative wellness topics, and the practice of Japanese forest bathing.
"Once you're comfortable with those trails, try adding more distance for added endurance, or find a trail that includes some hills to really start engaging those strength skills," she says. "One good method to follow is to only add 10% of distance each time you go out so as not to over-train.
"If you're looking to boost your walking exercises, power walking is also a fantastic activity for people looking to improve their fitness as it can help build both strength and endurance. For building cardio and endurance strength, you can find one hill and walk up and down it multiple times as a 'hill repeat' exercise."
Depending on where you're heading, Bartlett-Hackenmiller also recommends heading out with a friend, partner, or family member — especially as a novice walker.
What are the benefits of different types of walking?
The faster you walk, the more demand it puts on the cardiovascular system because your heart rate will increase. This means faster types of walking, like brisk and power, will burn more calories than a gentle stroll, so if you want to lose weight by walking, you should pick up the pace.
One study published in Medicine & Science in Sports & Exercise found that taking more steps per minute can help keep insulin levels under control and reduce body mass index. Meanwhile, a study of over 13,500 nurses aged 70 years and older found that brisk walkers were 2.68 times more likely to age healthily than those who walked at a moderate pace.
But don't underestimate slower forms of walking. Low-intensity exercise still improves blood flow around the body and can help to improve mental well-being by reducing stress and anxiety. Research published in Molecular Psychiatry found that a 60-minute walk in nature decreases activity in brain regions involved in stress processing.
Bartlett-Hackenmiller adds: "The simple — and free — act of walking has so many benefits. Apart from the more obvious physical benefits, such as muscle strengthening, weight loss, and improvement in circulation, there are incredible mental health benefits too.
"Time spent outside, moving and appreciating nature can have immediate effects on our mood and physical health. When we're outside, our brain produces mood-boosting neurotransmitters such as dopamine and serotonin. This, in addition to inhaling the phytoncides we are exposed to outdoors and safe exposure to the sun's rays, help boost our immune system."
Not to mention, walking — at any pace — helps lubricate and strengthen the muscles that support the joints. A four-week study published in the Sleep Health journal also found that people who increased their daily step count experienced better quality sleep from being more physically active. However, sleep duration wasn't much affected.
Which type of walking is best?
So which type of walking takes the crown? Well, it mostly depends on what you're looking to get out of it. We should be getting 150 minutes of moderate-intensity physical activity per week.
If you already do a lot of cardiovascular exercises, you might want to slow your walk down to a gentle stroll. If you're going to increase your heart rate, a brisker style or even a power walk is a good option. For something a little different, try Nordic walking — bear in mind the initial cost of the walking poles.
Bartlett-Hackenmiller also says that while walking on the best treadmill will achieve fitness benefits and some endorphin benefits, immersing yourself outdoors and in nature multiplies the mental and physical benefits of walking.
"Although there are benefits to all types of walking, whether it be leisurely or power walking, regular strolls outdoors should always take some form of priority," she says. "Nature is a unique environment where we can achieve better mental and physical health.
"Getting safe exposure to the sun's vitamin D, inhaling the immune-boosting phytoncides emitted by trees and plants, experiencing the surrounding beauty, and getting physical activity are some of the unique ways that walking outdoors has been found to maintain and improve mental health."
Get the Fit&Well Newsletter
Start your week with achievable workout ideas, health tips and wellbeing advice in your inbox.
Alice Ball is the Health Editor for Future Plc. With more than five years of experience working in health journalism, she's covered everything from why we should 'kill' the calorie, to destigmatizing the menopause. Alice also specializes in nutrition and supplements. She's a self-confessed running fanatic, currently in training for her fifth marathon. She enjoys documenting her progress on her Instagram account, @aligoesrunning. Alice works across a number of Future's sites, including LiveScience and Fit&Well.