What to do after running your first 5K
Just finished your first 5K? Here's what to do next!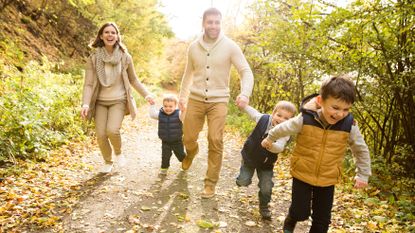 (Image credit: Thinkstock)
Get the Fit&Well Newsletter
Start your week with achievable workout ideas, health tips and wellbeing advice in your inbox.
Thank you for signing up to Fit And Well. You will receive a verification email shortly.
There was a problem. Please refresh the page and try again.
You've completed your couch to 5K programme and successfully completed the full distance – congratulations!
Before you even think about the future, take a moment to look at what you have achieved so far and how much you have progressed since Week 1.
Celebrate your achievement and enjoy that feeling of success
Write down all the benefits you have discovered by starting to run, such as improved health, weight loss, leaner legs, more stamina – anything that matters to you. When you're ready, it's time to decide what you want to do next in terms of running and continued fitness.
The most important thing is to not lose the fitness you've gained over the last few months. Being fit and healthy can help you to feel and look better, give you tons of energy and may help to prevent the onset of certain illnesses.
Whatever you decide to do in terms of fitness, make a pledge that you will keep up some kind of exercise. Maybe you don't want to run anymore; that's perfectly fine, but choose something else that you like instead, such as a gym class, walking regularly, swimming or cycling. You can use your skills in goal planning and tracking that you have learnt on this website to set targets for any kind of sport.
If you do decide that actually you quite like running, there are a few different paths you can opt to take. The simplest is just to keep up exactly what you are doing now – get out for a run three times a week, with a warm-up and a warm down, and a steady run in-between. That will be good enough to keep your fitness nice and steady and prevent you from slipping into any bad habits.
Plan in your runs every week so you don't miss them, and make them part of a steady, regular routine of fitness. You could add in an extra run session if you like, or do some cross-training as well. As long as you are being active, you are reaping the benefits.
You may also decide that you would like to move your running on to the next level and build upon the skills you have discovered during the programme. You could choose to focus on speed and getting faster over 5K, or you could opt to increase your distance. It is possible to do both, but this can introduce too much too soon and you are still a relatively new runner, so it's better to choose a single focus for now and work on it to meet a new goal. Then you can set another goal, and so on.
Improve your 5K running
Your final 5K run of the programme is a benchmark for you to improve upon, if you wish. Now you know that you can cover the 5K distance, why not think about seeing if you can set a new Personal Best (PB)?
In 5K running, there are a few milestones that people like to aim for. These are typically in five- minute intervals, the first being sub-45 minutes. This means that your goal is to run 5K in less than 45 minutes. You may have already done this, of course, but everyone's benchmark pace is different. You might be starting from nearer to an hour. Milestone times then could be running 5K in sub-40, sub-35 and the widely coveted sub-30, or even beyond! This is completely personal to you; choose targets that are realistic but still a challenge to encourage you to keep going on your running journey.
Choosing to run a regular timed 5K, such as parkrun or Great Run Local, can be a good way of seeing how you progress over time. You can run the same route any week and get an accurate time, which you can use to test your fitness. If you aim to do one a month, or more, you can gauge how your running is improving.
Some of these events will have people acting as 'pacers'. This means that they have volunteered to run the course in a set time. They usually wear bright yellow vests with a number on, for example '40', and that means they will be running the course in 40 minutes. This can be useful if you have a goal time in mind, as it gives you someone to chase and ensures you run a steady, even pace.
But how do you improve on your 5K time in the first place? Well, consistent running is the first step. Continuing to commit time to running will help you to stay fit. However, if you run the same route, the same distance and the same pace every time, you will plateau. Pick one of your sessions each week and do something different to help you get faster over 5K.
A good session is an interval session, which is essentially what you were doing in your couch to 5K programme. The difference here is that the run sections are run at a harder pace and the recoveries are either static (standing still until you get your breath back) or active (a slow jog or walk).
You can run each interval at a harder pace, but an alternative is to run for a longer time. Simply, you get faster, by running faster. Not for a whole session, but in short bursts that are faster than your target 5K pace. You can do this in any run by simply picking a point in front of you, like a bench or a lamppost, and sprinting to it, then slowing down again and picking another point. This is called 'fartlek', a word that often causes a snigger, but it's Swedish for 'speed play'. Whether you opt for timed, measured intervals or this more casual approach doesn't really matter; it's getting some speed in that does.
Another way to improve your 5K time is to introduce hills to your runs. When you hit a hill on your route, try and keep your breathing even and run to the top. You may need to slow your pace down, but the important thing is to try not to stop. There are huge benefits to running hills, such as increased lung capacity, fitness, strength and stamina. You could also do hill reps, which is where you choose a hill and run hard up it to the top, then walk down it, and repeat. It's not easy, but it does work miracles on pace when you're back on the flat!
Going the distance
If speed isn't something that motivates you, then you could choose to increase your distance instead. Many couch to 5K graduates will target the 10K as their next goal. When you have only just run your first 5K, the thought of then doubling it can seem a bit crazy! Remember, not so long ago you couldn't imagine running 5K, so use that recent experience to re-focus and give you the confidence you need to move on.
There are plenty of apps and training programmes out there that lead you gently through the process of building up from 5K to 10K, so you could research them if you like the structure of a plan. These tend to use a similar structure to couch to 5K plans, in that they build up slowly using walk/run or run/jog intervals to reach the distance steadily.
As you increase your running distance, the risk of injury also increases, so it's important to remember that you can't just jump in and run much further in one go! The first thing to decide is how you want to train – by distance or by time. Either is fine and it depends on what motivates you best. If 10K is your goal, then you may wish to monitor your distance to get up to 6.2 miles. If you want to increase your running time to say an hour, then you can continue to increase your timed intervals.
The key is to increase slowly and steadily, but also progressively. As a rule of thumb, you don't want to increase the weekly time or distance that you run by more than 10% from week to week. If you currently run, for example, 10 miles a week, then you only want to add a mile on to your longest run the next week. You also don't want to increase every run you do in one go. If you run three times, make one of those sessions your 'long' run, which is the run that you add mileage on to a little bit at a time. The other two sessions should be easier-paced runs at a lower distance.
You probably won't need to take food or running fuel with you when you are running up to a 10K, although you will need to pay attention to what you eat before and after to make sure that you are fuelling adequately. However, you may find that you need more water on you to stay hydrated.
Target races
Once you have managed to run 10K, you may then wish to enter a race to test yourself. There are lots of 10K races around the country, so there is sure to be one near you. This can be an excellent way of motivating yourself to keep training, knowing that there is something at the end of it.
New runners can find races quite intimidating at first. Hunt around to find an event that is right for you. Cancer Research UK's popular Race for Life series is good for new runners, and there are 10K events alongside the better-known 5Ks. Some runners prefer big city 10Ks, where they can get lost in a crowd, whereas others like small, local races.
The advantage of a race is that you will probably find that you achieve a better time than you do on your own. With the adrenaline rushing and people around you, you will find that this carries you through the race and pushes you that little bit harder. It is an effort, so you need to be prepared to feel tired and sore afterwards, especially the first time, but you will also be happy, proud and possibly ready to sign up for another!
You don't have to stop at 10K if you don't want to. Many runners who start with couch to 5K end up going on to run distances that once seemed very unachievable. Typically, after 10K you would look at a half-marathon as the next standard distance. However, bear in mind that the jump from 10K to half-marathon is much more difficult than the jump from 5K to 10K. It is a whole new level of running. When you get into these double-figure distances, you have to start thinking about taking fuel with you, such as energy gels, sports drinks and other sports snacks. Also, the training programmes are more intense. When you are aiming for a half- marathon, you should follow a programme that is at least 12 weeks, because you will need this time to build up safely and slowly.
If you feel that a half-marathon is a touch too far, there are other distances cropping up in races now that are useful mini targets along the way. There is a new wave of 7-mile and 10-mile events, and these are great for adding in mini goals and to test how you are getting on in your half-marathon journey.
You may then set your sights on the big one: the marathon. The London Marathon has popularised this distance, but it is no mean feat. A beginner's marathon programme is often 20 weeks long, running a bare minimum of three times a week, but usually more. The long runs can be up to 3.5 hours, so it's a big commitment of time in your week. However, if it is your goal, then there is no reason why you can't do it. As with all the distances we have mentioned, with a good plan and a positive mindset, absolutely anything is possible!
There are lots of other kinds of events that you might want to think about too – being able to run opens a lot of different doors. For example, there are Obstacle Course Races (OCRs), where you run between different obstacles over a course. One of the best known is Tough Mudder, but there are lots around the country now. You may also decide that the roads are not for you and give trail running a go. In trail running, there is much less focus on time and pace, and it's a very social sport, usually with lots of cake! Distances vary from 5K up to ultra-distance, which is technically anything over a marathon, but usually considered to be 30 miles or more. As a runner, the world is your oyster and there really is nothing that you can't take part in!
New goals and setbacks
Whatever you decide to do, it's important that you set a new goal. A goal will help you to stay on your new path and you will continue to build on your fitness and your running ability.
Write down everything you would like to do that relies on your fitness. These may be specific running goals: a faster 5K, running a 10K, entering a race. They may also be unrelated to running, but rely on your being fit. This could be something as simple as being able to run around in the park with your kids, go for a hike in a local valley, go to the gym and try a new class, join a team sport. As long as it motivates you to continue being fit and healthy, then anything goes. Make your newfound fitness part of an overall active lifestyle.
It's not uncommon for people to finish couch to 5K programmes and then simply stop. Sadly, it doesn't take long to lose that fitness and end up back at square one. So, what should you do if you slip up? You can always go back to your couch to 5K programme and start again, working your way up to 5K again. You may not have to go all the way back, but pick a few sessions you enjoyed and repeat them.
One day you could be in the crowds running a big city marathon! The possibilities are endless.
Many people complete the couch to 5K programme more than once for multiple reasons. For example, some people may use it to return to fitness after experiencing a life-changing event, such as having a baby or a period of illness. Injury may scupper your fitness, and couch to 5K is a good way of rebuilding strength and fitness without re-injury. You know you can complete it, as you have done it before!
The takeaway is that, although we love running and hope that you do too, what's most important is the health benefits you have gained. When you graduate from couch to 5K, it doesn't matter what you choose to do next, as long as it's something that will maintain your fitness, strength and health – you'll always be grateful that you have those.
Get the Fit&Well Newsletter
Start your week with achievable workout ideas, health tips and wellbeing advice in your inbox.
Launched in 2020, Fit&Well.com is all about helping you meet your health and fitness goals in ways that are fun and achievable. With news and features on fitness, weight loss, running, nutrition, yoga, wellness and more, we're committed to helping you wherever you are on your fitness journey. We break down the best fitness tech, with reviews, buying guides and the latest deals on fitness and wellness kit, from dumbbells to diffusers.
We cater for all difficulty levels here. It doesn't matter if you're a beginner in the world of fitness or you're gearing up for your tenth marathon: we're all moving towards the same goal – creating a healthier, happier you. From guides on getting started doing walks around the block, to creating the perfect work-from-home space, to eating to fuel your first triathlon. It's all here.