How to choose the right running shoes for you
The trainer market has exploded with technology, but what's worth your money?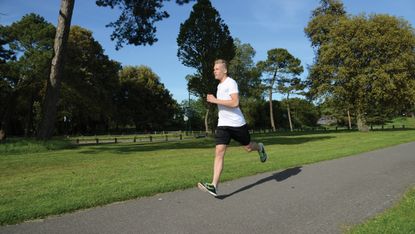 (Image credit: Future)
Get the Fit&Well Newsletter
Start your week with achievable workout ideas, health tips and wellbeing advice in your inbox.
Thank you for signing up to Fit And Well. You will receive a verification email shortly.
There was a problem. Please refresh the page and try again.
The one thing that you absolutely must have in order to start running is a pair of trainers. This is also the one vital thing that we would urge you to invest in, because it will help your running from the outset.
This doesn't mean that you have to spend a fortune, but we would suggest that you get your feet checked at a running shop and buy from a suggested range of shoes – tell them your budget first so that you only see shoes that are appropriate. Also, don't wear the same shoes as you do for walking, netball, the gym and so on, because these wear down in different ways, so you risk injury by running in them as well.
Traditional shoes
Running shoes traditionally come in three main categories. These are neutral, support and cushioning, and which you need depends on your running style. This is to do with your 'gait', which is the way that your foot hits the ground, rolls through its motion and pushes off again.
If you are a 'neutral' runner, then your feet tend to stay in a roughly straight line as they move through your foot strike. This is ideally what you want to happen. If you are a neutral runner, you are looking for a shoe that offers just the right amount of support and cushioning to let your foot move without trying to over-correct.
Not everyone is a neutral runner, though. You may pronate, which is when your foot rolls to one side or the other as you run. This can lead to an uneven distribution of weight, as well as putting pressure on your instep, heel and ankles, which can lead to injury. Support trainers and cushioned trainers are designed to correct these problems as you run, making your footfall in a more neutral pattern.
There are some home DIY tests that you can try to find out whether you pronate or not, such as the 'wet foot test', but the most accurate way to find out what trainer you need is to get a 'gait' analysis.
A gait test is done in a running shop. This is slightly different in every shop, but generally it involves running on a treadmill while you are watched or filmed from behind so that the sales assistant can see whether your foot rolls inwards, outwards or not at all. From this assessment, they can then give you the right kind of shoes to try on. You will usually run in these shoes on the treadmill again to see how they feel, so that you can decide what kind to go for. In many shops a gait analysis is done for free, but with a growing trend of people taking the test in-store and then hunting for cheaper bargains online, many have started charging for the test, with the money offered as a discount against any shoes bought there.
Ask in your local store for their policy. Check the returns policy too, as some will let you try them out for a period of time and change them if they are not right for you.
Going ultra-light
Over the last couple of years, ultra-light shoes have become popular. The minimalist shoe follows the trend for barefoot running, allowing you to feel the ground as you move while still offering protection from the elements. It's a shoe that gives you a measure of support, but without adding any bulk and weight. The idea is that they give you a more natural and efficient foot strike, but it does take some getting used to as it will change the way that your foot hits the ground, especially if you're used to much more supportive trainers.
Many of the big brands now offer a minimalist shoe and they come in various degrees. For example, the Nike Free range has a 5.0 model for beginners to barefoot running that will ease you in gently, then the 4.0 and the 3.0 that offer a progressively more natural experience. The Brooks PureProject is designed for a 'purer' running experience, hence the name, and comes in a variety of options.
You can tell the difference with these shoes as soon as you pick them up, as the sole is flexible rather than rigid, so that it can move with your feet. One thing to bear in mind is that you might find your feet start to hurt as you run further in them. They tend to be better for shorter distances, especially at first.
If you fancy giving them a go, then go to a proper running shop and try them out for yourself first. You might find them a perfect fit.
Super cushioning
The polar opposite to the ultra-light barefoot trend are shoes that offer lots and lots of cushioning. Leading the way is HOKA ONE ONE, a brand that has been lauded by runners over the last year. These shoes look a little strange at first because they have a "higher volume, softer density and greater rebounding foam than standard running shoes".
Overall they offer around 50 per cent more cushioning for shock absorption. HOKA ONE ONE call its 'midsole geometry' Meta-Rocker, which is a good description as the shape of the shoe means that your foot 'rocks' through its stride, which is designed to support your form. The trainers still come in road and trail varieties as with 'normal' running shoes.
HOKA ONE ONE is not alone in this category. Other shoes to look at include Adidas Ultraboost, Asics Gel Excite 6 and Brooks Transcend.
Hitting the trails
Some runners like the roads and some don't. Even if you're a beginner, there is no reason not to head off-road. You might even find it beneficial, as softer terrain can help your joints, which can hurt after pounding the pavements for too long. If you're lucky enough to live near forests or country parks, then the woodland trails are a perfect surface for running on and building up the time you spend running.
If it's been raining, then leaves and grass can get slippery, and you might have mud to contend with or even ice in winter months. This is where dedicated trail shoes can come in handy, as they are designed to have better grip on these surfaces, as well as offering a more waterproof outer layer.
Proper trail shoes are only for running on trails, as they don't offer the cushioning needed to cope with tarmac or concrete, so your foot can move across the terrain. There are plenty of low-cost trail shoes available and most are a neutral shoe, as you are less likely to need the same support as you do on the road. This means that you could get injured by using them on a road. There are some really good low-cost options to consider – take a look at Adidas or Inov8 – but most brands now offer trail shoes.
If you need to run on road to get to a trail, then you want a cross-terrain shoe that offers the best of both worlds. These can be a bit heavier than a normal road shoe, but they are supportive. For example, the Brooks Adrenaline ASR is exactly the same as the Brooks Adrenaline GTS road shoe, except that the tread is more rugged and the outer material has GORE-TEX for durability.
Get the Fit&Well Newsletter
Start your week with achievable workout ideas, health tips and wellbeing advice in your inbox.
Launched in 2020, Fit&Well.com is all about helping you meet your health and fitness goals in ways that are fun and achievable. With news and features on fitness, weight loss, running, nutrition, yoga, wellness and more, we're committed to helping you wherever you are on your fitness journey. We break down the best fitness tech, with reviews, buying guides and the latest deals on fitness and wellness kit, from dumbbells to diffusers.
We cater for all difficulty levels here. It doesn't matter if you're a beginner in the world of fitness or you're gearing up for your tenth marathon: we're all moving towards the same goal – creating a healthier, happier you. From guides on getting started doing walks around the block, to creating the perfect work-from-home space, to eating to fuel your first triathlon. It's all here.