How to balance your hormones
Wondering how to balance your hormones? Here's everything you need to know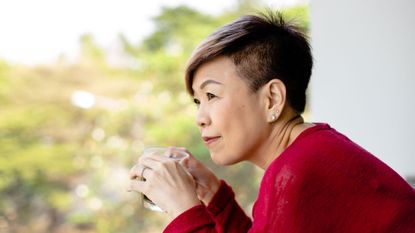 (Image credit: Getty)
Knowing how to balance your hormones can make a real difference to everyday life. Your body is constantly communicating with itself, trying to maintain a state of balance. One of the ways it does this is by transmitting innumerable chemical messages via your bloodstream in the form of hormones. Produced by the endocrine system (a network of glands in your body), hormones influence everything from your mood to your metabolism, hunger, and reproduction.
If there's a miscommunication somewhere in your endocrine system, it can cause a hormonal imbalance – either too much or too little of a specific hormone in the bloodstream (something some of the best menopause supplements look to address). One study published in the British Medical Journal showed that the accelerated bone-loss that can happen after menopause is due to the declining levels of the hormone estrogen.
In another study from Frontiers in Psychology, researchers found that hormonal fluctuations are one of the key factors that lead to defects in cognitive function. Other studies in the World Journal of Clinical Cases have also shown hormonal imbalances can also result in symptoms such as fatigue, weight management difficulties, anxiety, fluctuating moods and hair, and skin issues.
Fortunately, there are a few small and simple steps you can start right away to balance hormones naturally and support your endocrine system.
How to balance your hormones: top tips
1. Get your vitamins
Research shows that it is possible to balance hormones with vitamins. B vitamins, in particular vitamin B12, have been shown to have a role in regulating hormones. One study in the Journal of Pakistan Medical Association, vitamin B12 deficiency was linked to primary hypothyroidism – a condition where your thyroid gland does not produce enough hormones. B12 is most commonly found in animal products like fish, meat, eggs, and milk products, which means that many vegans and some vegetarians can be vulnerable to deficiency of this vitamin. Nutritional yeast and plant milks are good vegan-friendly options, or you might want to consider a supplement/multivitamin to ensure adequate intake. Take a look at our list of the best vegan cookbooks to get started on a plant-based diet, or check out our how-to guide on how to go vegan for tips on good nutrition and more.
Certain minerals such as magnesium can also play an important role in realigning your hormones. One study in the Journal of Medical Biochemistry showed that taking magnesium helped to reduce the effects of the stress hormone, cortisol, in the body. Another study in the journal Nature showed that magnesium also helps stabilize the release of hormones throughout the day and night by regulating your body clock.
Try teaming your magnesium up with vitamin B6. In one study, a combination of vitamin B6 and magnesium helped to lower stress and anxiety and diminish symptoms of severe PMS in women compared with magnesium alone. For more tips on how to balance hormones with supplements, see our guide to the best vitamins for women over 50.
2. Get fermented
There are plenty of ways you can balance hormones with food, but one key step would be to improve your gut health by increasing your intake of fermented foods like kefir, kombucha, miso, sauerkraut, and kimchi. Studies show that these fermented foods help increase the number of beneficial bacteria in your gut and according to research from the Journal of Medicinal Food, many of your hormones are actually produced by these friendly gut bacteria. Certain bacterial genes called the estrobolome also produce an essential enzyme that helps metabolize estrogen, ensuring the levels of this key hormone remain in check.
To protect your gut microbiome even further, avoid artificial sweeteners. Research from the journal Gut Microbes suggests that consuming artificial sweeteners can alter healthy gut bacteria, impacting the balance of hormones. In particular, studies have linked artificial sweeteners to an imbalance in the hunger and satiety hormones - leptin and ghrelin, leading to significant changes in appetite.
3. Tweak your diet
To balance hormones with diet, try getting more fiber. Studies from The Journal of Nutrition and Nutrition Research show that getting more fiber in your diet can help with improving the sensitivity of the hormone insulin, as well as other hormones that control hunger, fullness, and food intake.
Fiber can also help the body control excess levels of estrogen, which can cause hormonal disruptions leading to PMS, menopausal symptoms, mood swings, and acne. A study published in The New England Journal of Medicine found that fiber, particularly the insoluble type found in carrots, can help remove excess estrogen from the body by binding to it and allowing it to be safely excreted. This prevents estrogen from being reabsorbed in the intestine, which can happen if your colon is a little sluggish. In the study, women that ate 28g of fiber a day had much greater excretion of estrogens and lower blood concentrations of this hormone than those women that ate only 12g of fiber a day.
Reducing your caffeine intake can also help balance hormones. In one study published in the American Journal of Clinical Nutrition, caffeine levels commonly found in a few cups of coffee had the potential to alter estrogen levels, whilst other studies show that caffeine can impact hormone secretion by increasing cortisol. Another study from the American Journal of Epidemiology also found that women who reported drinking over 300 mg/day of caffeine had hormonal disruptions resulting in a 27% lower chance of conceiving during each cycle.
4. Try a herbal remedy
Studies show that humans have been able to balance hormones with herbs for thousands of years. Ashwagandha, an evergreen shrub from the nightshade family, has been shown to be effective in helping your body respond to stress hormones. In one study, sixty male and female participants were given 125-300mg of ashwagandha or a placebo twice daily for eight weeks. Those who received the ashwagandha had better sleep, lower levels of cortisol, and less stress compared with a placebo group. Another study in the Journal of Alternative and Complementary Medicine also found that eight weeks of treatment with 600mg of ashwagandha improved levels of thyroid-stimulating hormone in hypothyroid patients.
Other herbs that have been shown to be effective in balancing hormone levels include black cohosh root. A few studies, including those in the Journal of Education and Health Promotion and the Journal of Steroid Biochemistry and Molecular Biology, have found black cohosh to relieve symptoms of menopause more effectively than a placebo or no treatment at all.
5. Get enough sleep
A lot of your hormonal activity occurs during sleep. If you miss out on your shut-eye, you are at risk of throwing numerous hormonal mechanisms off-kilter. In a study published in The Lancet, sleep debt was found to have a harmful impact on endocrine function, altering the production and action of other hormones, increasing blood levels of cortisol, and dampening the secretion of thyroid-stimulating hormones. To get a good night's rest, try and reduce the amount of light in your room - light inhibits melatonin secretion, which is key to a restful sleep. See our guide to the best desk lamps and the best sunrise alarm clocks to help to regulate your sleep-wake cycles.
You can also try sipping on some melatonin-rich tart cherry juice. A study in the European Journal of Nutrition found that the melatonin in tart cherry juice improved sleep quality and duration in healthy men and women.
Angela has been a health writer for over 10 years, contributing to a range of online and print publications including Women's Health, Women's Fitness, Your Fitness, Top Santé, Healthy, and Good Housekeeping. She writes about all aspects of health and wellbeing, with a special interest in nutrition and the therapeutic application of food. A qualified nutritionist and a recipe developer, she is the founder of Dara Dara Nutrition and has developed recipes for titles including GoodtoKnow. In her spare-time she likes to throw netballs, hula hoops and yoga poses (or what poses as yoga!) and has recently taken to the bass guitar. Fortunately for her neighbors, she's invested in some headphones.