Fit&Well Awards 2021: meet the judges!
Introducing the fitness pros that will be helping the Fit&Well team select the winners of our Headline Awards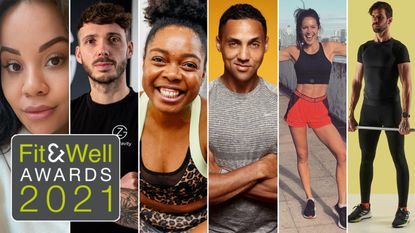 (Image credit: Aimee Victoria Long, Zero Gravity Pilates, Elle Linton, Phil Bourne, Lucy Gornall, Future)
The inaugural Fit&Well Awards are just around the corner, and today we're thrilled to reveal the judging panel for our exciting Headline Awards.
The panel features some well-known faces from the health and fitness world, including celebrity trainers, TV PTs, expert bloggers and specialist journalists.
Together with the Fit&Well team, the pros below will be charged with selecting the winners of the six awards in our headline category, including our reader-nominated Trainer of the Year Award - which is open for nominations until the end of this week!
The full list of Headline Awards includes:
Brand of the Year
Retailer of the Year
Launch of the Year
Influencer of the Year
Trainer of the Year
Fit&Well Hero Award
Learn more about our judging panel below as we count down the days to the Fit&Well Awards 2021, starting April 12th...
Aimee Victoria Long
Aimee is a leading personal trainer, with over 80,000 Instagram followers and a client list that includes A-list celebrities and members of the Royal Family.
As well as being a Level 3 PT, she also teaches Pilates and Barre classes, which she loves for being tough, effective ways to tone the body whilst also being low impact.
The founder of her Body Beautiful Method, Aimee leads online classes for the likes of LiveNow Fitness and works one-to-one with private clients.
Aimee says: "I am so excited to join the panel as I have been a fan of the brand for years, and I can't wait to share some of my favourite products in the industry, plus excited to discover new brands myself!"
Fit&Well's motto is 'healthier, happier living'. What makes you feel happy and healthy? "Getting outside and walking the dogs daily. Movement and fresh air really do wonders for the body."
What's your health & fitness motto? "Stay consistent and balanced."
Favorite snack? "Probably hummus crisps or chocolate corn cakes. They are just so easy to eat, plus a great go-to when you're on the go."
Follow Aimee on Instagram
Chris Richardson
Chris is the co-founder of Zero Gravity Pilates, a series of boutique reformer Pilates studios in London with celebrity fans including supermodel Neelam Gill, TV presenter Kelly Brook and Fiit trainer Gabby Allen.
The former professional footballer also holds a degree in Sports Strength and Conditioning, in addition to various Pilates, personal training, postural correction and sports massage qualifications.
Recognising the difficulty of training during lockdown, Chris led a series of Instagram Live sessions alongside famous faces, helping the brand's 90k+ followers to stick to their fitness routine.
Outside of being Mr Pilates (which he does every day), Chris also enjoys weight training and boxing on the pads.
Chris says: "I have always loved working with Fit&Well, having written many articles for them as I made a name for myself. They gave me a chance to spread my knowledge and I am grateful."
What makes you feel happy and healthy? "I got a Basset Hound puppy just before the first lockdown. So going out for long walks with Wilma across the countryside with my two young boys and wife is my to-go-to which really helps my mental health."
Health & fitness motto? "I believe fitness and health should be fun, functional, science-led and with methods behind the movement."
Favorite meal? "During the week I eat a lot of fish and seafood. I have really been conscious to cut my meat content down throughout the week and have started having more vegetarian dishes. But if I was to have one meal on a Saturday night out I would always go for a fillet steak."
Follow Zero Gravity Pilates on Instagram
Elle Linton
Trainer and Liv Cycling ambassador Elle has 15 years ' experience working in the fitness space. She has a degree in Exercise Science, plus Level 3 Personal Trainer, Level 2 Exercise to Music and Level 2 Gym Instructor qualifications.
Nowadays she pours all her exercise expertise into her blog, Keep It SimpELLE, where she shares inspiring and informative advice to help her clients and readers on their fitness journey. She also offers one-on-one training and on-demand workouts.
Her favourite ways to work out include cycling (on an indoors exercise bike for more structured workouts), running, kettlebells and bodyweight workouts.
Elle says: "I'm keen to be a champion for diversity in all areas of health and fitness and I believe that diversity needs to be implemented at all levels. We all bring unique stories and experiences to the table - and I'm excited to share my expertise and perspective as a judge for the Fit&Well Awards."
What makes you feel happy and healthy? "Keeping some balance between work, play and rest. I like to focus on the basics of sleep, nutrition and hydration before anything else. This ensures I'm ready physically and mentally for movement."
Health & fitness motto? "If it ain't fun, what's the point?!"
Favorite snack? "For savoury, I'd have to choose oat crackers with cheddar and chutney. For a sweet snack, I'd have to go for a chocolate brownie - I'm currently obsessed with cauliflower brownies!"
Follow Elle on Instagram
Marvin Ambrosius
You may well recognize Marvin from Fit&Well's Instagram feed where he has hosted live workouts, whilst Sky TV viewers will know him as the host of fitness show Fit in 5. The show was an instant hit, with 1 million views in its first week, and the Fit in 5 app soon followed.
Marvin's fitness journey is one that will be familiar to many: at six stone overweight, he found himself unhappy with how he looked and felt - so decided to do something about it.
Now a Level 3 Personal Trainer, his own weight loss journey has motivated him to help others get - and stay - fit for life.
Marvin says: "I'm honored to be involved in the Fit&Well Awards as I have followed the company for many years and it motivates me to keep doing what I'm doing. Being asked to be a judge is like getting an award in itself."
What makes you feel happy and healthy? "Being blessed to wake up everyday."
Health & fitness motto? "Consistency is the key to creating a lifestyle that keeps you fit for life"
Favorite meal? "Grilled chicken, roasted sweet potato, broccoli and carrots. it's satisfying, filling, nutritious and it never lets me down."
Follow Marvin on Instagram
Lucy Gornall
A penchant for attending university lectures in her gym kit so she could squeeze a workout in afterwards meant Lucy was always destined for a career in health and fitness.
She's currently Health & Fitness Editor across a number of our sister brands, including Fit&Well Awards media partner Woman&Home. She was previously Editor of Feel Good You and regularly contributes to Fit&Well.
She is also a Level 3 Personal Trainer with pre- and post-natal training, and has a nutrition for fitness qualification too. She leads classes in-person and online at Digme and LiveNow Fitness.
Lucy says: "There are some amazing people in the fitness industry who need to be recognized. There's also an array of fantastic brands, and in a space that is becoming heavily saturated, it's good to pluck out the real good'uns."
What makes you feel happy and healthy? "Good sleep, a morning workout, good friends, smooth digestion (if you know you know!) and a diet filled with color."
Health & fitness motto? "Work hard, play hard, sleep harder."
Favorite meal? "Mum's lasagne followed by her tiramisu would be my death row meal - she's an ace cook. However, day to day I'm a big fan of salmon, sweet potato wedges and a big, colorful salad covered in balsamic and olive oil. There's something about those fish oils which makes me feel so good inside. Plus, potatoes are probably my favorite carb."
Follow Lucy on Instagram
Matt Kollat
Matt is Mr Fitness (AKA fitness and nutrition writer) at Fit&Well's sister publication, T3.com. As such, he spends his days immersed in the fast-moving fitness world, keeping on top of the latest news and trends.
Fitness isn't just Matt's day job, either. Having grown up playing football, sport has always had a role in his life. Nowadays he's big into resistance training and bodyweight workouts, which he says is the cheapest and most accessible way to build muscle.
He's also got a keen interest in nutrition, particularly how food affects mood and cognitive performance.
Matt says: "Fit&Well is one of the most exciting recently launched Future publications and it's an absolute honor to be able to contribute to its success as a judge for the Fit&Well Awards."
What makes you feel happy and healthy? "Frequent workouts. Regular exercising has a significant impact on mood, sleep, metabolism and overall wellbeing. The biggest favour anyone can do for their future selves is to look after their health now, however old they might be. Being fit might mean different to different people but fitness is achievable for most at any age."
Health & fitness motto? "Resilience and discipline is all it takes to get the body you want. Applying small changes to your lifestyle and sticking to them will help anyone achieve great results over time. Just keep at it and you will see positive results soon enough."
Favorite meal? "I have very little time to actually cook for myself on a daily basis, so it's all about meal prepping! That said, nothing beats a buddha bowl of buckwheat, fresh guacamole, baked salmon, spring greens and edamame beans."
Follow Matt on Twitter
Stephanie is Editor of GoodToKnow and was previously the Editor of Fit&Well. With 15 years experience, she has worked for titles including Woman&Home, MSN and Stylist, covering all aspects of women's lifestyle including health and fitness. Her preferred way of staying fit and well is sport: she regularly plays tennis and has been a keen netballer since her school days. She plays with her London-based team, Cool Runnings, and is also a qualified Level 2 Netball Coach. Stephanie recently started strength training, and can now regularly be seen hobbling around her local area as DOMS kicks in. Happily, she's since discovered the joy of recovery days. As a result, her top fitness tip is: invest in a foam roller!