Build full-body functional muscle using this one underrated piece of equipment
Work your core, chest, back, shoulders, legs, and more with this functional kettlebell circuit session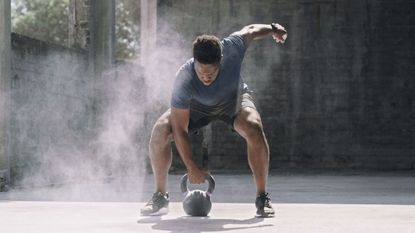 (Image credit: Future)
When you walk into a gym, you're usually faced with a sea of machines. Some are fairly simple, but others feel like they need a degree just to work out how to use them. Yet, in reality, building total-body strength and muscle doesn't need to be complicated — you can do it with just one free weight and a cleverly-programmed workout.
If you want to develop your strength at home, we think the best kettlebells (opens in new tab) offer the most bang for your buck. They can be used for bodybuilding staples like the chest press and bicep curls, but their ergonomic shape also lends itself to core strengthening exercises (opens in new tab) and more dynamic movements like the snatch, clean and press, and (of course) kettlebell swings.
One person likely to agree with our pick is kettlebell and nutrition specialist Keanu Rey Soto (opens in new tab), who has designed a single-kettlebell circuit workout to torch your legs, core, arms, shoulders, chest, back and more, helping you build functional muscle.
The session is made up of two five-move circuits, and you're challenged to complete five rounds of each one, resting as little as possible between exercises.
Watch Soto's videos below to find out which moves await you, and see how each one should be performed.
Watch Keanu Rey Soto's kettlebell circuit workout
This session from Soto is an example of high-intensity resistance training (opens in new tab) or HIRT. You may have tried similar exercise styles like HIIT workouts for fat loss (opens in new tab), which use intense bursts of activity and short rest times to spike your heart rate, burn calories and boost your metabolism.
HIRT workouts like this one will have the same benefits. But, by adding in more higher resistance exercises (either by adding weight or incorporating challenging bodyweight movements), they can help you build strength and muscle while still getting your cardio fix.
If you want to add this kettlebell circuit workout into your weekly routine, we recommend using it as a full training day. As it's a total-body workout that taxes every major muscle group, you'll probably want to give yourself 24 hours to recover before your next resistance training session.
If you still want to get moving during this recovery day, try a lower-intensity activity such as a moderately-paced walk, swim or session from our running plan for beginners (opens in new tab).
You may also want to work on other elements of your fitness, such as your flexibility and mobility. Give these anti-aging yoga moves (opens in new tab) to build a strong, supple and functional body.
Harry Bullmore is a fitness writer covering everything from reviews to features for LiveScience, T3, TechRadar, Fit&Well and more. So, whether you're looking for a new fitness tracker or wondering how to shave seconds off your 5K PB, chances are he's written something to help you improve your training.
When not writing, he's most likely to be found experimenting with a wide variety of training methods in his home gym or trying to exhaust his ever-energetic puppy.
Prior to joining Future, Harry wrote health and fitness product reviews for publications including Men's Health, Women's Health and Runner's World. Before this, he spent three years as a news reporter with work in more than 70 national and regional newspapers.