Build muscle all over with just six moves and one resistance band
Try this weights-free session anywhere, anytime, to build strength and boost your metabolism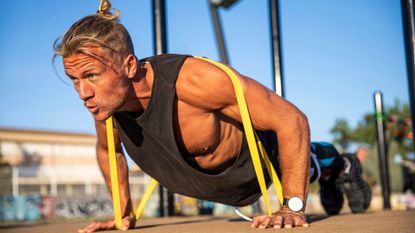 (Image credit: Getty)
We love resistance bands. These space-saving tools can be scrunched up to fit in a small bag, yet still have the potential to help you perform a whole host of muscle-building, mobility-boosting movements.
It seems we're not alone in our love of the best resistance bands (opens in new tab) either. Chris Hemsworth's long-time trainer Luke Zocchi (opens in new tab) has recently shared a series of workouts he's been using to stay in shape while on vacation.
The common denominator? The humble resistance band. This session hits every major muscle group with just six moves, incorporating exercises targeting the legs, shoulders, chest, and back.
In a video on Instagram, Zocchi laid out his routine, suggesting that you tackle five rounds of the six-move circuit, performing each exercise for 40 seconds, resting for 20 seconds, then moving on to the next one.
Watch the video below to see which exercises he's programmed, and how to use a long resistance band to perform each one. Give each exercise a try before you start the workout, so you can perfect the technique and get the most from your training.
Watch Luke Zocchi's full-body resistance band workout
Resistance bands are a brilliant minimalist training tool because of their practical size, fitting easily into your luggage for on-the-go strength training sessions, but that's not all they have going for them.
They also add another dimension to your gym-free training by providing a new source of resistance. If you're exclusively using your bodyweight for a workout, the only force you have to work against is gravity (think push-ups (opens in new tab) and squats, where you're pushing against the ground).
With long resistance bands, on the other hand, you can hitch them around a secure anchor point or loop them around your feet to perform exercises like shoulder presses and seated rows, adding some variety to your training.
They can also be added to bodyweight exercises to make them more difficult, like the push-up, front squat (opens in new tab) and back squat variations you'll see in Zocchi's video, helping you utilize the strength-building progressive overload (opens in new tab) principle.
If you're looking for more resistance band workouts, why not try another of Chris Hemsworth's trainer's full-body sessions (opens in new tab)? Or, if you've recently finished up a round of resistance training, you might want to work on your mobility with these anti-aging yoga moves. (opens in new tab)
Harry Bullmore is a fitness writer covering everything from reviews to features for LiveScience, T3, TechRadar, Fit&Well and more. So, whether you're looking for a new fitness tracker or wondering how to shave seconds off your 5K PB, chances are he's written something to help you improve your training.
When not writing, he's most likely to be found experimenting with a wide variety of training methods in his home gym or trying to exhaust his ever-energetic puppy.
Prior to joining Future, Harry wrote health and fitness product reviews for publications including Men's Health, Women's Health and Runner's World. Before this, he spent three years as a news reporter with work in more than 70 national and regional newspapers.