Dry scooping protein powders is the latest trend on TikTok - here's why it's so dangerous
Don't try this at home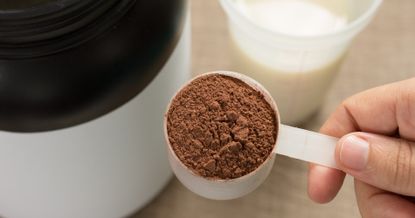 (Image credit: getty)
There are tons of handy TikTok videos when it comes to health and fitness, from workouts to health hacks.
However, a new craze, where fitness fanatics are dry scooping protein powders, instead of mixing them with a liquid, is incredibly dangerous and shouldn't be tried at home. Said to give you a pre-workout boost TikTokers are filming themselves taking a shot of the powder on its own, then following it with water.
Many of us are aware that we don't consume enough protein - so we've turned to protein powders to help us repair and maintain muscle, keep us feeling full and speed up our recovery after a workout.
If you're unsure of how they can benefit you - check out our guide of the best protein powders for women. However, doctors have warned this new craze is dangerous, as you could be consuming three times the amount of caffeine that you normally would be. Other symptoms include dehydration, choking and fainting.
One TikTok user tried the pre-workout dry scooping craze via her channel and showed the results on her page - but it wasn't pretty. The video shows her downing the scoop and even before she has time to swallow it the powder comes back up again.
David Wiener, training specialist and qualified nutritionist at Freeletics explains why the new craze could be so bad for our health.
"Dry-scooping is essentially putting a scoop of dry powder into your mouth, rather than mixing it with water or milk as it is meant to be taken. Although that doesn't necessarily sound so bad, the majority of these powders are made of up a large dose of caffeine, which aims to increase your energy levels ahead of a workout."
While, David says that scooping such a large dose straight into your mouth can be dangerous as it increases the rate at which caffeine is absorbed into the body – and can often equate to three cups of coffee.
"This sudden dose of caffeine can trigger fast and irregular heartbeats, which can lead to a number of complications such as sudden cardiac arrest. While you can also accidentally inhale it into your lungs which can lead to a serious infection."
David goes on to say that the best way to ensure that you have energy for a workout is to fuel your body with vitamins and nutrients through your diet. While if you want to make a protein shake pre-workout the proper way, check our guide to the best blenders.
Get the Fit&Well Newsletter
Start your week with achievable workout ideas, health tips and wellbeing advice in your inbox.
Sarah is a freelance journalist who writes about fitness and wellbeing for the BBC, Woman&Home and Tech Radar. During lockdown she found her love of running outside again and now attempts to run around 50 miles a month. When it comes to other fitness, she loves a sweaty cardio session – although since she's been working out from home she's sure her downstairs neighbors aren't too happy about it. She also loves to challenge herself - and has signed up to do hiking holidays, intense bootcamps and last year she went on her dream activity holiday: paddle boarding around deserted islands in Croatia. On her rest days, she loves to recover with a simple yoga flow session – the perfect antidote to her active fitness schedule.