These healthy diet tips will help prevent anxiety and depression, says research
Gut health plays a key role in how good – or bad – we feel. Here's what to eat to curtail anxiety and depression symptoms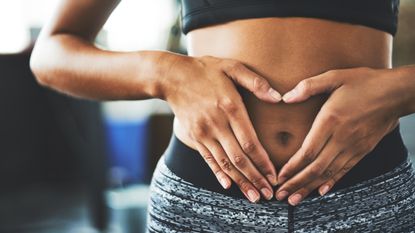 (Image credit: Getty Images)
Gut health is instrumental for healthy digestion, better sleep and even healthier skin – after all, subsisting on salty, sugary junk food for a week is well-known to cause acne breakouts and other conditions related to oily skin. Our gut has an important relationship with almost every other part of our bodies – including the brain, as it can influence depression and anxiety.
It's well-known an intense HIIT workout or the best exercises for weight loss can improve mental health, but now you can add in good nutrition as a way to keep body and mind strong and healthy.
One study, published in the British Medical Journal, sought to examine our gut's relationship with the mind. Researchers from Shanghai Jiao Tong University School of Medicine, investigated whether anxiety symptoms improved by regulating "intestinal microbiota", the gut bacteria which helps break down dietary fibre, among other jobs. The theory was taking steps to regulate the microorganisms in your gut could create mental health benefits.
To test this theory, the scientists reviewed 21 studies that had looked at 1,503 people collectively. These studies used a mixture of probiotic and non-probiotic foods, to try and figure out which was the most effective approach.
The researchers wrote: "We find that more than half of the studies included showed it was positive to treat anxiety symptoms by regulation of intestinal microbiota.
"There are two kinds of interventions (probiotic and non-probiotic interventions) to regulate intestinal microbiota, and it should be highlighted that the non-probiotic interventions were more effective than the probiotic interventions."
There is some evidence that probiotic foods advertised as being full of "good bacteria", like yoghurts, can help your gut. But according to John Hopkins University, probiotics have only been shown to be effective in around 36% of studies. The UK National Health Service recommends taking probiotic supplements every day for at least four weeks, so there's no harm in adding some good bacteria to the mix.
Two of the best ways to promote good gut bacteria are to drink more water and to eat more fibrous grains, fruit and vegetables. Without water, fibre can't do its job and keep constipation at bay, so make sure you're taking on the recommended two litres a day.
Fibre can be found in fibrous fruits like apples, pears and berries and fibrous vegetables like broccoli, carrots and asparagus. If you're blending these into smoothies and juices, it's often harder to get the fibre content into your diet, so ensure you're either eating them whole or you've got one of the best blenders on hand, which incorporates pulp into the liquid.
Pulses like peas and beans are also essential, as well as whole grains – think oats and whole grain or "brown" bread and pasta, instead of the milled "white" alternatives.
Matt Evans is an experienced health and fitness journalist and is currently Fitness and Wellbeing Editor at TechRadar, covering all things exercise and nutrition on Fit&Well's tech-focused sister site. Matt originally discovered exercise through martial arts: he holds a black belt in Karate and remains a keen runner, gym-goer, and infrequent yogi. His top fitness tip? Stretch.