Fit&Well Awards: meet our Healthy Home Heroes!
Discover the products that will help you to a healthier, happier home life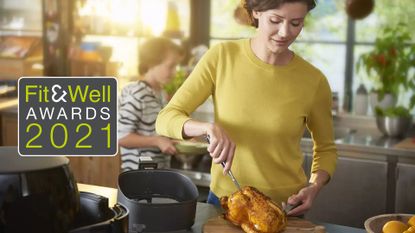 (Image credit: Philips)
It's day four of Fit&Well Awards week, and - having already crowned the winners in the Home Workout Wonders, Top Fitness Tech and Hot Fit Kit categories - today we're revealing the winning products in our Healthy Home Heroes category.
This list features products designed to help to create a happy, healthy living environment throughout the house, from the kitchen and the bedroom through to the now all-important home office.
We considered various factors when it came to choosing our winners, including user feedback, practical considerations and, of course, value for money.
However our main guiding principle (as with all categories) was "does this product help people achieve our mission statement of 'healthier, happier living'?"
The products listed below do just that in their own way. Some are a little pricier than other models in their category, some are almost unbelievably good value - but all meet this vital criteria.
And so, without further ado, allow us to introduce the winners of our Healthy Home Heroes category!
Best steamer
Winner: Morphy Richards Compact Intellisteam
If you're serious about steaming, this is the steamer for you. The Morphy Richards Compact Intellisteam packs a lot of power into not a lot of kit: the compact unit won't take up too much space on your kitchen counter but - with six liters of steaming capacity - will take plenty of food. The smart digital display is easy to read and use, with presets for cooking vegetables, fish, poultry, rice, eggs and more. Our tester deemed it to be the best steamer based on the intelligent design, including the fact that the water reservoir beeps to let you know when more water needs to be added. All in all, the Intellisteam is a no-brainer for all your steaming needs.
Best air fryer
Winner: Philips Airfryer XXL
Philips are the original inventors of the healthy-eating genius that is the air fryer, so it seems only right that they take the title of best air fryer. In the Airfryer XXL, they've created an slick, stylish and exceptional machine - and not only because it has capacity to air-fry an entire chicken. The convection oven allows food to cook with minimal oil whilst also extracting any excess fat, resulting in the lightest of frying - but all of the flavor. In addition to air frying, there are also presets for roasting, grilling, baking and dehydrating, making it a versatile kitchen appliance. Plus, all the parts that need cleaning are dishwasher safe - leaving you plenty of time to enjoy that freshly fried (and guilt-free) chicken.
Best blender
Winner: Ninja Foodi Blender and Soup Maker
In recent years, Ninja's range of great, smartly-priced products have become firm favorites in kitchens everywhere - and their Foodi Blender and Soup Maker is up there with the cream of the crop. What makes this the best blender in our eyes is its ability to bridge the seasons: not only will it effortlessly whizz up smoothies and protein shakes, it also has the power to cook whilst you blend, serving up ready-to-eat soups and sauces thanks to the in-build heating element. One Fit&Well team member (who confesses to having lived on carrot and coriander soup throughout lockdown) called it a 'kitchen godsend'. Helpfully, the Ninja website stocks replacement parts if needed, too.
Best health grill
Winner: Tefal OptiGrill+
The best health grills deliver meats, veggies and more grilled to perfection, but the Tefal OptiGrill+ does this better than most. It comes packed with a range of auto-cook features, including poultry, seafood, red meat and even sandwiches, whilst the built-in thickness detection automatically adjusts cooking time and temperature, and alerts you when your food is ready. The top-quality build also impressed: die-cast aluminium grill plates make for a wear-resistant unit, whilst the stainless steel finish and hefty high-tech handle add to the feeling that this is a solid and reliable bit of kit. Granted, it will set you back slightly more than other health grills on the market, but for what it delivers we think it's absolutely worth the spend.
Best office chair
Winner: Herman Miller Mirra 2
In a year when working from home became the 'new normal', finding the best office chair became the holy grail of the home office. With many of us working even longer hours during lockdown, that fold-out picnic seat just couldn't cut it. Enter Herman Miller's Mirra 2, which wins on every aspect. First of all, it looks great - not a key consideration, you might think, but when you factor in that it's taking up precious space in your home, this is key. Helpfully, it's available in a choice of colors and customizable options. But perhaps more importantly, it performs as good as it looks. The ergonomic design is fully customizable, helping to achieve good seated posture. The chair also adjust to and supports your slightest movements, and comes with a 12-year warranty. Perhaps the highest praise we can give the Mirra 2 is that it's going to make returning to your bog-standard office chair at work a tough pill to swallow.
Best wake-up light
Winner: Lumie Bodyclock Shine 300
Lumie has been making some of the best sunrise alarm clocks around for 30 years, but it's their Bodyclock Shine 300 wake-up light that gets our vote. First things first, it looks great - of all the wake-up lights out there, Lumie's domed designs are the most stylish. As one team member put it, "My Lumie adds to - rather than detracts from - the 'look' of my nightstand". With over 220k Instagram posts tagged #bedsidetable, this is arguably important. But beyond aesthetics, the Bodyclock Shine 300 does its job brilliantly too. The adjustable sunrise duration and intensity allows you to personalize your wake-up, and the built-in sounds are satisfyingly soothing (we prefer Thunderstorms to drop-off to and Blackbirds or Guzheng on waking). With FM radio functionality too, the Lumie Bodyclock Shine 300 does it all.
Stephanie is Editor of GoodToKnow and was previously the Editor of Fit&Well. With 15 years experience, she has worked for titles including Woman&Home, MSN and Stylist, covering all aspects of women's lifestyle including health and fitness. Her preferred way of staying fit and well is sport: she regularly plays tennis and has been a keen netballer since her school days. She plays with her London-based team, Cool Runnings, and is also a qualified Level 2 Netball Coach. Stephanie recently started strength training, and can now regularly be seen hobbling around her local area as DOMS kicks in. Happily, she's since discovered the joy of recovery days. As a result, her top fitness tip is: invest in a foam roller!