How this woman lost 150lbs safely over 2 years (and is learning to love her excess skin)
Mom-of-two Karla, from Minnesota, lost 150lbs through dieting, running and home workouts, but the journey doesn't end here...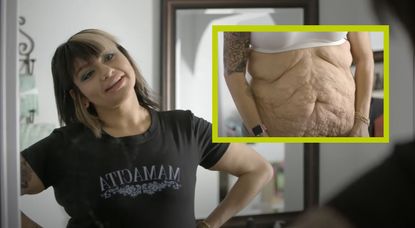 (Image credit: Future/Truly)
A mother of three is learning to love her excess skin after losing 150lbs in two years. Karla Johnson, from Chaska, Minnesota, weighed 352lbs at her heaviest. Since January 2019, Karla has lost 150lbs by carefully dieting and doing home workouts, but has been left with excess skin on her stomach.
At times, Karla has felt insecure from her loose skin but hopes by sharing her story she will empower others. Karla told our sibling channel Truly: "It's harder to exist in this world being bigger - I want other people to know it is fine to look different." As a child, Karla's mother was often working long hours so Karla spent her time indoors watching TV. "I was about 200lbs by the sixth grade and by senior year I was 300lbs."
Although Karla often dreamt about losing the weight, she carried a great deal of self-doubt and it wasn't until she hit rock bottom in 2019 that she decided to really change her lifestyle.
Watch Karla's inspiring weight loss journey below:
Karla cut out sugar and carbohydrates from her diet and began to notice a visible difference. Sugary products and "simple" carbohydrates like white potatoes and bread are two of the biggest predictors of weight gain in your daily diet: they give us lots of energy very quickly, raising our blood glucose levels, but if that energy goes unused, some of it inevitably gets stored as fat. Too many frequent blood glucose spikes end up with our body developing insulin resistance, a precursor to diabetes.
Karla's decision to cut down on carbs and sugar was only half the battle. To start losing weight, your body needs to be burning more calories than it takes in, in what's called a "calorie deficit". Karla, who finds the gym an intimidating place, enjoys home workouts and running to torch those calories. You can get invovled in home workouts with just a few pieces of kit, such as the best adjustable dumbbells or best resistance bands, but there's plenty of bodyweight circuits you can find on our site to follow along with, and these require no kit at all.
Running is also a great way to burn calories. Not only does it promote lung health, endurance and even better muscle growth in our legs, core and bums, it also gets us outdoors and even into nature if your route takes you through a park, which can lower levels of cortisol, the stress hormone which encourages our body to store fat. Never ran before? Our guides to the best running shoes for women, or best running shoes for men, are a great place to start and will take you through everything you need.
She describes watching the scale go down as "intoxicating". - she now weighs 210lbs and feels better than ever before. However, she still carries a lot of loose skin in her midsection which can make her feel insecure: "It's hard when you work so hard to not be exactly what society's ideal beauty is."
Despite this, Karla says learning to love her skin has bought her "new accomplishments" and believes we should "never let fear stop us."
Get the Fit&Well Newsletter
Start your week with achievable workout ideas, health tips and wellbeing advice in your inbox.
Launched in 2020, Fit&Well.com is all about helping you meet your health and fitness goals in ways that are fun and achievable. With news and features on fitness, weight loss, running, nutrition, yoga, wellness and more, we're committed to helping you wherever you are on your fitness journey. We break down the best fitness tech, with reviews, buying guides and the latest deals on fitness and wellness kit, from dumbbells to diffusers.
We cater for all difficulty levels here. It doesn't matter if you're a beginner in the world of fitness or you're gearing up for your tenth marathon: we're all moving towards the same goal – creating a healthier, happier you. From guides on getting started doing walks around the block, to creating the perfect work-from-home space, to eating to fuel your first triathlon. It's all here.