It takes just 24 minutes to build strong glutes and abs with this bodyweight workout
There's no equipment necessary for this six-move session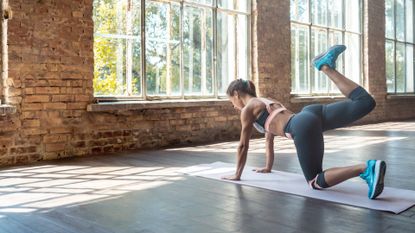 (Image credit: Getty)
Hip thrusts, squats, and deadlifts dominate many leg-day sessions, but what if we said you don't actually need a barbell to grow your glutes? In fact, you don't need any equipment at all.
You might want to unroll one of the best yoga mats (opens in new tab) to add a little extra cushioning when lying on hard floors, but it's not essential for this glute and ab workout from popular Sweat app trainer Britany Williams (opens in new tab). It targets both your core and your body's biggest muscle using just your bodyweight (though
It uses a circuit of just six single-leg moves which are performed for 30 seconds (or approximately 15 repetitions) on either side of your body. Rest for 30 seconds between each set and complete two total rounds of the six-move circuit to finish this time-efficient workout in just 24 minutes.
Watch Williams' videos below to learn how to perform each movement, paying close attention to your technique to ensure you get the most out of this session. Then, when you feel you can mirror her form, give it a go for yourself.
Watch Britany Williams' glutes and abs workout
This is an example of a barre workout; an exercise method that draws inspiration from other fitness-building activities. First and foremost among these is ballet, but elements of yoga and Pilates are usually present too. (If you enjoy this session, try giving our Pilates for beginners plan (opens in new tab) a go.)
As such, barre workouts focus on repeated low-impact exercises, with plenty of strength needed to control your limbs throughout each movement. This means they won't put undue stress on your joints, but can be a great way for beginners to build muscle.
"This barre series is excellent for your outer glutes, hip stability, deep core stabilizers and your obliques," Williams says. The internal and external obliques are the long muscles that run down the side of your trunk.
These are just two of several muscles that make up your core. The best abs workouts (opens in new tab) will activate the majority of these muscles through rotational and stabilizing movements, rather than just focusing on the rectus abdominis muscle (responsible for the six-pack shape) through crunches.
You can use this bodyweight circuit as a standalone daily session, or add it on to the end of a leg-day workout to hit your core and stabilizing muscles in your hips. We do, however, recommend giving your legs a day off resistance training afterwards to allow them to recover.
The following day, try an upper-body session like this chest and back workout (opens in new tab), or slip some cardio into your weekly fitness routine with our running plan for beginners (opens in new tab).
Harry Bullmore is a fitness writer covering everything from reviews to features for LiveScience, T3, TechRadar, Fit&Well and more. So, whether you're looking for a new fitness tracker or wondering how to shave seconds off your 5K PB, chances are he's written something to help you improve your training.
When not writing, he's most likely to be found experimenting with a wide variety of training methods in his home gym or trying to exhaust his ever-energetic puppy.
Prior to joining Future, Harry wrote health and fitness product reviews for publications including Men's Health, Women's Health and Runner's World. Before this, he spent three years as a news reporter with work in more than 70 national and regional newspapers.