Lack of omega-3 shortens life expectancy as much as smoking, say experts
Do you get enough omega-3 in your diet?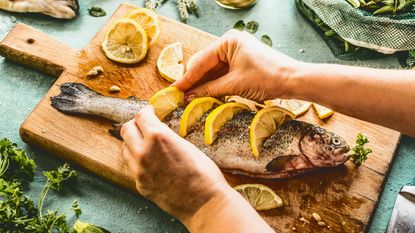 (Image credit: Getty/ VICUSCHKA)
Do you pack enough oily fish into your diet? If not, your levels of essential omega-3 fatty acids could be low - something that new research has linked to a shortened life expectancy.
Published in the American Journal of Clinical Nutrition, the research paper is based on statistics from the Framingham Heart Study (FHS), one of the world's longest-running studies which looks into the causes of prevention against cardiovascular disease.
Diet is one key biomarker used in the study, and fatty acids - particularly types known as EPA (eicosapetaenoic acid) and DHA (docosahexaenoic acid) - have long been associated with a heart-healthy diet. Such fatty acids are typically found in oily fish such as salmon and mackerel, along with the best fish oil supplements.
However, researchers have now indicted that a lack of these fatty acids in one's diet could have decrease life expectancy as much as smoking.
Lead researcher Dr. Michael McBurney of the University of Guelph in Canada commented: "Being a current smoker (at age 65) is predicted to subtract more than four years of life (compared with not smoking), a life shortening equivalent to having a low vs. a high omega-3 Index."
Dr. McBurnley also said of the findings: "It is interesting to note that in Japan, where the mean Omega-3 Index is greater than eight per cent, the expected life span is around five years longer than it is in the United States, where the mean Omega-3 Index is about five per cent.
"Hence, in practice, dietary choices that change the Omega-3 Index may prolong life," he added.
The percentage of omega-3 levels in your blood can be found out by a blood test, while a good level is said to be anything around eight per cent, and a low amount is around four per cent.
A diet rich in omega-3 foods is generally accepted as the best source of these essential fatty acids.
The latest Dietary Guidelines for Americans cites fish such as salmon, anchovies and sardines as a key component of a healthy eating pattern, not only for its omega-3 content but also as a good food source of vitamin D and vitamin B12, protein and iron.
Additionally, the World Health Organization (WHO) recommends that people eat 1-2 portions of oily fish a week. Consider using one of the best grills to prepare your fish in a healthy manner.
However, for those who don't or can't eat fish, supplementation is also an option.
Sarah is a freelance journalist who writes about fitness and wellbeing for the BBC, Woman&Home and Tech Radar. During lockdown she found her love of running outside again and now attempts to run around 50 miles a month. When it comes to other fitness, she loves a sweaty cardio session – although since she's been working out from home she's sure her downstairs neighbors aren't too happy about it. She also loves to challenge herself - and has signed up to do hiking holidays, intense bootcamps and last year she went on her dream activity holiday: paddle boarding around deserted islands in Croatia. On her rest days, she loves to recover with a simple yoga flow session – the perfect antidote to her active fitness schedule.