Build a stronger core and boost your mood with this 10-minute bodyweight workout
This short routine works your core, strengthens your legs, and improves your wellbeing, and you don't need any equipment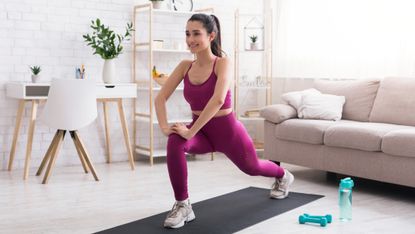 (Image credit: Getty)
Adding some movement into your day can boost your physical health, but it can also support your wellbeing. Just a few minutes of activity is enough to start your body producing endorphins, hormones that help ease pain and reduce stress.
So, whether you want to exercise for happiness or build functional muscle in less than 10 minutes, unroll your yoga mat and take on this five-move, core-focused bodyweight workout.
The routine was developed by personal trainer and yoga instructor Rhiannon Bailey, and is designed to target your midsection even when you're tight on time, away from home, or without equipment.
There are five core strengthening exercises in the circuit, and you'll do each one for 20 seconds, take a 10-second break, then start on the next move. Repeat this short routine five times to take you to the 10-minute mark.
It's important to focus on your technique to get the most from this short session and avoid injury in the long run. So, watch Bailey's demonstrations of each exercise to help perfect your form, then give it a try for yourself.
Watch Rhiannon Bailey's 10-minute ab workout
At only 10 minutes long, this is ideal for a short lunch break workout, helping you avoid that 3pm slump. You can also squeeze it into your morning routine as an energizing start to your day, or use it as a fun outdoor session while on vacation.
Focusing on your form develops the mind-muscle connection which helps you understand your body and is a bit like learning how to meditate. By paying close attention to each position, you're in the moment and that can help boost your mood.
But these aren't the only benefits. The squat variations helps build leg strength, while the mountain climbers and planks all target your midsection for a comprehensive core workout for beginners and experienced exercisers alike.
Another great way to develop your fitness and look after your wellbeing is to take a mindful walk. The aim is to focus on how it feels to move, the way your feet touch the ground, and the sights and sounds around you.
You don't need to do it for a specific time or distance, so when you have a spare moment, just step outside and take a stroll. It's also free and you don't need any equipment, so it's a great way to look out for yourself wherever you are.
Alice Porter is a freelance journalist covering lifestyle topics including health, fitness and wellness. She is particularly interested in women's health, strength training and fitness trends and writes for publications including Stylist Magazine, Refinery29, The Independent and Glamour Magazine. Like many other people, Alice's personal interest in combining HIIT training with strength work quickly turned into a CrossFit obsession and she trains at a box in south London. When she's not throwing weights around or attempting handstand push-ups, you can probably find her on long walks in nature, buried in a book or hopping on a flight to just about anywhere it will take her.