Over 60 and want to master push-ups? Try Steve Harvey's dumbbell pushup move
Steve Harvey uses dumbbells to slightly intensify his pushups and it is a great way to build muscle for over 60s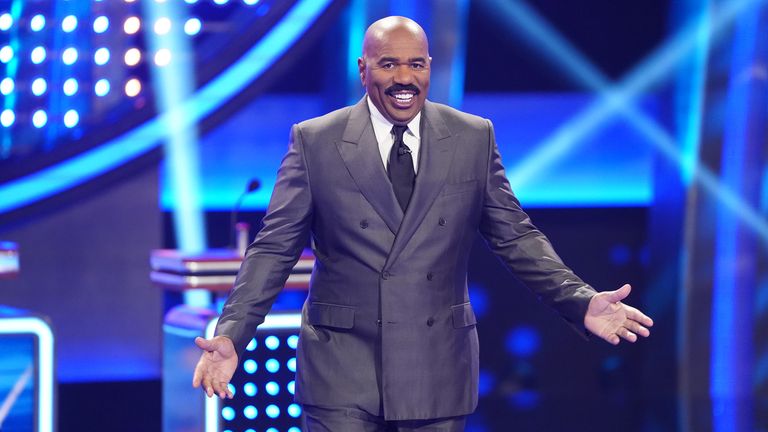 (Image credit: Getty)
By Jessica Downey published
If you thought weight-bearing exercises like push-ups are unattainable once you hit 60, you thought wrong. Just because your muscle mass begins to gradually decline as you age doesn't mean you can't continue to build and maintain your strength. Actor and comedian, Steve Harvey who turns 65 this year, can show us how it's done.
There are quite a few ways to modify a push-up to make it easier such as doing one in the kneeling position, this reduces the amount of bodyweight you have to lift. Or others may use one of the best resistance bands, which can make it easier for you to push your body back up to the plank position.
But Steve Harvey, 64, has shared how he makes his pushups that little bit harder. The standard pushup is already a great way to build muscle without requiring any equipment.
However, Harvey uses a set of weights in the pushup video he posted to his Instagram. Rather than lifting the two dumbbells, he has both hands placed on them elevated from the ground. This requires a great level of stability as he performs each push-up.
You can find a range of dumbbell weights in pretty much every gym but if you prefer to workout from home a set of best adjustable dumbbells might be your best option. They allow you to work with a range of weights while taking up minimal space.
STEVE HARVEY'S VERTICAL DUMBBELL PUSH-UPS
If you watch the clip of Harvey and wonder how the vertical dumbbells make it harder, it is all to do with the level of stability needed to complete it. The smaller the surface area (the top of the dumbbells where his hands are) the more tension you will feel in the muscles, consequently, you will require a stronger core to complete this vertical dumbbell move.
A good way to test your core strength is by finishing off your next workout using one of the best ab rollers. Again this piece of equipment provides a very small surface area and it requires all your core muscles to work together to perform the roll successfully.
Nevertheless, don't be disheartened if you add vertical dumbbells into your next workout with pushups and don't manage a fraction of what Harvey managed. He clearly has a trainer working with him in the video who most likely trains with him regularly.
Not everyone has access to a personal trainer to help us stay in shape but we can give ourselves a good shot at staying fit and strong as we age. And exercise and nutrition both play a key role in helping our bodies to do so.
Protein is essential and not just for buff bodybuilders in the gym, it acts as a building block for everyone's bones and muscles. You can source this in lean meats, eggs, or Greek yogurt and if you don't eat animal products you can also find protein in things like tofu, lentils, and beans. Plus you can always top your protein levels up with something like the best protein powders for weight loss.
Jessica is Staff Writer at Fit&Well. Her career in journalism began in local news and she holds a Masters in journalism. Jessica has previously written for Runners World, penning news and features on fitness, sportswear and nutrition. She is a keen runner and is currently sweating her way through a 10k training plan. Jessica also enjoys building on her strength in the gym and is a believer in health and wellness beginning in the kitchen - which she loves sharing with others on her healthy living-inspired Instagram account, @jessrunshere. Despite her love for nutritious cooking, she stands by the saying 'everything in moderation' and is eagerly conquering the London food and drink scene!