Strengthen your abs in just 10 minutes with the cardio collab we didn't see coming: Pamela Reif x Gorillaz
The fitness influencer has joined forces with the virtual band Gorillaz to put on a cardio and abs HIIT workout—we DARE you to try it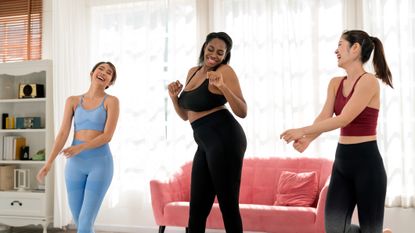 (Image credit: Getty Images)
We're no strangers to listening to music while we sweat, in fact we can't remember the last time we performed a HIIT workout without tunes. So we think this fun and fresh collab (opens in new tab) between fitness influencer Pamela Reif and the virtual band Gorillaz is inspired!
The German fitness sensation has teamed up with the fictional bass guitarist Murdoc as part of the band's promo for their eighth album, Cracker Island. The unusual pairing can be seen enjoying an energetic 10-minute blast, with Reif putting Murdoc through his paces.
From knee crunch jumps to squats, the workout involves moving for 20 or 30 seconds then taking a quick breather. A selection of Gorillaz songs play throughout— including the 2005 classic, "Feel Good Inc." along with new release "Silent Running".
Roll out your yoga mat, grab a water bottle, and prepare to feel good. Go on, we DARE you…
Watch Pamela Reif's 10-minute HIIT with the Gorillaz
To complete this workout, all you need is a bit of space, motivation, and some good-quality speakers you can turn up loud.
Reif completes most of these bodyweight exercises for 20 to 30 seconds each, with around 5 seconds of rest in between each move. Don't worry about timing yourself — once you hit play, you'll spot the handy timer appearing on the screen which will count down the seconds until your next move.
The workout includes a mix of bodyweight exercises that target your abs, along with moves that will get your heart rate up. It includes the likes of:
Knee crunches
Star stretches + squats
Quick feet + boxes
Elbows and squats
Knee crunches and clap
Planks + pike walks
If you're unsure about some of the moves in this HIIT workout, follow Reif's lead. Although you can also check out our guide to how to do a plank or how to squat to perfect your form.
Becks is a freelance journalist and writer with more than 7 years of experience in the field. She writes health and lifestyle content for a range of titles including Live Science, Top Ten Reviews, Tom's Guide, Stylist, The Independent, and more. She also ghostwrites for a number of Physiotherapists and Osteopaths.
Health has been a big part of Becks' lifestyle since time began. When she's not writing about the topic of health, she's in the gym learning new compound exercises. And when she's not in the gym, she's most probably reading.