Strengthen your core in under 15 minutes with this seven-move ab workout
You don't need any equipment to get a sweat on at home this holiday season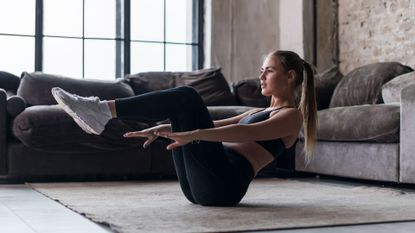 (Image credit: Getty)
Fitting in a workout over the festive period may feel like a military operation, but this time-savvy ab workout will torch your core in less than 15 minutes.
It's been designed by ace trainer and Sweat (opens in new tab) app co-founder Kayla Itsines (opens in new tab) to be as accessible as possible, minimizing the the barriers between you and a great exercise session this holiday season. It's short, efficient and effective, with no need for any equipment (other than one of the best yoga mats (opens in new tab), if you want to give your spine a little extra cushioning).
In the Instagram video below, Itsines shares seven core exercises that are commonplace in many of her best abs workouts (opens in new tab). But, as she doesn't include a rep scheme, we've constructed a quick workout you can do that uses each and every one of them.
Perform the first movement (bent-leg toe taps) for 20 seconds, completing as many quality repetitions as possible in that time (don't sacrifice form for speed). When the timer runs out, rest for 10 seconds then move on to the next exercise. Continue this pattern until you've completed all seven exercises, rest for one minute, then repeat the circuit three times to finish the workout.
Watch Itsines' video below to find out which other exercises await you, and copy her technique for each movement to make sure your form is spotless.
Watch Kayla Itsines' home ab workout
This core session is both an example of high-intensity interval training (HIIT) and a Tabata workout.
It uses intense bursts of exercise and short rest times to keep your heart rate high, burning calories quickly and boosting your metabolism. This ensures you maintain a high level of intensity throughout the session, making it a good fit if you're on the lookout for a HIIT workout for fat loss (opens in new tab).
However, the use of a "20 seconds on, 10 seconds off" structure means you can also qualify it as a Tabata workout. This is a type of HIIT workout dubbed "one of the most energetically effective high-intensity intermittent training methods" by a 2019 study published in The Journal of Physiological Sciences (opens in new tab).
The research found people who followed a Tabata training plan for 6-12 weeks experienced significant boosts to their fitness, including an increased VO2 max and improvements to both their aerobic and anaerobic energy-releasing systems.
If you want to fit this workout into your fitness routine, you can use it as a short standalone session that can be squeezed in between your endless list of Christmas commitments. Or, if you have some strength training planned over the holidays (like this chest and back workout (opens in new tab) or some of the best leg workouts (opens in new tab)) you can add it on to the end of your session to fully fatigue your core.
Harry Bullmore is a fitness writer covering everything from reviews to features for LiveScience, T3, TechRadar, Fit&Well and more. So, whether you're looking for a new fitness tracker or wondering how to shave seconds off your 5K PB, chances are he's written something to help you improve your training.
When not writing, he's most likely to be found experimenting with a wide variety of training methods in his home gym or trying to exhaust his ever-energetic puppy.
Prior to joining Future, Harry wrote health and fitness product reviews for publications including Men's Health, Women's Health and Runner's World. Before this, he spent three years as a news reporter with work in more than 70 national and regional newspapers.