This 10-move 'lazy girl workout' will help you get strong without standing or jumping
Because a little bit of movement is better than no movement, especially on those low-motivation days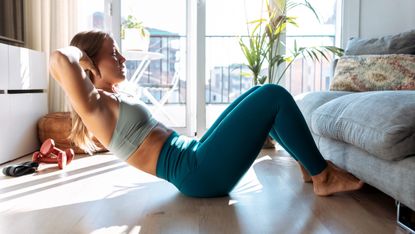 (Image credit: Getty)
We all have days when the idea of exercising seems unappealing, but that doesn't mean you need to put an end to your workout plans.
Instead of attempting some high-octane HIIT or grabbing the heaviest adjustable dumbbell you can find, listen to your body and opt for a less-intense, low-impact session. After all, movement in any form tends to be better than none at all.
This workout from fitness trainer Julie Cap, better known as @juliexfit on Instagram, is ideal for low-energy days. Cap describes it as a "lazy girl workout", with absolutely no standing and certainly no jumping.
Nevertheless, it's guaranteed to get your heart rate up and help you build muscle, and you don't need any weights either—the definition of a no-excuses workout.
So, whether it's that time of the month or you've simply had a long day at work, this routine is about to become your go-to way to get moving when a night of Netflix on the couch is calling your name.
Watch Julie Cap's 10-move lazy girl workout
There are 10 moves in this workout and you'll be completing 10 reps of each, so even the numbers are easy to keep track of.
Aim for three 10-move rounds in total, with minimal breaks between exercises and one minute of rest after each round. However, if you're feeling particularly tired, you can take more rest between movements or rounds.
This workout involves a lot of core muscle engagement. To engage your core, think about bracing your stomach muscles by breathing into it and slightly lowering your ribcage downwards, without rounding your back.
Working this area can improve your stability and even ease lower back pain by taking stress off this easily injured area, so we think core strengthening exercises are well worth your time.
Looking for more low-impact workouts? This seven-move dumbbell routine is great for building strength without over-exerting yourself. Or, if you'd rather try something a little faster-paced, this 20-minute HIIT session is a great way to get yourself moving (again, with absolutely no jumping).
Alternatively, if you need some downtime, use these self-care ideas to boost your wellbeing without breaking the bank. Alternatively, these yoga stretches for beginners are a low-impact way to keep active and develop a connection between your mind and body.
Alice Porter is a freelance journalist covering lifestyle topics including health, fitness and wellness. She is particularly interested in women's health, strength training and fitness trends and writes for publications including Stylist Magazine, Refinery29, The Independent and Glamour Magazine. Like many other people, Alice's personal interest in combining HIIT training with strength work quickly turned into a CrossFit obsession and she trains at a box in south London. When she's not throwing weights around or attempting handstand push-ups, you can probably find her on long walks in nature, buried in a book or hopping on a flight to just about anywhere it will take her.