Don't feel like working out? Use this seven-move low-impact dumbbell workout instead
This short routine builds strength, is easy on your joints, and only requires two dumbbells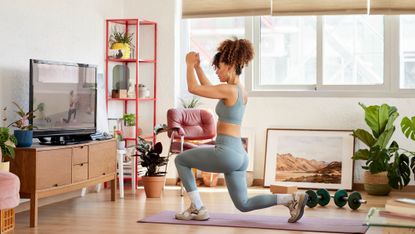 (Image credit: Getty Images)
It's totally normal to experience low-energy days but it can be frustrating if they get in the way of your exercise schedule. Fortunately, this personal trainer's routine low-impact routine is ideal for when you're not in the mood for training.
The session, designed by certified personal trainer Sara Kathryns, is also a great option for when you're in the menstruation phase of the menstrual cycle. As your body changes, it's worth adjusting the intensity of your training, too.
It's totally fine to take a rest day when you need one, but if you still want to get your workout in, you'll be glad to know that there are plenty of low-impact exercises you can do to build muscle and boost your metabolism without exhausting yourself.
You only need some light dumbbells for Kathryns' routine, although rolling out a yoga mat can help give you some underfoot support. You'll do each for the seven moves for 45 seconds, take a 10-second rest, then start the next exercise.
The aim is to do two or three rounds of the seven-move circuit to raise your heart rate, boost your metabolism, and develop strength all over. If you want to make it slightly more challenging, Kathryns suggests wearing a pair of ankle weights.
Watch Sara Kathryns low-impact workout
These low-impact exercises are easier on your joints, but no less effective. They work muscle groups all over your body, especially your core muscle, the group of muscles around your stomach that connect your upper and lower body.
If you're struggling during the workout and feeling low in energy, don't be afraid to take more rest time than Kathryns suggests. You could also try these exercises without weights.
Programming your workouts around your menstrual cycle can help you get the most out of your sessions. This is because most women tend to have more energy during the follicular phase of their cycle.
The follicular phase starts during the first one to two weeks after your period ends. Meanwhile, you'll be more prone to fatigue during the pre-menstrual and menstruation phases (the week before and week of the period).
Just as you can adapt your training around your menstrual cycle, there are a selection of best foods to eat on your period that can support your body throughout your cycle.
And, as Kathryns notes: "I'd see bloating and think an intense spin workout would fix that, but in reality, pushing myself that that hard just brought on more stress to my body & increased that bloating/pms."
If you're in a similar position, then these tips to get rid of period bloating may help.
Alice Porter is a freelance journalist covering lifestyle topics including health, fitness and wellness. She is particularly interested in women's health, strength training and fitness trends and writes for publications including Stylist Magazine, Refinery29, The Independent and Glamour Magazine. Like many other people, Alice's personal interest in combining HIIT training with strength work quickly turned into a CrossFit obsession and she trains at a box in south London. When she's not throwing weights around or attempting handstand push-ups, you can probably find her on long walks in nature, buried in a book or hopping on a flight to just about anywhere it will take her.