This workout only takes 10-minutes and is great for boosting your metabolism
If you're looking to lose weight without giving up all your time, try out this metabolism-boosting walking workout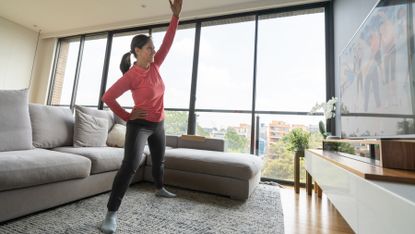 (Image credit: Getty)
Although high-intensity workouts such as HIIT circuits or Tabata sessions are often branded the best way to increase your fitness and aid weight loss, they aren't the only options available for staying in shape. In fact, low-impact workouts, like this 10-minute walking one, can get your heart rate up and boost your metabolism.
If you find certain workouts harder the older you get, are recovering from an injury, or fall victim to joint pain (which by the way, taking one of the best supplements for joints can aid symptoms) then you probably want to find ways to stay active and in shape without bringing on more discomfort or pain.
The good news is that walking is the perfect solution to low-impact fitness and with this workout from the AARP (American Association of Retired Persons) workout channel, you only need 10 minutes to complete it. Whether you do or don't own a pair of the best shoes for walking, it doesn't matter, as this is an indoor-based routine.
The AARP is a non-profit organization based in the United States committed to helping adults over 50 improve their quality of life across various areas of lifestyle, including health and fitness. Fitness expert, Denise Austin, leads this interval-style workout so that exercisers can follow along and feel supported as they move.
If you own one of the best fitness trackers, this workout is a great way to increase your daily step intake, which is more often than not a key tracking feature included in these wearables.
WATCH DENISE AUSTIN'S 10-MINUTE WALKING WORKOUT
Denise walks you through different levels of walking, beginning easy and then dipping in and out of higher intensity walking to create an interval-based workout.
The majority of research conducted around interval training tends to focus on the results of high-intensity interval training. For example, this study published in the Sports Medicine Open journal found that HIIT can increase a person's metabolism after exercise, even more than after other forms of exercise such as running and weight training. The same researchers also found that HIIT could help to move the body's metabolism more toward using fat for energy instead of carbs.
Despite this being about high-intensity training, the same can result from lower-intensity interval workouts. The interval-style walking workout shared above can help to strengthen your cardiovascular health, and still raise your heart rate to similar levels as HIIT training. This format of interval training is a really great way to trick your body into burning more calories.
Another great way to boost your metabolism, alongside regular interval training, is to incorporate good quality protein into your diet. This is because protein has a higher thermic effect than carbs and sugary food, meaning your body has to work harder to digest and store it therefore it's burning more calories in doing so.
Using a walking workout for weight loss and being mindful of what to eat to lose belly fat will help you on your way to losing a few pounds if this is a goal of yours.
Get the Fit&Well Newsletter
Start your week with achievable workout ideas, health tips and wellbeing advice in your inbox.
Jessica is an experienced fitness writer with a passion for running. Her career in journalism began in local news and she holds a Masters in journalism. Jessica has previously written for Runners World, penning news and features on fitness, sportswear and nutrition.
When she isn't writing up news and features for Fit&Well covering topics ranging from muscle building, to yoga, to female health and so on, she will be outdoors somewhere, testing out the latest fitness equipment and accessories to help others find top products for their own fitness journeys. Her testing pairs up nicely with her love for running. She recently branched out to running 10Ks and is trying to improve her time before moving on to larger races. Jessica also enjoys building on her strength in the gym and is a believer in health and wellness beginning in the kitchen. She shares all of this on her running Instagram account @jessrunshere which she uses for accountability and for connecting with like-minded fitness lovers.