Walking workout for weight loss
This expert-approved walking workout is great for burning fat and improving your fitness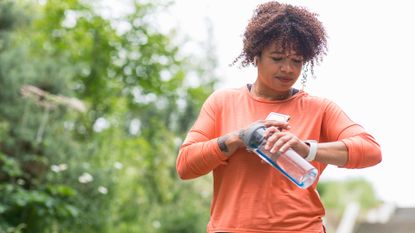 (Image credit: Getty)
You might not think that a walking workout could do much. After all, walking is something we all do every day, without even thinking. However, the simple act of walking could actually be the secret to weight loss, plus it can provide a multitude of other health benefits.
A walking workout doesn't just mean heading out for a casual stroll, though. Making a walk work a little harder can involve mixing things up a little; from the speed of your walk, through to the gradient of the ground you walk on. Plus, there are additional walking accessories that can boost your workout. Ankle weights, backpacks, and wrist weights can all up the ante and add a level of resistance to make your walk more of a workout.
Keen to get walking? Whether it's a brisk one or a gentle wander, make comfort a priority and wear a pair of the best shoes for walking. If you'll be out walking for a while, be sure to carry some water with you too.
Here, Dr. Suzanne Bartlett Hackenmiller, Medical Expert at AllTrails (opens in new tab), an app that helps people explore the outdoors, explains the benefits of walking and how to walk your way to weight loss.
Is walking a good workout?
"Walking outside in nature is one of those special ways that we can achieve both mental and physical health, as well as improve our physical fitness," says Dr. Hackenmiller.
According to Mayo Clinic (opens in new tab), walking can help maintain a healthy weight plus it can contribute to fat loss. Of course, the intensity of the walk will be a factor in the walking workout benefits that you reap; a faster, more intense walk will burn more calories than a slower, gentle walk.
Dr. Hackenmiller says that walking provides a well-rounded workout that helps improve both fitness endurance and strength.
There are also other benefits to walking outside.
"In a recent study, it was found that just being outside for one hour a day can improve memory in adults by 20%. Studies also show that within just the first five minutes of being outside, we experience improvements in mood. For many people, these five minutes can mean a quick walk outside while taking a break from work and the computer," reveals Dr. Hackenmiller.
Can you lose weight by walking?
In short, yes! There's research (opens in new tab) to suggest that moderate walking boosts the effects of a calorie-restricted diet in overweight people.
However, this does point to the fact that although a walking workout is a useful tool for weight loss, there does still need to be a calorie deficit in place; where the calories a person consumes are less than the calories burnt. According to Mayo Clinic (opens in new tab), a typical 30-minute brisk walk can burn about 150 calories.
As well as this, one study (opens in new tab) done on women found that longer bouts of walking (30 minutes, five times a week) resulted in significantly more health benefits than three short, 10-minute bouts of walking each day. These health benefits included a lower body mass index and a lower hip and waist circumference.
Dr. Hackenmiller says that any walk can be turned into a workout. This can be done by varying the walking speed as well as varying the walking incline.
"A simple way to add some additional strength and aerobic exercise is by incorporating hills into your route. If you don't live in a place that is very hilly, find one hill and do repeats. Every time you head out on that walk, see if you can add an additional hill repeat."
Adding an incline means the muscles in the lower body are worked a little harder, which in time, burns more calories and can contribute to a greater weight loss.
Walking workout for weight loss
Dr. Hackenmiller says that new walkers should start their walking journey by finding "easy" rated trails, which tend to be shorter in distance and incorporate fewer changes in elevation.
"Once you're comfortable with those trails, try increasing the distance for added endurance, or find a trail that includes some hills."
One of the easier progressions is to add 10% of distance and elevation each time you go out so as not to overstrain. For example, if you're able to do 3.2km in your first walk with about 30 meters of climbing, your next walk should be no more than 3.5km with 34 meters of elevation change. It may seem like small growth but you can see how quickly your distance and elevation grow.
Below, Dr. Hackenmiller has put together a three-week plan with five walks per week. She explains that in just three weeks, you can go from walking 3.2km to 9.2km.
"If you feel any pain or discomfort, consult your physician. If five walks per week feels like too many to start, do three per week and then increase to five when you feel ready. Don't worry too much about the exact distance or elevation but use it as a guide to staying balanced in your growth," she adds.
For brisk walks, you want to be walking at a pace where a conversation becomes difficult. If there are no hills anywhere near you, try walking with a weighted backpack instead to increase the resistance.
Week 1
Walk 1 - 3.2km, flat ground, steady pace
Walk 2 - 3.5km, steady pace, 2-3 hills (repeat the same hill more than once if you live in a very flat area)
Walk 3 - 3.9km, flat ground, alternating 2 minutes of brisk walking with 2 minutes of steady walking
Walk 4 - 4.3km, flat ground, steady pace
Walk 5 - 4.7km, brisk pace, with 4 - 5 hills
------
Week 2
Walk 1 - 5.1km, flat ground, brisk pace
Walk 2 - 5.6km, flat ground, alternating 3 minutes of brisk walking with 3 minutes of steady walking
Walk 3 - 6.3km, 3-4 hills, alternating 2 minutes of brisk walking with 1 minute of steady walking

Walk 4 - 6.9km, flat ground, steady pace
Walk 5 - 7.6km, 5-6 hills, steady pace
-----
Week 3
Walk 1 - 8.4km, 4-5 hills, alternating 5 minutes of brisk walking, with 3 minutes of steady walking
Walk 2 - 9.2km- flat ground, brisk pace
Walk 3 - 6.3km - 6-7 hills, brisk pace
Walk 4 - 6.9km - 7-8 hills, alternating 3 minutes of brisk walking with 1 minute of steady walking
Walk 5 - 7.5km - 7-8 brisk hill walks, steady pace for the rest
Interested to find out more? We answer; does walking build muscle? or find out whether walking or running is better for weight loss.
Lucy Miller is a Journalist, Level 3 Personal Trainer, Nutritional Advisor and Children's Fitness Specialist. She holds fitness qualifications from NASM Training and Premier Training International and has been a fitness journalist and model for over 20 years.
Since going freelance in 2014, Lucy left Men's Fitness Magazine to write for an abundance of top consumer titles such as Women's Health, Women's Fitness, Glamour, Top Sante, The Guardian and Runners World. She's also extremely passionate when it comes to educating others about health and physical activity and loves inspiring and working with children and adults to help make fitness fun, sustainable and accessible.
In her spare time, Lucy is ever the sportswoman. Once a national gymnast, having won three national titles, she has also run a handful of marathons around the world and loves to test her physical and metal side with regular running and gym sessions, not to mention ballet, bootcamp, boxing and TRX.