Two dumbbells and 30 minutes to develop muscle all over
Boost your metabolism and build full-body muscle with this short session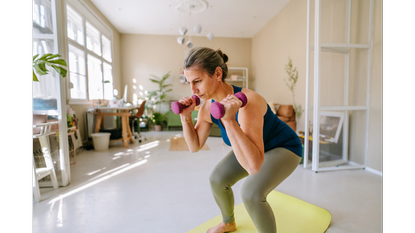 (Image credit: Getty Images)
Gyms are packed with plenty of muscle-building machines and equipment, but that doesn't mean you can't develop strength at home with just a couple of dumbbells.
This workout from NASM-certified personal trainer Sydney Cummings Houdyshell (opens in new tab) is a perfect example of this, allowing you to challenge your muscles and your cardiovascular fitness with minimal equipment.
It only takes 30 minutes, with the first 15 minutes focusing on strength training exercises and the second half designed to raise your heart-rate and boost your metabolism with a series of cardio movements.
Fixed weight dumbbells will work for this workout, so long as they aren't too light or heavy for you. Or, if you don't have any weights at home, we recommend taking a look at our guide to the best adjustable dumbbells (opens in new tab), as these allow you to change their weight to suit your strength level.
To try this workout for yourself, watch Cummings Houdyshell's YouTube video below and follow along with her movements as she completes the session.
During the muscle-building exercises in the first half of this workout, try to keep your movements controlled throughout, mirroring Cummings Houdyshell's form. You should also try to squeeze the muscles you're using, which can help trigger greater muscle activation through a concept called mind-muscle connection (opens in new tab).
Another thing for you to consider before getting started is: "What dumbbell weights should I use."
Pick a weight that feels manageable but challenging for the 45-second work periods, and consider whether you're lifting for weights or reps (opens in new tab). If you're aiming to raise your heart rate with a higher number of reps, pick a lighter weight. Or, if building strength is your primary goal, consider opting for a heavier load and performing each exercise more slowly.
This workout is designed to work your whole body, so consider giving your muscles 24 hours away from lifting weights afterwards to allow them to recover. If you still want to stay active, you could instead try a lower-intensity session like our selection of anti-aging yoga moves (opens in new tab), or something from our Pilates for beginners plan (opens in new tab).
Another option, if you're pushed for time at work but fancy adding a little movement into your day, could be this six-minute yoga session (opens in new tab). All the stretches can be done at your desk to help relieve muscle tightness.
Alice Porter is a freelance journalist covering lifestyle topics including health, fitness and wellness. She is particularly interested in women's health, strength training and fitness trends and writes for publications including Stylist Magazine, Refinery29, The Independent and Glamour Magazine. Like many other people, Alice's personal interest in combining HIIT training with strength work quickly turned into a CrossFit obsession and she trains at a box in south London. When she's not throwing weights around or attempting handstand push-ups, you can probably find her on long walks in nature, buried in a book or hopping on a flight to just about anywhere it will take her.