Use this five-minute ab workout to build a stronger core
You can sculpt your midsection using only your bodyweight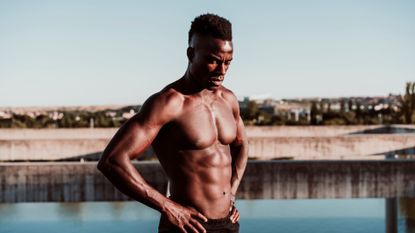 (Image credit: Getty)
You don't need to spend an hour hammering out sit-ups and crunches to sculpt a strong core; we've found a workout that will have your abs feeling the burn in just five minutes.
And if you think these results are only possible with expensive equipment, you'd be wrong. All you need is your bodyweight, although using one of the best yoga mats (opens in new tab) is recommended if you're exercising on an unforgiving floor.
The session has been programmed by Jay Maryniak, better known by his Instagram and YouTube handle JTM Fit (opens in new tab). He has been a fitness instructor for 12 years, with NASM-certifications as both a personal trainer and a corrective exercise specialist, among other qualifications.
This workout contains just five exercises, and Maryniak challenges you to complete as many reps as possible of each one in 60 seconds. So for the first minute you'll be tackling plank jacks, then you'll be doing a v-up complex during the second minute, and so on.
Watch Maryniak's demonstrations of the five exercises below to learn how to perform them with perfect form, then give this short, sharp session a go for yourself.
Watch JTM Fit's five-minute ab workout
When people are on the hunt for the best abs workout (opens in new tab), what they're really looking for is a way to train and accentuate the rectus abdominis. This is the muscle found between between your ribs and pelvis, responsible for flexing the spine and providing the much-coveted "six-pack" shape.
However, the core is made up of several muscles including the stablizing transverse abdominis, and the internal and external obliques that help rotate your trunk. So, a great ab workout (like this one from Maryniak) should activate more of your core than just the rectus abdominis.
Building comprehensive core strength can help improve your balance, stability and help prevent lower back pain, according to the Harvard Medical School (opens in new tab). This, in turn, can boost your performance in other sports and movements, with many compound exercises (opens in new tab) like squats and deadlifts calling on your core to support your trunk throughout.
Maryniak says this workout can be used as a standalone session if you're short on time, but he suggests tacking it on to a longer bout of resistance training as a "finisher" (a quick, intense sequence of exercises designed to get one last burst of effort out of your workout). If you have the time, try pairing it with this chest and back workout (opens in new tab) or one of the best leg workouts (opens in new tab).
Harry Bullmore is a fitness writer covering everything from reviews to features for LiveScience, T3, TechRadar, Fit&Well and more. So, whether you're looking for a new fitness tracker or wondering how to shave seconds off your 5K PB, chances are he's written something to help you improve your training.
When not writing, he's most likely to be found experimenting with a wide variety of training methods in his home gym or trying to exhaust his ever-energetic puppy.
Prior to joining Future, Harry wrote health and fitness product reviews for publications including Men's Health, Women's Health and Runner's World. Before this, he spent three years as a news reporter with work in more than 70 national and regional newspapers.