Weight loss: How this cheap fitness kit can burn fat and make you fitter
A skipping rope or jump rope can help with weight loss and fitness, and can travel with you anywhere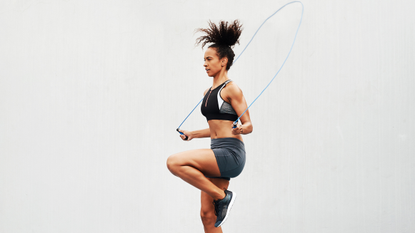 (Image credit: Getty Images)
Want a piece of kit that's scientifically proven to help with weight loss and improve your physical fitness? One that's commonly used by elite athletes, and can fit in your pocket or bag to travel anywhere? Us too. The skipping rope, or jump rope, is often overlooked when it comes to fitness, but the results are undeniable.
Give someone a skipping rope, and one of two thoughts come to mind: children playing on a playground, or an elite boxer training in a gym. That's because skipping is very easy to learn, and it's so good for you it's used by the highest-performing athletes in the world.
To test out just how beneficial skipping can be, researchers in India tested college-age men before and after a 12-week programme of skipping exercises. The end result was a "significant statistical improvement" across the board in functional movement screening, which is a metric used to measure mobility and stability in athletes.
In addition, the participants showed a big increase in VO2 max, which is a metric measuring how much oxygen the body can use when it's working hard. generally speaking, the higher the VO2 max, the fitter the subject. The study showed regular skipping, raising the heart rate by 55% to 85%, can have a huge impact on cardiovascular and cardiorespiratory fitness.
It's not just about fitness: skipping s also great for weight loss. Another study conducted by the University of Nebraska examined the effect of a skipping programme on teenage girls, finding the exercise successfully reduced loads of markers of prediabetes such waist circumference, body fat percentage, blood sugar levels and loads more.
Skipping is an extremely intense exercise often used in HIIT training: it uses a lot of muscles in the body, with your arms pumping the rope up and down, your legs performing quick-succession jumps and your core keeping the body strength. It also improves cognitive function by forcing you to time your movements correctly.
This last point is one of the reasons boxers see such benefits from it, as it teaches them to coordinate their footwork in time with the strokes of the rope, using the same mental muscles as they do trying to dodge and block punches from their opponents.
You can pick up skipping ropes in the Amazon UK and Amazon US store for very cheap. All you need is a bit of outdoor space and a pair of the best cross training shoes to land on, and you're away!
If you want to train indoors, there's another solution, too: the Beachbody cordless indoor jump rope, created for the Beachbody On Demand fitness app.
Instead of a long length of rope, it's a small weight on a short cord designed to simulate the motion of a weighted rope, so you can train indoors without fear of taking out the light fixtures in your front room. It's the perfect workout equipment to shove in your overnght bag, allowing you to get an indoor workout in even if you're just sequestered in a hotel room. Handy, eh?
Liked this?
Matt Evans is an experienced health and fitness journalist and is currently Fitness and Wellbeing Editor at TechRadar, covering all things exercise and nutrition on Fit&Well's tech-focused sister site. Matt originally discovered exercise through martial arts: he holds a black belt in Karate and remains a keen runner, gym-goer, and infrequent yogi. His top fitness tip? Stretch.