Weight loss: Is it ok to skip breakfast if you want to lose weight?
One Harvard study found breakfast might not be the magic way to weight loss we've all been told it is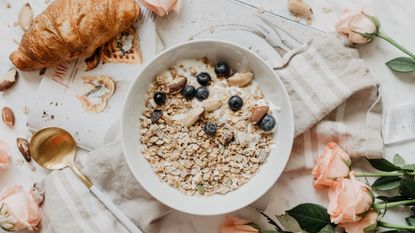 (Image credit: Unsplash)
"Don't skip breakfast, because it's the most important meal of the day". How many times have you heard that? Sure plenty of healthy breakfasts are high in protein, healthy fats and beneficial vitamins, but many typical items like toast and breakfast cereals are extremely high in starch and sugar.
Surprisingly, one report from Harvard University cites several studies which actually brings up several potential benefits to skipping breakfasts, comparing it to intermittent fasting. Overnight fasting for at least 16 hours (from dinner to lunch, then) has been found to lower blood sugar and insulin levels.
In addition, researchers from Melbourne, Australia looked at a number of randomized controlled trials based on breakfast eaters and weight gain, finding that people who ate breakfast consumed an average of 260 calories more than those who didn't every day.
Much of this can probably be attributed to how easy it is to eat unhealthy food for breakfast: between starch-filled white bread and pastries grabbed from coffee shops, to sugary breakfast cereals masquerading as health foods, people that consume excess sugar in the morning are more likely to gain weight than those that don't eat anything at all.
The Harvard report states "at the population level, people who regularly consume breakfast also tend to be a healthier weight". However, it goes on to present several caveats to this: these people are unlikely to be in shift work, or may be from a higher socioeconomic status.
We're not saying breakfast is bad for you – in fact, our list of healthy breakfast foods is a great way to start eating healthier in the mornings – but don't flagellate or berate yourself if you must run out the door without brekkie.
The principles of intermittent fasting rely on cramming all your calories into a narrower time window, so you feel fuller and give your body time to regulate its blood sugar. However, this isn't carte blanche to go stuffing yourself with dinners and lunches high in sugar and starch.
If your schedule demands you run out the door without eating breakfast, don't grab a croissant or muffin to make up the difference: power through and opt for healthy lunches, dinners and snacks in your eight-hour window to gain those intermittent fasting benefits. For more information, our guide to intermittent fasting is a great place to start your research.
Matt Evans is an experienced health and fitness journalist and is currently Fitness and Wellbeing Editor at TechRadar, covering all things exercise and nutrition on Fit&Well's tech-focused sister site. Matt originally discovered exercise through martial arts: he holds a black belt in Karate and remains a keen runner, gym-goer, and infrequent yogi. His top fitness tip? Stretch.