Fitbit Luxe vs Charge 5: which budget tracker is actually worth buying?
The Fitbit Luxe and the Charge 5 have similar designs, but which is best?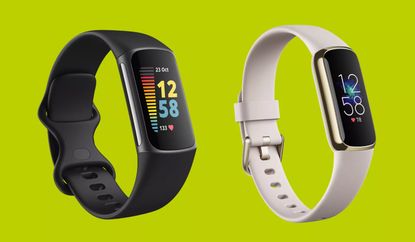 (Image credit: Fitbit)
Fitbit has grown to offer a wide variety of wearables that suit any price range, but that can lead to some confusion about which is best for a user. For example, the Fitbit Luxe and the Fitbit Charge 5 are similarly designed fitness trackers that vary in aesthetics but offer very similar functionality.
While the best Fitbit (opens in new tab) debate would need to encompass the likes of the Versa range and the latest Sense 2, there's a lot to be said for each of these popular models, particularly if you're a relative newcomer to fitness trackers or are trying to avoid a more bulky wearable.
Whether you're tracking cardio like running or cycling, or just want to track your steps, then you'll want to know which is best. Here's our guide to the Fitbit Luxe vs Fitbit Charge 5, including the differences in design, any additional features, and which one you should pick up.
Fitbit Luxe vs Charge 5: price
The good news is that both of these trackers are a lot cheaper than something like the Fitbit Sense 2 or a more all-encompassing Apple Watch.
The Fitbit Luxe, which launched in April of 2021, is available for $149.95/£129.99, while the Fitbit Charge 5, which launched in September of the same year, is more expensive at $179.95/£169.99.
The Luxe has been discounted as low as $114 in the past, but we've seen the likes of Amazon drop the price of the Charge 5 down to $99.95. If you can find it for that price, we'd definitely recommend it over the Luxe for reasons we'll come to shortly.
Fitbit Luxe vs Charge 5: design
While both the Charge 5 and the Luxe offer a bracelet style design as opposed to some trackers which are closer to watches, each is designed slightly differently. While both are made of stainless steel and have a silicone band which can be removed and replaced, the Luxe also offers a more elegant stainless steel bracelet strap, which you can see below.
The Luxe is also considerably smaller than the Charge 5, but that does mean it has a smaller display. If you're planning on using your Fitbit to read messages from your phone, that may be a dealbreaker. Still, both displays are AMOLED panels, which means they're bright and easy to read in all lighting conditions, including out in the sun.
The two trackers have different color options, too; aside from black and white versions, there's an orchid pink Luxe, and a steel blue Charge 5.
Fitbit Luxe vs Charge 5: features
The Fitbit Luxe and the Fitbit Charge 5 are pretty similarly matched in terms of features, but the Charge 5 earns its bigger price tag in this section.
While both can open notifications, track your steps, and offer a series of workout modes, there are more sensors and smart features available on the Charge 5. In fact, the Charge 5 offers an EDA sensor that's otherwise only found on the Fitbit Sense range, which costs considerably more.
The EDA sensor uses the electrical current on your skin to assess your stress levels, so you can note them down and look for triggers that may be affecting your mental health.
The Charge 5 also includes an electrocardiogram (or ECG) sensor that can measure the rhythm of your heartbeat to assess any inconsistencies.
You can also use NFC payments with the Charge 5, so you can leave your wallet at home when stopping at the shop after a run.
Both devices offer Fitbit Premium support, with a trial membership included in the box. This offers a range of additional workouts, including guided plans that factor in diet, rest, and even breathing exercises and mindfulness.
Fitbit Luxe vs Charge 5: performance
The biggest reason we'd opt for the Charge 5 over the Fitbit Luxe is the inclusion of built-in GPS. While the Luxe can track where you are running, it requires your phone being with you to triangulate your location. Doing so can be a pain if you're running through tougher terrain and maybe don't want to risk your expensive handset.
On the other hand, the Charge 5 has its own GPS built-in, which means you can run without your phone and still track your location with accurate results.
Aside from that, both devices offer identical workout modes, and track the same data (outside of the aforementioned ECG and EDA scans).
Fitbit Luxe vs Charge 5: verdict
Unless you're set on the smaller profile of the Fitbit Luxe, the Charge 5 is our pick for the best of these two trackers.
Built-in GPS is the biggest factor, but the inclusion of an EDA scanner to assess your mental health at regular intervals, as well as the ECG (which used to be exclusive to much more expensive trackers), gives the Charge 5 an edge – doubly so if you can get it at a discount.
Lloyd Coombes is a freelance technology and fitness writer and reviewer for Fit&Well, with bylines at other Future publications, including Live Science, TopTenReviews, Space.com, and TechRadar. He regularly tests out the latest gadgets, including fitness trackers, headphones, and gaming accessories. When he's not reviewing hardware, Lloyd writes about video games at Dexerto.com.