Fitbit Charge 5 review: The best 'pure' fitness tracker in Fitbit's stable
Our Fitbit Charge 5 review dives deep into the new band's potential to explore whether it's worth your hard-earned cash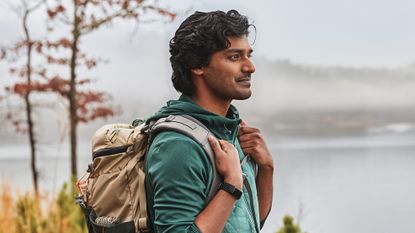 (Image credit: Fitbit)
The Fitbit Charge 5 is a great tracker useful for casual health and fitness enthusiasts, packed with features and looks great. But at this price, serious fitness fans may be better off with a smartwatch.
Reasons to buy
+

EDA and ECG sensor array

+

Packed with smart tracking features

+

In-built GPS

+

Comfortable and slim
Reasons to avoid
-

High price for tracker, especially with Fitbit Premium

-

Tough to recommend all-rounder, not suitable for serious fitness enthusiasts nor priced at an entry level
Get the Fit&Well Newsletter
Start your week with achievable workout ideas, health tips and wellbeing advice in your inbox.
Thank you for signing up to Fit And Well. You will receive a verification email shortly.
There was a problem. Please refresh the page and try again.
This is Fit&Well's official Fitbit Charge 5 review. We're going to be breaking down everything you need to know about Fitbit's top dedicated fitness tracker, including price, availability, specifications, tracking features and more.
The Fitbit Sense and Versa 3, launched last year, upped the stakes in terms of Fitbit's comprehensive lines of do-it-all smartwatches. If you wanted third-party apps, a bigger screen and the ability to take calls from your wrist like Buzz Lightyear, chances are those releases piqued your interest. But Fitbit's stable of pared-down, simplified bands, even though they have consistently made our guide to the best fitness trackers, were looking a bit long in the tooth.
2021 was the year that changed all that, with the release of the Inspire 2, the Fitbit Luxe and finally the Fitbit Charge 5. In this, our official Fitbit Charge 5 review, we're going to be putting the new tracker through its paces to figure out whether it's worth your hard-earned cash. We're expecting to see some great Black Friday fitness deals on the Charge 5, so this review couldn't come at a better time. After all, we're expecting lots of you will want to know if it's going to be a must-buy right now, or one of the best Fitbits.
Fitbit Charge 5: price and availability
Released in September 2021, the Fitbit Charge 5 is on shelves right now for $179.95 in the US and £169.99 in the UK. It's very close to the price of the Fitbit Luxe, which starts around $149.95 in the US, and the trackers may appear so similar at first glance that it's hard to distinguish between them, or figure out which one to buy. However, the Charge is a better functional fitness tracker in almost every way, while the Luxe seems to be primarily made to appeal to the style-conscious crowd with its array of different possible jewellery-incorporating looks.
The Charge 5 is $80 more expensive than its next-nearest neighbour in the range, the Inspire 2. At almost $200, the Charge 5 is approaching the price of some full-fledged smartwatches, with bigger surface areas, more comprehensive third-party apps and the ability to make and receive calls, not to mention the cost of Fitbit Premium should you continue subscribing after your free six months. So why would you settle for a slimmed-down fitness tracker at this price?
Well, you might not want a watch. Yes, you can receive notifications on your wrist on the Charge 5, but in an era of constant connectivity, it's often very refreshing to just have something simpler. What's more, being able to leave your phone at home when going for a run, cycle or yoga flow is a dream for busy, connected people. You're out of reach and 100% devoted to your workout, but the Charge 5 is still ticking away, monitoring your workout with built-in GPS and advanced metrics to ensure you don't lose progress.
Fitbit Charge 5: Design and specifications
The Charge 5's 1.58-inch AMOLED screen is said to be twice as bright as the Charge 4 in daylight, and is much bigger than the Fitbit Luxe's little fingernail-size display. That's a huge deal for more than one reason: this is the first in the Charge range completely devoid of buttons, so the whole thing operates on touch-screen only. Stands to reason the screen real estate needs to be comparatively bigger than most slimmed-down trackers. However, it strays just shy of full smartwatch territory, a theme that's going to come up a lot.
The tracker feels slim, looks great and the detachable silicone straps are comfortable. I wore mine for days at a time with no noticeable discomfort or chafing. It's water-resistant up to 50 metres: I wore mine in the shower and for a swim. The touch-screen does tend to go a little haywire when confronted with running water, like performing an EDA scan without permission. The Charge 5 does have a "tap twice firmly to water lock" feature, but it's not intuitive or easy to do. I was hammering away at my wrist with one finger for a solid thirty seconds before it kicked in.
However, it's a small gripe: the tracker is designed with all-day wearing in mind, right down to the purported seven-day battery life. I wore mine constantly for the last two weeks, and charged it three times, giving me around five days of good performance. Even if it's not the seven I was promised and I didn't enable the always-on display, I was extremely happy with it: the device charges quickly and it's no bother to do every five days or so. Lighter use would most likely get the full seven days.
Fitbit Charge 5: Health and Fitness Tracking
Despite dipping its toe into smartwatch territory, the Charge 5 is very much pitched as a dedicated fitness tracker, and that's where it shines, especially with the addition of Fitbit Premium. The subscription service offers in-depth tracking features for sleep, stress and activity. Sleep tracking showcases time asleep, deep and REM cycles and restoration, which provides insight into how well your body recovered during rest. It then aggregates this data into a total "Sleep Score" as a simple way to tell you if you're sleeping well, fairly or poorly. As you can see, my sleep - averaging around 71 or "fair", needs work.
This simple scoring feature has been brought over into stress management. By measuring the responsiveness of your nervous system (using your heart rate and electrodermal activity, or EDA scans, which measure tiny responses in your skin), your exertion levels and sleep patterns, you get a simple stress management score. Averaging over 80? Congrats, you're managing stress really well. Under 70? You might need a few mindfulness exercises this week.
Fitbit Premium also allows you to log your diet, water intake, current weight, goal weight, workouts and more. It's a really intuitive, great app, and one of the best fitness apps I've ever used – but even though you get six months free with the tracker, the fact it's locked behind a paywall after that is quite irksome. To get the best out of the Charge 5, you really need to be spending that $9.99 a month, upping the long-term cost of the tracker.
However, the Charge 5 shines when tracking your workouts. One of the best features I've found is the automatic exercise detection - you can just get out the house and start running, and the Fitbit Charge 5 will pick it up and automatically begin a workout. I loved this feature, and it really emphasised that all-day, seamless feel the tracker is going for. You almost want to forget you're wearing it. If you do decide to take a more active hand in designating workouts, you can choose six workout profiles to fit on your wrist, from strength training to yoga to swimming, to log your most common workouts.
You can set a goal, whether it's calories burned, active minutes logged or distance travelled, and get comprehensive metrics at the end including heart rate graphs, time spent in the fat-burning "zone", pace (if applicable) and loads more. It's really, really good at what it does.
Fitbit Charge 5: Smart Features
Charge 5 can pair with Android or Apple via Bluetooth and connect easily with the Unlike most slender fitness trackers, Charge 5 has on-board GPS, which helps track runs, rides and steps per day with reasonable accuracy and allows you to leave your phone at home should you choose to do so. I took it round a few of my usual London running routes, and found the tracking pretty comparable with MapMyRun. However, because the Charge 5 has no on-board music storage, you're quite likely to take your phone with you en route regardless.
Notifications can be enabled, so you can access messages on your wrist from the Charge 5. The text is clear and pleasant to read on the larger screen, and I loved the format. You can even set up "quick replies" using stock phrases. Fine for when you get the message "don't forget the milk" but obviously not suited to more complex messages. The Charge 5 can also accept and reject calls, but with no microphone to speak of, you'll have to answer via handset.
Fitbit Charge 5: Verdict
The Fitbit Charge 5 is a very good dedicated fitness tracker. It's definitely the most advanced Fitbit you can get at this time without veering into full smartwatch territory, so it's ideal for people who don't want the larger surface area of the watch or aren't bothered about third-party apps. It's great for casual runners and exercisers, but the added cost of a Fitbit Premium subscription – which isn't essential, but really helps get the most out of the tracker – ratchets up the price.
If you're going to spend what amounts to around $240 over a year, you could spend the money on a smartwatch with more features and higher processing power, providing you're not also using a subscription service like Fitbit Premium or Strava. The Charge 5 won't replace Garmin for serious long-distance runners either. So who is the Fitbit Charge 5 for?
The answer is "Fitbit fans". If you're a generally active person looking for an "invisible" all-day fitness band to pick up sleep and wellness metrics, this is the best one we've ever tried. It's top of its bracket, in both price and performance, looks great on the wrist and is comfortable to wear. However, if you're after a bigger screen and more functionality, like a large selection of third-party apps and the ability to take calls from your wrist, look into our selection of best fitness watches.
Get the Fit&Well Newsletter
Start your week with achievable workout ideas, health tips and wellbeing advice in your inbox.
Matt Evans is an experienced health and fitness journalist and is currently Fitness and Wellbeing Editor at TechRadar, covering all things exercise and nutrition on Fit&Well's tech-focused sister site. Matt originally discovered exercise through martial arts: he holds a black belt in Karate and remains a keen runner, gym-goer, and infrequent yogi. His top fitness tip? Stretch.