You can grow upper body muscle in just four weeks, study reveals
One month of dumbbell training can help increase muscle hypertrophy - using as little as two moves!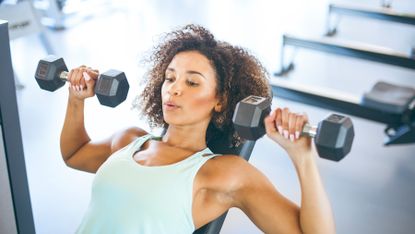 (Image credit: Getty)
Between various life tasks such as working, parenting, cooking, or socializing it's tricky to commit to new fitness goals like building bigger muscle in 2022. Fortunately, it doesn't take training every day to improve muscle mass, science has found that beginners to strength training cab get results in as little as four weeks.
Resistance training isn't just for bodybuilders, and it doesn't just involve shifting heavy weight. Depending on your goals and preferred style of training, you might go to the gym to learn how to deadlift with the barbell – Alternatively, you might get stuck into some calisthenics using some of the best at-home chest workouts.
Either way resistance training is a really great road to venture down if you wish to increase muscle mass or work on defining muscle in certain areas of your body.
Moreover, if you're just starting out, it's worthwhile investing in a set of best adjustable dumbbells and setting aside a couple of workouts a week to make use of these versatile weights.
Research has found that just two sessions of strength training with dumbbells a week can increase muscle hypertrophy. The team of scientists behind this study recruited thirteen untrained men and had them perform twice-weekly dumbbell workouts.
Each of the participants completed 8-12 reps to failure of dumbbells curls and shoulder presses. The training load was increased with every session. For the sake of this particular study, the researchers only got the men to perform concentric variations of these exercises as they wanted to avoid any injury or swelling during the testing.
Throughout the study, the scientists conducted tests on the participants measuring their muscle pain, thickness, lean mass, and arm circumference (among other metrics). This would help them draw conclusions on the effects of four weeks of strength training.
The results revealed that the training did cause visible changes to muscle thickness, lean mass, and flexed arm circumference. Within the four weeks of workouts, muscle thickness had increased by as much as 0.31 centimeters.
These results are encouraging for people unable to commit to something as big as a twelve-week muscle development program, but still want to see results in a shorter amount of time.
It's important to remember that external factors like genetics and nutrition will affect each individual's progress differently. Don't be disheartened if you don't see results as quickly as you'd expect. Focus on always practicing good form when you strength train and take time to stretch out appropriately afterward. You can use one of the best foam rollers from our guide to relieve any tensions in your body after a workout.
Also, it will help to make sure you are consuming enough protein. A high-protein diet can significantly enhance any strength-building goals as it helps to build and repair your muscles. Try out the best protein powder for women if you find you don't eat enough of it in your diet.
Jessica is an experienced fitness writer with a passion for running. Her career in journalism began in local news and she holds a Masters in journalism. Jessica has previously written for Runners World, penning news and features on fitness, sportswear and nutrition.
When she isn't writing up news and features for Fit&Well covering topics ranging from muscle building, to yoga, to female health and so on, she will be outdoors somewhere, testing out the latest fitness equipment and accessories to help others find top products for their own fitness journeys. Her testing pairs up nicely with her love for running. She recently branched out to running 10Ks and is trying to improve her time before moving on to larger races. Jessica also enjoys building on her strength in the gym and is a believer in health and wellness beginning in the kitchen. She shares all of this on her running Instagram account @jessrunshere which she uses for accountability and for connecting with like-minded fitness lovers.