You only need 10 minutes to start burning fat with this no-equipment workout
If you're short on time, this intense and efficient routine will raise your heart rate, burn fat, and build muscle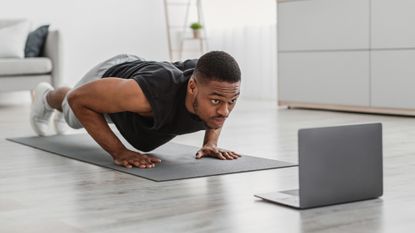 (Image credit: Getty Images)
If you're looking to drop body fat in a pinch, you don't have to spend hours training with cardio-focused gym equipment. It's not always easy to find time for an extended session, which is where this short, 10-minute fat-blasting workout comes in handy.
The best exercise machines to lose weight have their place, though. Treadmills, rowing machines, and multi-gyms are all great ways to stay in shape at home but aren't ideal for when you're tight on time or away from the house.
For those days when you need a short routine to keep things ticking over, fitness YouTuber Fraser Wilson has you covered. This full-body no-equipment workout makes good use of staple moves like push ups, sit ups, and lunges.
But the aim isn't endless reps of these exercises. Instead, Wilson guides you through explosive variations designed to develop muscle, raise your heart rate, and burn fat throughout the day.
This workout style sounds a lot like High Intensity Interval Training (HIIT), but there's a key difference. With HIIT sessions, you'll train for around 40 seconds before taking a short break. Wilson's routine keeps you moving for the whole 10 minutes.
That's why it's more like an AMRAP workout, where the aim is to complete As Many Reps As Possible in the time. This makes it ideal for beginners, as you can take things at your own pace. When you're ready to start, check out the routine in the video below.
Watch Fraser Wilson's 10-minute full-body workout
It's impressively efficient, packing 18 moves into a single 10-minute session. While it's an excellent option for staying active on busy days, you can also use it to complement your usual workout as a fat-blasting finisher.
Wilson has built a solid reputation over the years, which is what led one YouTube user to say, "Loving the videos, loving the workouts, been doing them in variety and in sets, and it's helping me a lot man. I appreciate what you do and I hope you continue doing it."
Importantly, the sessions are all available for free on YouTube. This makes them an accessible resource whether you're looking for a convenient way to keep active or after an affordable way to exercise, rather than joining a gym or getting a personal trainer.
The trainer has an extensive library of videos, ranging from an equipment-free core workout to a 15-minute muscle-building dumbbell routine. He demonstrates the activities and does the movement along with you in each, helping you develop your form.
It's a vital part of training, especially when you're working with weights. Getting the form right helps you avoid injury but also improves the efficiency of your training, so you'll start to see results quicker too.
You can build muscle with bodyweight exercises, but whether your goal is bigger muscles or weight loss, it's also worth investing in a set of the best adjustable dumbbells for a convenient way to start resistance training at home.
These combine multiple weights into a single dumbbell, and you can switch loads quickly, even mid-workout. Then you can learn how to deadlift with dumbbells to burn fat, improve your posture, and get stronger.
James is a London-based journalist and Fitness Editor at Fit&Well. He has over five years experience in fitness tech, including time spent as the Buyer's Guide Editor and Staff Writer at technology publication MakeUseOf. In 2014 he was diagnosed with a chronic health condition, which spurred his interest in health, fitness, and lifestyle management.
In the years since, he has become a devoted meditator, experimented with workout styles and exercises, and used various gadgets to monitor his health. In recent times, James has been absorbed by the intersection between mental health, fitness, sustainability, and environmentalism. When not concerning himself with health and technology, James can be found excitedly checking out each week's New Music Friday releases.