You only need 10 moves and 10 minutes to strengthen your abs without weights
Improve your posture, boost your balance, and have fun with this creative musical core workout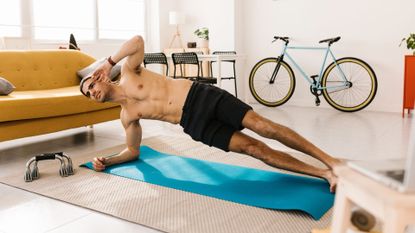 (Image credit: Getty / Xavier Lorenzo)
Doing sit-ups in silence is very few people's idea of fun. Luckily, there are more enjoyable ways to get a great abs workout.
This "abs to the beat" challenge from fitness training duo Juice and Toya tasks you with completing 10 core strengthening exercises in as many minutes, all while moving to the rhythm of a varied backing track.
This is a nice change of pace from the usual approach of providing a target number of sets and reps to complete. It also has the bonus of keeping your movements at an effective tempo—not so fast you rush through reps and sacrifice good form, but not so slow you allow yourself long rests mid-session.
Each exercise is performed for 45 seconds, followed by a 15-second rest, then you move on to the next one. You don't need any equipment to give it a go, although we recommend using a yoga mat for some extra cushioning if you plan to try it on a hard floor.
When you're all set up, you can follow-along with Juice and Toya's video below. They also provide demonstrations of each exercise during the rest period beforehand to help you nail your form.
Watch Juice and Toya's abs to the beat workout
This "abs to the beat" challenge isn't just a fun way to add a little extra movement into your day; it also contains moves that work some of your lesser-known core muscles like the obliques, transverse abdominis, and multifidus.
You see, there is a difference between abs vs core training. People tend to use the term "abs" to refer to the rectus abdominis, which are the muscles on the front of the stomach responsible for the six-pack shape. However, the core is a collection of midsection muscles linking the upper and lower body.
These muscles are vital for bending and twisting movements, as well as supporting your spine, so strengthening them can have far-reaching benefits such as improved balance, stability and posture.
If you're new to strength training, why not start with this core workout for beginners? Or, if you're a home workout veteran, you might want to try a more challenging session like this six-move arms and core dumbbell workout.
Harry Bullmore is a Fitness Writer for Fit&Well and its sister site Coach, covering accessible home workouts, strength training session, and yoga routines. He joined the team from Hearst, where he reviewed products for Men's Health, Women's Health, and Runner's World. He is passionate about the physical and mental benefits of exercise, and splits his time between weightlifting, CrossFit, and gymnastics, which he does to build strength, boost his wellbeing, and have fun.
Harry is a NCTJ-qualified journalist, and has written for Vice, Learning Disability Today, and The Argus, where he was a crime, politics, and sports reporter for several UK regional and national newspapers.