You only need seven moves and 15 minutes to develop a stronger core
Strengthen your abs, boost your balance and protect yourself from lower back pain with this short bodyweight circuit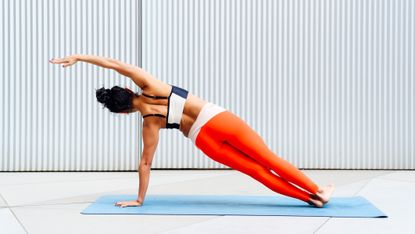 (Image credit: Getty)
Core workouts aren't meant to be easy, but your hard work won't go unrewarded.
Strengthening your midsection muscles can boost your balance, make everyday movements feel easier and even prevent lower back pain—in other words, we think these workouts are a worthy investment of your time.
It doesn't have to be a hefty investment either. This routine from fitness trainer Ella-Mae Rayner is a circuit of seven core strengthening exercises that takes just 15 minutes. The only equipment she uses: a yoga mat.
Watch Rayner's video below to find out which exercises await you, and how many repetitions you'll need to perform of each one. Then, work through them one after the other as a circuit, resting as little as possible between each move.
After you've finished the seven-move sequence, take a 90-second break then repeat it two more times to complete the workout.
Watch Ella-Mae Rayner's 15-minute abs workout
To get the most out of your core workouts, it's essential to switch up the exercises you're doing. Why? Because the core is made up of a range of muscles that wrap around your trunk, not just the six-pack muscles (or rectus abdominis) that sit front and center on your stomach.
As a result, there's a difference between abs vs core training, and you'll want to include a variety of exercises including static holds, twisting movements, leg raises and more for a comprehensive midsection session.
Luckily, you can find examples of all of these exercises in Rayner's time-efficient routine. So, you can enjoy a well-rounded core workout in your lunchbreak while working from home.
Or, if you have more time on your hands and fancy a longer session, try pairing it with some strength training like this no-equipment full-body workout.
Looking for more core workouts? This standing abs routine only takes five minutes, and this exercise ball session is designed to target your "deep core" muscles.
Alice Porter is a freelance journalist covering lifestyle topics including health, fitness and wellness. She is particularly interested in women's health, strength training and fitness trends and writes for publications including Stylist Magazine, Refinery29, The Independent and Glamour Magazine. Like many other people, Alice's personal interest in combining HIIT training with strength work quickly turned into a CrossFit obsession and she trains at a box in south London. When she's not throwing weights around or attempting handstand push-ups, you can probably find her on long walks in nature, buried in a book or hopping on a flight to just about anywhere it will take her.