KitchenAid K400 review: our top blender for healthy smoothies and more
The KitchenAid K400 Artisan Blender can handle any blend job with ease, thanks to its powerful motor and excellent build quality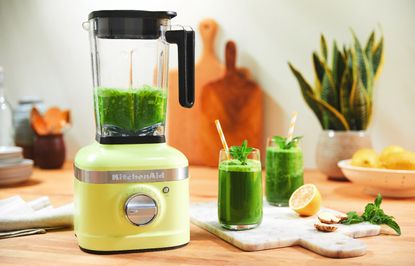 (Image credit: KitchenAid)
Sturdy, stylish and exceptionally well made, the KitchenAid Artisan Blender K400 is the perfect addition to any kitchen, especially one that sees lots of bish, bash, bosh-style food preparation. As one of the toughest blenders out there can blast its way through anything you throw at it with ease. A top quality blender that, while expensive, won't fail to deliver.
Reasons to buy
+

First-class construction

+

Super powerful

+

Great automated programs
Reasons to avoid
-

No detachable blade

-

A little on the pricey side
It's likely you've already clapped eyes on the KitchenAid K400 if you've been hunting for a blender that can whip up a smoothie in seconds. This is a machine that - with its die-cast metal base and 1200W motor - is built to last.
As one of the most robust blenders on the market, this mighty fruit and veg blitzer doesn't come cheap. But with a sexy control knob, sizable glass jug and five-speed presets to cover an array of icy beverages, it's unlikely to disappoint.
Still, investing in a new blender or smoothie maker to take up that precious kitchen countertop space can be a bit overwhelming, especially considering all the different functions and features they can have. This is where the KitchenAid K400 excels, offering a simple design that touts a host of automated functions to suit whatever drink you're in the mood for.
Still not sure if it's the best blender for you? Read on to find out how well it fared in my real-life tests.
KITCHENAID K400: PRICE AND FEATURES
The KitchenAid K400 Artisan Blender has an RRP of $249/ £279, making it one of the most expensive mass market blenders out there. However, you can occasionally pick it up for considerably less. The trusty shopping widget below will always display today's best prices, so you don't have to spend hours shopping around.
It can be purchased in 11 bold colors: black, blue, cream, green, pistachio, pink, red, maroon, silver, grey and yellow.
In terms of key features, you can expect to find a sturdy metal base cradling a large and durable 56oz/1.4L glass pitcher (although for some reason the Stateside version seems to come with a plastic jar as standard).
There's also some super sharp, stainless steel blades that are spun by a powerful 1200W motor, along with five variable speeds and 3 pre-programmed settings covering crushed ice, smoothies, and frozen drinks.
KITCHENAID K400: DESIGN
If its sex appeal you want from your blender then look no further, because that's exactly what you get with the K400 Artisan Blender. Thanks to its bold colorways, it's beautiful to look at. Part of its charm though is - surprisingly - it's hefty base, which just oozes quality. Radiating nothing but '50s Chevy vibes, every part of this chunky machine is exceptionally premium and a pleasure to use.
The 56oz/1.4l glass jug is both heavy duty and heavy weight. It's not, however, too heavy to carry around the kitchen, even when full of ingredients post-blend. On the side are some handy measurement markings, ideal when you're looking to mix baking ingredients, for instance, and need to be more precise.
A rubber lid slots securely into place to provide a waterproof seal. Thankfully, there's a removable center section here that makes adding ingredients mid-blend a little easier.
The only slight design flaw I found was that the blade doesn't detach. This would make cleaning much easier, but I found that if you washed it immediately after blending with the self-clean program, this was never an issue.
When it comes to getting your whizz on, there's no need to clip or lock the blender jug in place. Its weight alone is enough to do this. Although this is a little concerning as you can easily continue to blend with the lid off - not the safest design in the world.
The controls are super simple to use. There's a single dial on the front that lets you select pulse or turn to select a blender speed. There are also three dedicated programs, one for crushing ice, one for icy drinks and a smoothie cycle.
KITCHENAID K400: PERFORMANCE
So how well does this machine perform when blending your five-a-day? Very well, is the straight answer. Take, for instance, how effortlessly it crushes ice. Using the ice-crush program, the blender can take on a bunch of cubes and blitz them into a fine ice with a texture and consistency that's ideal for frozen desserts or drinks.
It's just as good when it comes to smoothie making. A banana, frozen berries, apple and some oat milk were ground down into a fine liquid in seconds, thanks to the automatic program which adjusts mixing speeds, alongside some added pulses for good measure.
The KitchenAid K400 Artisan Blender can also cope with grinding, I found. Shove in some harder food items such as coconut pieces and whack the knob all the way to full speed and you'll get the grounded result you're after. This will prove a little more difficult to clean off at the end, however.
KITCHENAID K400: VERDICT
Whether you're a healthy smoothie nut or you just love preparing homemade soups, jams or sauces, KitchenAid's K400 Artisan blender will sort you right out. Yes, it doesn't come cheap - especially compared to most of its rivals - but you cannot deny just how sturdy, stylish and exceptionally well made this thing is. It will, without a doubt, stand the test of time.
I think it's the perfect addition to any kitchen, especially one that sees lots of bish, bash, bosh-style food preparation. As one of the toughest blenders out there, it will blast its way through anything you throw at it with ease.
A top quality, sexy-ass blender that is well worthy of a five-star rating.
Also consider
PHILIPS INNERGIZER AVANCE HIGH-SPEED BLENDER
If your main priority is not waking the entire household when blitzing your breakfast smoothie, the Philips Innergizer Avance high-speed blender might be a better option. This food blitzer keeps noises to a minimum thanks to its 'noise comfort dome', which is essentially a plastic shield as you might have seen on more commercial blenders. This fits over the jug while blending to reduce the high-pitched screams of all the fruit and veg you're mass murdering, doing so satisfyingly with a super powerful wattage of 2000W.
BREVILLE BLEND ACTIVE COLOUR MIX
At the complete opposite end of the blender spectrum is Breville's Blend Active Colour Mix - a real bargain buy. It's relatively low 300W power supply means it won't be able to turn your five-a-day into liquid quite as fast and efficiently as its pricier counterparts, but if it's just a simple smoothie you're wanting, it certainly ticks that box. What's more, this blender doesn't have one fixed jug. It comes with two 20oz/600ml and two 10oz/300ml BPA-free bottles which the blades attach to, so multiple people in a household can use it, without having to wash a jug first.
Get the Fit&Well Newsletter
Start your week with achievable workout ideas, health tips and wellbeing advice in your inbox.
Lee Bell is a London-based journalist, copywriter, specializing in all things tech and lifestyle. He is also a qualified personal trainer. He started his journalism career a decade ago as a reporter covering the latest gadgets and innovations at tech tabloid The Inquirer. Lee went freelance in 2016 to broaden his expertise, moving into news, reviews and feature writing for a host of national print and online lifestyle titles such as GQ, Forbes, Esquire, Men's Health, Wired, The Metro, and The Mirror. He has an insatiable appetite for travel, Dharma yoga, and the odd outdoor challenge.