Tefal ActiFry Genius+ review: a sound air fryer for healthier cooking
The Tefal ActiFry Genius+ is a versatile, jack of all trades air fryer that covers most bases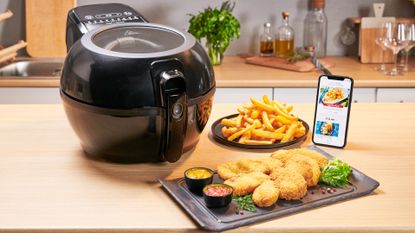 (Image credit: Tefal)
A sound air fryer that produces good results. However - and speaking of sound - it's pretty noisy when in use, and the build quality and dependability isn't as good as one would expect for the price
Reasons to buy
+

Tasty results

+

Versatile
Reasons to avoid
-

Really noisy

-

Enormous footprint
As soon as you take the Tefal ActiFry Genius+ air fryer out of the box, it's clear that you're dealing with a serious piece of kit – it's big and bulky, with a huge cooking compartment and myriad options for cooking everything from your crispy prawn starter to a plate of chicken and chips. It'll even whip up a dessert for you.
But whilst the Genius+ is remarkably versatile and amongst the best air fryers on the market, it isn't without its faults. Aside from the considerable footprint, it's a loud beast, and though the results are pretty good the build doesn't exude quality.
Let's start at the beginning though – what is an air fryer? The name sounds fancy but in essence air fryers are just tabletop convection ovens. By coating your uncooked food in a tiny amount of oil and blasting it with hot air, air fryers are able to achieve a very similar effect to a deep fat fryer but with minimal fat.
If that sounds a lot like roasting fries in a fan oven, well, it's a very similar concept. However, air fryers are more compact and generally create much better air flow, giving you a crispier result than a standard oven.
Price and key features
The Tefal Actify Genius+ has a UK retail price of £209.99, making it a not-insignificant investment. The exact same model isn't available in North America (where the brand name is written slightly differently: T-Fal) however a similar Actifry model is available from Amazon.
The main selling point of the Actifry Genius+ is the range of intelligent cooking modes it offers; nine different modes cover all sorts of different meals, from classic fried foods (French fries, onion rings and chicken nuggets) to meatballs and chicken wings, to stir fries and even desserts.
The theory here is that the Genius+ is essentially an oven with a continuously-moving paddle, and those two things make it far more versatile than most other air fryers. The different modes are simply presets with a different temperature, paddle speed and timer; for example, the fries preset moves the food slowly and blasts them for 31 minutes at about 180ºC. Some of the presets have you remove the paddle altogether, turning the Genius+ into a standard oven.
This versatility means the Actifry doesn't just 'air fry' - it also bakes, braises, sautées and stir-frys if you want it to. You can manually change the time and temperature and there's a delay setting on the timer as well. Once you've got the hang of the concept, it becomes very versatile.
Design
First impression of the Actifry Genius+ – it's big. Really big. At 43.3cm deep, 30.3cm wide and 23.8cm tall, the Genius+ dwarfs most other kitchen appliances. Unless you have loads of worktop going spare you're probably going to want to keep it in a cupboard, and in that case, you'll need a really big cupboard.
The design is fairly middle-of-the-road – Tefal have gone for a slimming black paint job which I like overall, but the Genius+ is more function than form in this regard. A plastic button at the front operates the lid of the cooking compartment, which springs open when unlocked.
The large size of the Genius+ has a positive upside, which is that the Actifry's cooking compartment is enormous – it'll comfortably feed six hungry mouths, which makes it a solid option for families who want a straight-forward press-and-go cooker.
What separates Tefal's Actifry line from other air fryers on the market is the paddle in the cooking compartment. Most air fryers cook your food in a pull-out drawer compartment – it's a simple enough idea but it means that you have to come and shake your food around every now and again.
However, Tefal's paddle solution slowly rotates during the cooking period, so your food is always being moved around. Moreover, the viewing window in the top of the lid means you can keep an eye on your food as it's cooking. This should all come together to give you more even cooking and free you up to do other jobs – I think it achieves both those things, but more on that later.
The build quality is solid enough but not as sturdy as I would have hoped, especially when you're dealing with an oven on your worktop. When the lid springs open, it does so a little uncontrollably and bounces at the top of its arc. The plastic buttons are a little rickety, and there's a lot of sideways movement in the lid hinge. None of these things on their own are a real issue, but together they leave the impression that the Genius+ is not as sturdy as it could be.
That said, the digital touch panel is solidly-built and works well. It's a pretty minimal interface – a plus/minus button to cycle through options, a play/pause button to select and a digital timer that shows you how far along you are.
It's also worth mentioning that all the important parts are dishwasher-safe. That's a given in my opinion – no-one wants to own an air fryer and have to wash everything by hand afterwards. The size of the Genius+ means that all the parts take up a hefty chunk of free space in the dishwasher but, but it's better than having to scour them by hand.
Performance
The bread and butter of the Genius+ is handling tasks that would normally be done in a deep fryer, which it does with mixed results.
Fries, for example, are excellent – you don't have to parboil the potatoes as you do with some cheaper air fryers, and they are more or less on par with deep fried fries but with a fraction of the oil. The manual recommends washing and drying the raw cut potatoes to get rid of excess starch; I didn't do that because it's a frankly ridiculous thing to expect someone to do every time they want fries. That said, they still came out perfectly well. It's a similar story for other traditional air fried foods – chicken nuggets, samosas and the like all came out nice and crispy.
Tefal's Actifry app has a 300+ strong recipe archive to dig into, covering a huge range of different styles and cuisines. The Genius+ handles many of these recipes about as well as an oven would do, which is not surprising. For example, air frying is not an ideal way to cook a beef stir fry. A proper stir fry requires a lot of heat and movement – the Genius+ gamely attempts it but it's not a genuine alternative for the real thing.
It does a perfectly good job of reheating leftovers too, but all of this versatility comes at a cost – the noise. The Genius+ makes a tremendous racket whenever it's running. If you're someone who likes to listen to a podcast or have a chat whilst you're cooking, you'll really struggle to do that if the Genius+ is going in the kitchen at the same time. You can get around that by setting it going and leaving the room, but if you're planning on sharing the kitchen, there's no getting away from the noise. The Genius+ is a very capable sous chef, but also a loud one.
Final thoughts
I'm quite torn with the Actifry Genius+ – there's a lot of potential here and I recognise that there are some things that it does really well.
If you eat a lot of fries, for example, or you're feeding a family every night, you'll probably get a good amount of use out of it. But with a retail price around £200 it's not surprising that Tefal want the Genius+ to be more than a healthy fry dispenser. It does do a lot of those things reasonably well, but I don't think it does them sufficiently better than an oven to justify that price.
As much as I want to love it, the noise it makes really detracts from the easy, breezy experience that it is supposed to give, and the build quality doesn't fill me with confidence either.
If you are looking for something that you can use as more than just an air fryer, the Genius+ really could work for you, but I'd recommend a trial run of sorts before you buy.
Also consider
Philips Airfryer XXL: Big and pricey, but excellent in every other regard
Ninja Air Fryer AF100UK: Very capable and versatile, at a fraction of the price of premium models
Get the Fit&Well Newsletter
Start your week with achievable workout ideas, health tips and wellbeing advice in your inbox.
Pete is a journalist, recipe developer and chef, specializing in food, health, fitness and technology. He has written for the likes of T3, TechRadar, Great British Chefs and the BBC about a plethora of topics, from healthy eating on a budget to fitness tech for every sports and fitness activity. He continues to drive forward the message that healthy eating can be delicious, affordable and easy via quick, simple recipes on his blog. In his spare time he's a keen rock climber and boulderer, and spends lots of time running - either on trails, roads or out on the hockey pitch!