The Osprey Talon Earth 22 has great eco credentials, but I couldn't wear it for more than an hour
The Osprey Talon Earth 22 is a reliable, durable, and repairable day bag, but it just wasn't that comfortable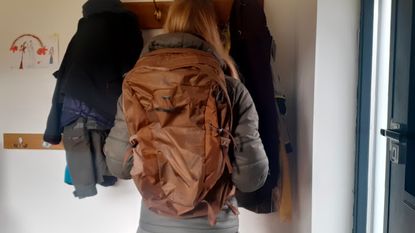 (Image credit: Lily Canter)
There's a lot to like about the Osprey Talon Earth 22 — it's made from recycled materials, has an extensive warranty with free repairs, and feels roomy for a 22-liter bag. Disappointingly, it's not fully waterproof, is pretty heavy when empty, and I found that it dug in too much to be comfortable for longer walks.
Reasons to buy
+

Multiple stowing compartments

+

Adjustable length

+

Low environmental impact
Reasons to avoid
-

Not waterproof and has no cover

-

Stiff back panel

-

On the heavier side
Until I tested out the Osprey Talon Earth 22, I hadn't realized that hiking backpacks are just like hiking shoes — what's perfect for one person can be a nightmare for others.
On paper, the 22-liter bag is one of the best hiking backpacks around, but it's not for everyone. I found the firm back panel an uncomfortable distraction, but my husband loved the support it gave him.
As with other unisex bags, creating a one size fits all design is complicated. It is adjustable, but it still can't take into account the different shapes and sizes we all come in.
To its credit, though, there is a decent amount of space given its capacity, and it is a good-looking pack. And it is flexible enough for backpacking, shorter walks, and cycling to the office.
Osprey Talon Earth 22 review: price and warranty
The Osprey Talon Earth 22 retails for $200/£160, so it's not as budget-friendly pack as the Patagonia Altvia. If you're looking for a similar design but with a lower price tag, there's a standard edition of the Osprey Talon 22 that doesn't use this pack's eco-friendly materials.
It comes with Osprey's All Mighty Guarantee, where the company will repair any damage from any of their packs free of charge. It's an impressive service that few others offer, as most warranties only cover manufacturing defects.
Osprey Talon Earth 22 review: design
The 22-liter backpack is on the lower end of the Talon range (which extends up to 44 liters), but there's plenty of storage, and it feels as roomy as a 30-liter backpack like the Vaude Brenta 30.
There is top and side access to the main compartment, and, like other hiking daypacks, you need to take the bag off to get right inside. There are three colors to choose from (green, blue, and brown), and the design is generally attractive.
The PFC/PFAS-free material is water resistant during a light shower but won't stand up against heavy or prolonged rain. There is also no waterproof cover which is disappointing. If you can keep it dry, the bag feels durable.
And, even if it does break or you accidentally make a hole, the All Mighty Guarantee means you can send it off for a free repair. The Earth edition of the Talon 22 is made from more recycled textiles than the standard version, and half of the plastic is from recycled sources, too.
Osprey Talon Earth 22 review: storage and organization
The Osprey Talon Earth 22 has an interesting internal design, with four layers of vertical compartments. The front section is the largest, with a zipper going halfway down on each side for easy access and a meshed pocket for smaller items.
The other layers include a top compartment for storing quick-access items like charging cables and batteries, a full-size compartment with a laptop sleeve, and a compartment to keep your water reservoir like the Camelbak Rogue, one of our favorite water bottles for hiking.
But as the bag isn't fully waterproof, it might be safer only to pack a reservoir when you don't also have a laptop in the bag! If you prefer a bottle, there are two mesh pockets on the side and hip pockets for your phone and other small essentials.
Osprey Talon Earth 22 review: fit and comfort
The stiff but padded back panel is covered by a breathable mesh and has curved indents to encourage airflow. Happily, this AirScape back panel does an effective job of keeping you cool and clear of sweat.
And you can adjust the height of the back by lifting the Velcro-attached reservoir section, which makes it more comfortable for taller wearers. There's also a flexible harness and a hip belt, which I never found restrictive.
I did find the back suspension panel was too firm, with all the weight on my lower back, when I prefer it on my hips, back, and shoulders. At times, it felt like the panel was digging into my back, and I often couldn't wear it for more than an hour without a break.
Even with everything adjusted right and pulled neatly against my body, the shoulder straps tended to dig into my chest. And if you're a light packer, it's still a heavy bag, weighing 1.1kg when empty.
Should you buy the Osprey Talon Earth 22?
The Osprey Talon Earth 22 is a well-equipped, spacious bag ideal for a day hike or overnight backpacking. The internal organization is well thought out and makes it easy to find what you need.
It's also an interesting option for commuting if you need to take a lot to work each day. But it's not comfortable enough to wear for longer periods, especially if you fully pack the already heavy bag.
The Earth 22 is more expensive than the rest of the Talon range, so it depends on how much you value the increased environmental focus. But whichever version you choose, your bag is covered for repairs under Osprey's comprehensive warranty.
Also consider
Helly Hansen Transistor 30
The 30-liter capacity Helly Hansen Transistor 30 is better for longer hikes. It also lacks full waterproofing but has plenty of smaller storage areas, loops, and attachments if you head out with lots of gear.
Vaude Brenta 30
The Vaude Brenta 30 is another 30-liter bag, but it's cheaper than the Earth Talon 22 and is extremely comfortable. The downside is that the warranty is restrictive and only covers manufacturing defects for two years.
Lily Canter is a freelance money, health and lifestyle journalist with more than 20 years' experience. She writes about fitness for Runner's World and Trail Running magazines and focuses on personal finance for Yahoo! Finance UK, Metro, The Guardian, and the Mail on Sunday. In her spare time she is an ultra-runner, canicrosser and running coach. She also co-hosts the award-winning podcast Freelancing for Journalists.