Garmin Venu 2 Plus review: a functional and stylish entry-level running watch
This Garmin Venu 2 Plus review uncovers the smart features of this fitness tracker and if its worth the money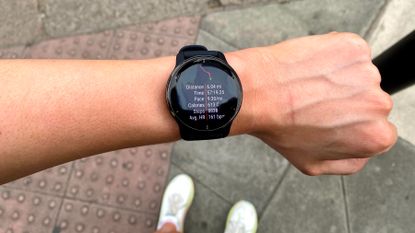 (Image credit: Future)
The Garmin Venu 2 is a little different from other Garmin running watches as this model verges into smartwatch territory, as well as your handy and reliable activity and health tracker. I think the larger price tag reflects this cross-breed element. It's a really nice and refined-looking watch that doesn't look or feel clunky. The fitness tracking features available are versatile and are complemented by a nice crisp display which makes checking your results more satisfying.
Reasons to buy
+

High-quality display

+

Great sports tracking plus GPS

+

Good battery life

+

Feature-rich
Reasons to avoid
-

Pricey

-

Only comes in one size
Our Garmin Venue 2 Plus review will cover everything you need to know about the company's stylish running watch. If you want something that can track your runs alongside various other fitness hobbies, provide daily health updates, and receive and answer calls from a watch that doesn't look too clunky then the Garmin Venu 2 Plus will serve you well.
As soon as I got my hands on the new Venu model, I liked the lightweight feel of the watch, as well as the subtly textured watch strap, and the all-black look is always a winner for me. It's a stylish and high-performing addition to the Garmin family and one that we deem worthy of including in our best fitness watch guide and our best running watch roundup.
If you're deciding between buying this watch or the slightly older Venu 2 model, the Venu 2 Plus boasts a speaker and microphone, meaning you can make and answer calls from your watch. I've never been overly enamored by smartwatches, as I like to feel like I'm off grid when I run, but I must say having the ability to take calls from my wrist while out and about did come in handy. I'm sure many others will appreciate this handy addition to the Venu 2 Plus, whether that's because you need to be available over your lunch break run or because you're more likely to notice a call come through via your wrist than on your phone. The sleek black appearance and smart features reminded me a lot of the Huawei GT3 fitness watch.
The Venu 2 Plus also has a built-in GPS mode which is a must for tracking my runs as accurately as possible and something I was impressed with during the testing of this wearable.
And like all Garmin watches, this running-watch-come-smartwatch records and reports back on various health metrics such as heart rate tracking, sleep quality, SpO2, and stress levels. All the various stats on offer can easily be viewed on the watch's bright and high-res screen.
Garmin Venu 2 Plus: price and features
The Garmin Venu 2 Plus is priced at $449.99/£399.99. It will cost you $50 more than the Venu 2, it is more on the expensive side but we can vouch that you aren't just paying for a slight aesthetic change or a couple more sports modes with the newer model.
The addition of a microphone to this watch does warrant paying a little extra if this is something you feel like you'd benefit from. I ended up using the voice assistant feature for a number of things including controlling my music, getting Siri to type out a text for me, and taking emergency calls while out and about.
Garmin's latest optical heart rate monitor feature on the Venu 2 Plus means that all-day tracking is available too. As with all Garmin models, there is full GPS tracking and even a barometric altimeter—a feature that uses barometric pressure to measure changes in elevation and the pressure brought on by weather conditions. More outdoorsy exercisers might find this feature more handy than a regular gym-goer.
If you're anything like me and can't run without listening to music with a good beat for interval sessions, or a podcast for those long and easy runs, then you'll be happy to hear that the Venu 2 Plus includes music storage. This means you can install third-party apps such as Spotify, Amazon Music, or Deezer on your watch. You can download up to 650 songs to the device or control music playback with a few taps on the watch.
Garmin Pay is compatible with a select few UK banks none of which I use therefore I, unfortunately, couldn't benefit from making contactless payments with this watch. Garmin users in America should have more flexibility with this.
Garmin Venu 2 Plus: design
There are three colorways to choose from with the Venu 2 Plus: Silver Stainless Steel Bezel with Powder Gray Case, Slate Stainless Steel Bezel with Black Case, and Cream Gold Stainless Steel Bezel with Ivory Case. The watch is only available with a 43mm case and comes with a 20mm silicone band for fastening around your wrist, which you can mix and match if you wish to customize your look. For reference, I tested out the Slate color and found it blended in nicely with any sportswear look and didn't clash with my more dressy workwear clothing.
The Venu 2 Plus has one more button than the Venu 2 and serves a shortcut to your phone's voice assistant. One of the reasons I don't enjoy touchscreen watches is because I hate fumbling around small widgets on the watch face with my clumsy fingers. However, holding down this shortcut button instead is a lot more seamless. To charge the Venu 2 Plus you just use the provided USB-A cable the same as many other Garmin models such as the Garmin Instinct 2S Solar.
The watch weighs 52g, which I found during testing to feel just right on my wrist. I have quite skinny wrists, so I am always the first to groan if a watch feels or looks chunky and heavy—thankfully the Venu 2 Plus didn't warrant a grumble from me. It looks nice on, doesn't attract too much attention, and feels comfortable enough to wear to bed. I also had no issues wearing this in the shower thanks to the watch's 5ATM water resistance rating (the amount of pressure a watch is designed to endure), but this isn't the kind of fitness watch I'd be wearing for any deep water activities or extreme sports.
Garmin Venu 2 Plus: screen
The bright AMOLED touchscreen on the Venu 2 Plus is a bonus, as there's nothing better than viewing your stats and notifications on a high-resolution screen. I didn't have any major hiccups with responsiveness other than when my hands got sweaty during a run and needed to change the song or swipe up to view my route. However, I never found myself needing to use the touch functions much while exercising.
The watch has an 'always-on' mode but I purposely didn't use this to avoid draining the battery quicker than necessary. One of the additional features to the Venu 2 Plus that shows off the watch's AMOLED screen is the on-screen muscle maps. This feature shows what body parts you've been using from your recent activities and workouts.
Garmin Venu 2 Plus: data tracking
The Venu 2 Plus boasts plenty of popular Garmin fitness tracking features such as built-in GPS tracking, multi-sport modes, and additional features for any keen gym-goers. While other Garmin models like the Forerunner 735 XT offer more advanced training tools than the Venu 2 Plus, this is a great entry-level running watch for runners and fitness lovers alike looking to track their performance and prForerunner 735 XTogress, all the while keeping tabs on their day-to-day health.
I tested the heart rate monitor against another Garmin model (the Garmin Forerunner) and noticed no stark differences. In my day to day, I liked being able to check my heart rate, whether that be sitting down at work, running a 5K, lifting some weights at the gym, or as I get into bed. Speaking of bedtime, during testing I found the sleep tracking feedback fairly accurate but it did sometimes think my pre-bed reading was sleep time for me.
As I live in a built-up city I never expect GPS to pick up that quick when I nip out for a run but with the Venu 2 Plus I was pleasantly surprised with how promptly the GPS function declared itself as ready to go. It's useful to note here that this running watch doesn't provide real-time navigation which you get with more expensive Garmin models like the Solar Instinct 2S. Nonetheless, I made use of the 'return-to-start' feature when mapping new running routes. Before getting stuck into my miles, I selected 'Navigation' from the watch's menu to use GPS to pin my starting point so that I could then use this to find my way back. This proved to be useful for me.
I benefitted from using the menstrual tracking function on this watch. Once you set it up via the Garmin Connect app you can log your daily feelings and symptoms and receive reports on fluctuations happening in your body. This saved me using a separate app on my phone to do this and keeps all my health and fitness tracking in one place.
Garmin Venu 2 Plus: performance
I repeated some standard workouts wearing the Venu 2 Plus on one day and the Garmin Foreunner 735 XT on another day for the same workouts to monitor my heart rate. The changes and spikes proved to be very similar and I think the optical heart rate monitor makes for a great tracking metric when interval training. Moreover, the GPS tracking didn't present me with any issues or inaccuracies as I tested this against two of my regular running routes.
In terms of the microphone performance, I ended up using the voice assistant feature for a number of things including controlling my music, getting Siri to type out a text for me, and taking calls while out and about. The volume isn't particularly loud, but the audio quality is clear enough.
Garmin Venu 2 Plus: battery life
The Garmin Venu 2 Plus is designed to last up to nine days in smartwatch mode, up to 10 days in battery saver mode, and up to eight hours using GPS and music (or 24 hours with GPS and no music). But I always like to preface this section by saying battery life really depends on the user's individual usage.
During testing I wore this watch 24/7, used GPS mode most days for running, and heavily used the various smartwatch features and found I had to charge the watch after eight days. For an AMOLED display watch, I was really impressed with the battery life on the Venu 2 Plus. I see the Venu 2 Plus as a competitor to the Huawei GT3 smart running watch, but the Venu 2 Plus doesn't come out on top for battery life.
Garmin Venu 2 Plus: verdict
All in all, the Garmin Venu 2 Plus is a fun hybrid watch for tracking your running training. It seamlessly combines the feel and functions of a smartwatch with an array of fitness tracking features found in a typical Garmin running watch.
The new smart features, like the built-in speaker and microphone, don't make it a better running watch but, don't get me wrong, they're handy to have access to. It may not offer the same advanced training tools as other running watches, but it's packed with features more than suitable for beginner to intermediate runners and fitness lovers alike.
Also consider:
The Garmin Venu 2 Plus is a great choice if you want your running watch to function as a solid fitness and health tracker and function as a smartwatch. However, it won't fit everyone's needs and fortunately there's plenty more options out there - check out some of our alternative top picks below...
Polar Vantage V2
The Polar Vantage V2 is positioned as a top contender in our running watch roundup for a reason; it's packed with running and fitness features and doesn't disappoint on detail when it comes to feedback and stats. It's not cheap, but if you take your fitness seriously, it's worth paying for the rich suite of features that will set you on the right path to improving your abilities and get you race-ready.
Apple Watch Series 7
The Apple Watch Series 7 can't compete with the stats and activity tracking performance that dedicated sports watches can offer, and it's only compatible with iPhones. However, you might be after a richer smartwatch experience that still has basic running and health-tracking capabilities. The Apple Watch Series 7 essentially provides a second screen to your phone and if you do need more from it in terms of fitness, the App Store is packed with apps that can transform this watch to a full on exercise companion.
Get the Fit&Well Newsletter
Start your week with achievable workout ideas, health tips and wellbeing advice in your inbox.
Jessica is an experienced fitness writer with a passion for running. Her career in journalism began in local news and she holds a Masters in journalism. Jessica has previously written for Runners World, penning news and features on fitness, sportswear and nutrition.
When she isn't writing up news and features for Fit&Well covering topics ranging from muscle building, to yoga, to female health and so on, she will be outdoors somewhere, testing out the latest fitness equipment and accessories to help others find top products for their own fitness journeys. Her testing pairs up nicely with her love for running. She recently branched out to running 10Ks and is trying to improve her time before moving on to larger races. Jessica also enjoys building on her strength in the gym and is a believer in health and wellness beginning in the kitchen. She shares all of this on her running Instagram account @jessrunshere which she uses for accountability and for connecting with like-minded fitness lovers.