Apple Watch Series 7 review: a great fitness tracker for iPhone users, but runners should look elsewhere
Our Apple Watch Series 7 review puts the iPhone-friendly smartwatch to the test to see if it's the right tracker for your workouts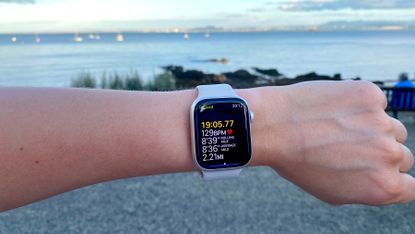 (Image credit: Future)
The Apple Watch Series 7 is arguably one of the more attractive watches you can use for tracking workouts. The clear and bright touchscreen is as slick to operate as it is to look at, and Apple offers up this watch in an array of alluring colors. But it's missing the excellent battery life of alternatives from Garmin and Polar, making it less ideal for tracking extended workouts or runs. Plus, it's pretty light on exercise metrics and isn't compatible with Android smartphones. It's a technically impressive watch, but there are some limitations if you want to use it as a fashion-friendly, premium running or fitness watch.
Reasons to buy
+

Charges fast

+

Large screen

+

Easy to use

+
Reasons to avoid
-

Needs daily charging

-

Limited specs for runners

-

Only works with the iPhone
We've got you covered if you've been looking for a fitness-focused Apple Watch Series 7 review. We put Apple's latest flagship smartwatch to the test to see if there's a capable fitness tracker hidden under the Watch's stylish exterior.
We found that the Apple Watch Series 7 makes a pitch for the best running watch, but ultimately, it is better if you're a more casual runner or don't require it for any particularly long routes or races. It does make for a good general-purpose tracker, though, capable of recording yoga classes, gym workouts, or HIIT sessions.
It's really easy to start recording a run on the watch, and you can customize the on-screen metrics by adjusting this in your settings. Plus, the Watch Series 7 is compatible with popular running apps such as Strava and RunKeeper, and you can leave your iPhone at home while out for a run, thanks to the built-in GPS.
In keeping with Apple's closed ecosystem, the Apple Watch Series 7 only works with the iPhone, so, sadly, this watch is of little use to any Android-owning runners out there. Compared to running-focused watches from Garmin or Polar, the Apple Watch Series 7 doesn't have great battery life—you'll need to charge it almost daily.
This is why it just doesn't seem like a suitable watch for keen marathon runners or more adventurous runners. In fairness to Apple, it hasn't designed the Watch Series 7 for this purpose. The wearable is more suited to various everyday activities, like receiving notifications and taking phone calls. But it is definitely not one to rule out; read on to find out everything we did and didn't like about the Apple Watch Series 7.
Apple Watch Series 7 review: price and features
If you're thinking of buying the Apple Watch Series 7, you will be spending $399/£369 on one. The Series 7 comes in two sizes, the smaller being 41mm and the larger being 45mm. Plus, the smartwatch is available in five different colors: midnight, starlight, green, blue, and red.
For reference, we tested out the 45mm Series 7 in the color Starlight. We often comment on how the more rugged-looking running watches we test, like the Garmin Instinct 2S, can look clunky off the running track and paired with everyday clothing. The Apple Watch Series 7 is one of the few watches where this hasn't been the case.
Apple's ring-based system for tracking your physical activity is available on the watch face and is a great way to check in on your progress throughout the day, showing your movement (calories), exercise (time), and standing time. You can customize the on-screen running and workout metrics using the Watch app on your iPhone.
The following metrics are available to choose from: distance, duration, average pace, current pace, active calories, total calories, heart rate, and elevation gain. Compared to the competition, it's relatively basic, but the GPS tracking proved pretty accurate for us during testing.
In theory, you could use this watch for more serious training and replace one of the more comprehensive running watches with the third-party apps available to download to the Apple Watch Series 7. But the real bug-bear with this watch is its battery life; we had to charge this watch every morning.
Incredibly, despite first launching back in 2015, the Apple Watch only recently gained full sleep tracking with the release of the watchOS 7 software update. But since the Apple Watch doesn't have a considerable reputation for sleep tracking, we weren't fussed about not wearing this watch to bed and instead charged it overnight.
With this watch, you can use Apple's Fitness+ app, meaning you have access to heaps of guided workouts, and the first three months are on Apple. We enjoyed using the Mindfulness app while testing out this Apple watch.
A session begins with a question for you to reflect on, followed by a display of moving and colliding shapes. This might sound a bit airy-fairy to some, but it is a nice way to either get into the zone for a run or race or to help you relax before bed.
Mental well-being is equally important to physical well-being, so it's nice to see a fitness watch make this more accessible for users. Apple Fitness+ is currently an exclusive feature tied to the Apple Watch, but be sure to check out our Apple Fitness+ review before signing up.
Apple Watch Series 7 review: design
If you're not into wearing big bright wrist straps or clunky black fitness trackers, then you will probably enjoy how the Apple Watch Series 7 looks on your wrist; we certainly did while testing the Starlight model.
The colors on offer with the Series 7 are more muted than some older models and make for a more subtle look on the wrist. The crown button is a helpful way to navigate around the watch, especially mid-workout when your hands are too sweaty to operate the touch screen with ease.
This latest edition of the Apple Watch is more durable, with an IP6X rating for dust resistance. We enjoyed the OLED display on this watch and noticed no scratches or marks on the screen during testing.
The Series 7 is waterproof for shallow water activities (up to 50 meters), but this is the same for all Apple Watch models from the Series 2 onwards. If you're a keen runner and dabble in triathlon or are considering it, you might be better with an alternative.
For regular water-based exercise, something like the Garmin Forerunner 735 XT is a better option as it's been designed especially for tracking swimming, running, and cycling together, and it's beginner friendly, too.
Apple Watch Series 7 review: display
The Apple Watch Series 7 is theoretically easier to use than earlier models, thanks to its sizable display. It's 20% larger than previous editions, so there's more room on the display and an extended touch-compatible area.
The edition of the Apple Watch comes with an always-on display, which is brighter than older Apple watch models. This dials up the brightness during specific activities. The default Apple apps have this enabled, but other developers have to build it into their software, so your favorite apps might not have this just yet.
The larger display on the Apple Watch Series 7 means you can use the expanded on-screen keyboard from your wrist. This can come in handy when out for a walk or run and if you need to send a quick 'Yes' or 'Be back soon' message, but we think it's still too much faff for anything longer.
Apple Watch Series 7 review: data tracking
Many people compare Apple Watch vs Fitbit to track their daily steps, but this doesn't mean the Apple Watch is limited to everyday activities like walking. As well as pretty regular activities like running and cycling, you can track more diverse forms of exercise like Pilates, hiking, and Tai chi.
Plus, if you regularly work out at the gym or own any of the best exercise machines to lose weight, you can sync your Watch with GymKit-compatible equipment. As a result, you can track equipment-based workouts just as you would a run or weights session and add them to your Apple Health profile.
Your Apple Watch comes with a three-month free trial of the Apple Fitness+ virtual workout platform. We hate to miss out on a free trial, so we gave the classes a go. It's worthwhile purchasing if you work out from home and need that element of motivation that you typically get in an in-person fitness class with others.
The workouts aren't live, but there are several instructors for different classes (such as HIIT, yoga, treadmill workouts, and mindful cooldowns) that provide clear and positive instruction, and the exercises are challenging.
We already mentioned sleep tracking. As we had to charge our Watch Series 7 overnight to survive the next day, it was impractical to test it out overnight on our wrist. When we did wear it to track our sleep, we didn't gain much helpful information in the morning other than our overall sleep time.
There is no detail on your sleep modes, how restless you were, and how this ties in with your overall body battery between exercise and rest. It's surprising, mainly because there have been so many iterations of the Apple Watch for them to add these relatively basic metrics.
Likewise, we would have liked to have seen the addition of interval sessions to this watch, and as a result, we view this as a pretty basic watch for tracking your running training. Nonetheless, the Series 7 has a selection of helpful GPS sensors, including GPS, QZSS, GLONASS, and Beidou.
These all allow the watch to see big satellites in the sky and help to track you as you move around. During testing, we compared the heart rate monitor to a more technical running watch (the Garmin Forerunner 735XT) and got nearly identical readings.
As with the Apple Watch Series 5 and 6, the Series 7 includes a SpO2 sensor for monitoring your blood oxygen levels. If you're into learning more about how you're overall health affects your fitness, readings like this are a good place to start. Although these tracking features aren't medical-grade, they are still useful to see and could detect potential health issues.
Apple Watch Series 7 review: performance
We didn't have many qualms about the overall performance of the Apple Watch Series 7 during testing. The large screen was crisp to read, and the watch's touch response was very effective.
The device charges reasonably quickly and is fast to respond to touch and voice commands around the interface. It was straightforward to set up, and despite not having as excellent battery life as other fitness watches out there, it never died on us nor crashed during any activities.
It was a pretty seamless experience using this watch, and any faults we have identified have little to do with the actual performance of this watch and more to do with its limitations in terms of functions and features.
Apple Watch Series 7 review: battery life
The battery life of the Apple Watch Series 7 doesn't fare well against other running or fitness watches, averaging about a day of use. Some alternatives, like the Garmin Instinct Solar, even come with solar charging, so you don't even need to plug it in.
However, we found that the Apple Watch Series 7 lasts up to 20 hours on a single charge, or you can push this to a day and a half if you aren't fussed about having the always-on display toggled on.
If you want to track your sleep on top of daily exercise and activity, then you will need to plug it in before bed. It's also worthwhile pointing out that the Series 7 charges using a USB-C cable with a magnetic plate for the watch, so you'll need to ensure you have a compatible charging port.
We worked around this by charging it via our laptop, but this may frustrate some people who are used to the more standard USB-A charging cables. However, the USB-C technology can charge your watch much faster than the older USB cables.
Apple Watch Series 7 review: verdict
The Apple Watch Series 7 is a great all-around choice for anyone looking to track and improve their fitness on a more general level. It's user-friendly in our eyes and a lot easier to navigate than some models, especially for first-time fitness watch buyers, but it is only available to iPhone users.
Alongside the Apple Watch's core functions, like calls, notifications, and messaging, you can track the basics of your running training and other activities like Pilates and hiking. And if you extend the three-month free trial of Apple Fitness+, you can definitely improve your fitness via the selection of guided workouts provided.
But if you're really into your fitness, want to train for a specific event, or like to keep tabs on your personal bests while navigating complex trails, there are better options out there. Overall, the Apple Watch Series 7 is an excellent choice if you want to monitor your everyday activity, but we still feel the single-day battery life is a bit of a letdown for a watch this expensive.
Also consider
If you aren't sold on the Apple Watch Series 7 or use an Android smartphone, you do have other excellent options if you're looking for the perfect wearable for your workouts. Check out the different options below or read our in-depth guides to the best running watch or the best fitness tracker.
Fitbit Versa 3
If you're after a casual but stylish watch to track your runs without the Apple price tag, consider the Fitbit Versa 3. This Google-powered smartwatch tracks your workouts, monitors your sleep, and keeps an eye on your heart. Plus, it's water resistant up to 50m and has a large display, like the Apple Watch.
Garmin Venu 2 Plus
If you're looking to step up your running then the Garmin Venu 2 Plus smartwatch is a good stepping stone toward tracking more running-specific stats. It doesn't look too clunky for a running watch, has a color touchscreen, built-in GPS for tracking your route, and offers more in-depth sleep analysis than the Apple Watch Series 7.
Jessica is an experienced fitness writer with a passion for running. Her career in journalism began in local news and she holds a Masters in journalism. Jessica has previously written for Runners World, penning news and features on fitness, sportswear and nutrition.
When she isn't writing up news and features for Fit&Well covering topics ranging from muscle building, to yoga, to female health and so on, she will be outdoors somewhere, testing out the latest fitness equipment and accessories to help others find top products for their own fitness journeys. Her testing pairs up nicely with her love for running. She recently branched out to running 10Ks and is trying to improve her time before moving on to larger races. Jessica also enjoys building on her strength in the gym and is a believer in health and wellness beginning in the kitchen. She shares all of this on her running Instagram account @jessrunshere which she uses for accountability and for connecting with like-minded fitness lovers.