The Peak Design Travel backpack is an excellent bag—but not for hiking
The Peak Design Travel backpack is perfect for plane and train journeys, but the clever design makes quick access a pain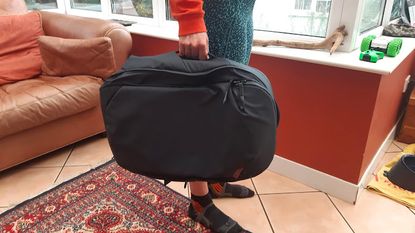 (Image credit: Lily Canter)
The Peak Design Travel is an excellent bag for overnight stays, flights, and train journeys. The bag opens like a suitcase and you can even buy packing cubes to go inside. But this is why it's not a good option for hiking. If you unzip this compartment, everything comes out, so you can't just grab a snack or an extra layer.
Reasons to buy
+

Excellent storage capacity

+

Carry-on approved

+

Durable and weatherproof
Reasons to avoid
-

Not suitable for longer trips

-

Slightly heavy

-

Lacks support for hiking
The Peak Design Travel backpack isn't the largest bag you can find, but I was impressed by how versatile it turned out to be. Traveling can be stressful, especially when you don't have much space to store your bags on a train or overhead compartment on a plane.
That's why there are so many carry-on approved hard-shell suitcases. But the Peak Design bag is a great option if you want one of the best hiking backpacks you can easily travel with. It's structured, but its flexible frame means you can fit in shoes and other awkwardly shaped items.
It is more of a travel bag, especially since you can pick up accessories like packing cubes and pouches explicitly designed for this backpack. If you're after a multi-day hiking backpack, you'd be better off with an alternative, but it's an excellent choice if you're regularly on the go.
Peak Design Travel review: price and warranty
At $230/£219, this is definitely at the higher end for a 30L carry-on bag, and it's available in three colors; Black, Sage, and Midnight (blue). However, if you want the whole experience, you'll need to shell out $60/£48 for a tech pouch and $30/£20 for each packing cube.
This makes it more expensive than the Helly Hansen Transistor, an excellent (but not waterproof) 30-liter hiking pack for multi-day trips. But it's not directly comparable as the Transistor is designed for extended walks, while the Peak Design Travel caters to travelers.
But it might be worth the price if you're a frequent flier or take regular short trips away and need to store some lightweight gear. There's a lifetime guarantee, which covers defects and breakages but won't apply to normal wear and tear.
Peak Design Travel review: design
The first time I used this bag was for a long weekend away for my mom's 80th birthday. I needed to pack day clothes, a party outfit, and running gear to use in the mornings. It felt like a lot to fit in, but the primary zip opens a hole in the back, so it's really easy to pack.
My 15-inch laptop slid easily into the sleeve, and there was plenty of space for cables in the 11-inch tablet sleeve. The two meshed bottom pockets helped pack underwear, and I put loose running gear, like a headtorch and sleeves, into the long, narrow mesh side pockets.
The rest of my clothing fit into the main compartment once I unzipped the expansion panel. There was also room for chargers, cellphones, and keys in the separate top pocket which is bigger than it looks because it opens up widely. I tied my running shoes to the outside via attachment loops on the front.
I felt confident the bag wouldn't burst open thanks to the zipper pull, and the weatherproof coating and waterproof bottom liner meant everything stayed dry when I trudged from the car to the holiday cottage in the heavy rain.
It's got a thick outer shell, so it feels incredibly durable, too. I liked the magical strap stowage, which prevents loose straps from getting caught in overhead cabins or tangled around a chair leg. And if you want your hiking backpacks to be ethically minded, Peak Design is a certified B Corporation and Fair Trade certified.
But I wasn't sure about the magnetic flap to stow the carry straps on the front of the bag. It is a handy feature, but the flap seemed to be upside down, as the opening faced the ground when the bag was upright, so the straps could fall out or be difficult to pack away.
Peak Design Travel review: storage and organization
The Peak Design Travel backpack suits short getaways or trips more than everyday use. The large main compartment unzips around three sides to make it easy to pack, but grabbing a single item is impractical, and clothes spill out if you've packed it tightly.
I tried it as a swim bag, and it could have been better because there was nowhere separate to store wet items, and the zip mesh pockets where I put my toiletries were underneath all my gear. Plus, it's designed more like a suitcase to be accessed vertically, so it's not ideal for commuting.
But as a piece of portable luggage, it is very effective. The firm structure means it also operates well as a camera bag, especially if you invest in some of the extra technical storage pouches. You can carry some water bottles in the stretchable outside pockets.
Peak Design Travel review: fit and comfort
Generally, the Peak Design Travel was comfortable enough to carry around an airport or hop onto a train. But the lack of back support, as you'd find on the Vaude Brenta 30, made it uncomfortable for extended periods or while on a walk.
There are two slightly padded should straps and an adjustable sternum strap which, together with the firm back panel, help to take the strain. If you upgrade to the 45-liter edition of the bag, there's a hip belt. But this version doesn't have that, so it sits heavy on your shoulders.
Likewise, the back panel digs in slightly and sits directly on your back, causing a build-up of sweat since it isn't aerated either. But the versatility of the design means it is easy to switch to the back, top, or side handle so that you can carry the bag in multiple ways.
Should you buy the Peak Design Travel?
The Peak Design Travel does precisely as it says—it excels as a convenient, easy-to-pack travel bag for overnight getaways and short trips. But it isn't a great option for your next outdoor adventure. The design makes it easy to pack but hard to grab single items.
Nor does it make a great commuting bag, either. So it fulfills its specific niche very well, but it's not a good all-arounder that you can rely on no matter what you're doing.
But as a compact travel bag, it's a brilliant backpack—versatile enough to carry on your back or hold like a suitcase. It's tough, spacious, and practical, so it'll see you through years of weekend getaways and business trips.
Also consider
Fjällräven Ulvö 30
If you're after a high-quality commuter bag, the Fjällräven Ulvö 30 is a great option thanks to its eye-catching design, practical compartments, and excellent waterproofing.
Vaude Brenta 30
Consider the Vaude Brenta 30 if you're after a comfortable, well-supported hiking backpack. It's one of the most supportive, ventilated options available right now and a great companion for long hot days of hiking.
Get the Fit&Well Newsletter
Start your week with achievable workout ideas, health tips and wellbeing advice in your inbox.
Lily Canter is a freelance money, health and lifestyle journalist with more than 20 years' experience. She writes about fitness for Runner's World and Trail Running magazines and focuses on personal finance for Yahoo! Finance UK, Metro, The Guardian, and the Mail on Sunday. In her spare time she is an ultra-runner, canicrosser and running coach. She also co-hosts the award-winning podcast Freelancing for Journalists.