Cross training shoes vs running shoes: why you need both
When it comes to cross training shoes vs running shoes, what's the difference - and why does it matter? Our experts explain...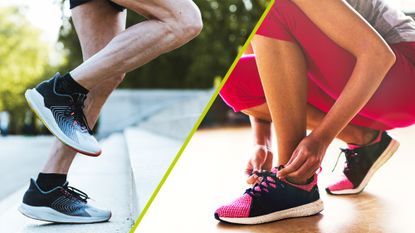 (Image credit: Getty Images)
Cross training and running are two completely different ways of training - but yet many of us still wear the same shoes for both activities, and hope to get the same benefits from them.
Whilst wearing one pair of shoes to run and a set of the best cross training shoes to work out might seem like a harmless approach (and not to mention the most cost effective), it's not advisable. This is because different shoes are engineered with different purposes in mind.
As the name suggests, cross training simply refers to a range of different workouts. The job of cross training shoes is therefore to provide support and -crucially -stability for the different types of activities you'd expect to do whilst working out, including dynamic, multidirectional moves such as jumping, changes of direction and weight-bearing exercises such as squats and lunges.
Meanwhile, with running shoes it's all about flexibility, durability and support to ensure cushioning and comfort when you're clocking up the miles. Another key difference is that running shoes are designed to help you travel in one direction and one direction only: forwards.
Wearing the right pair of shoes for your chosen activity won't just affect your performance - it's also important in order to minimize your risk of injury.
Below we'll explore the differences between cross training shoes vs running shoes in more detail, and outline why selecting the correct style of shoe for your workout is of paramount importance.
What should you look for in a cross training shoe?
Cross training shoes are those designed for all manner of exercise types, ranging from HIIT workouts and exercise classes such as aerobics and CrossFit through to functional strength training, such as bodyweight workouts and weights sessions.
A classic cross training shoe example is the Nike Metcon 5, pictured above - our top rated workout shoe.
With the types of activities they're engineered for in mind, the purpose of cross training shoes is therefore "to provide stability, cushioning and support in a variety of different activities and across different directions of movement," says Marthe Solberg, a qualified personal trainer and Technical Representative at running and workout shoe specialists On.
"Multidirectional movements require additional stability from the top and the bottom of your cross trainers to keep the foot secure inside the shoes," says Solberg.
For this reason, workout shoes use a heavier but more durable foam in their midsole than running shoes.
"When more stability is required, materials like polyurethane add a firmer platform to your shoes than regular EVA foams," says Solberg. "Cross trainers tend to have a flatter and less cushioned midsole than running shoes, to provide a more stable platform for your feet."
Meanwhile, the heel should also be made from a firmer fabric or thermoplastic materials to help hold the foot in place.
Suzie Cave, a British modern pentathlete and 361 ambassador agrees: "Cross training shoes tend to have a thicker heel than the normal running trainer and have a lot of stability around the heel and midfoot - so you can get those pressure points when you're squatting and performing other bodyweight exercises."
Finally, a good cross training shoe should also feature an outer sole with good grip, so as to provide enough traction on a variety of surfaces, from the gym floor to outdoor terrain.
What should you look for in a running shoe?
The motion of running can have a big impact on our bodies, and therefore a good pair of running shoes (such as the Brooks Ghost 13, which feature in our guides to the best running shoes for women and the best running shoes for men) should provide two key things: ample cushioning and support in the right places.
The types of runs you prefer should be a factor when investing in a pair of runners, as Solberg explains.
"For longer distances, your body will take more impact from the ground and your muscles will work harder to absorb these impacts and utilize the energy for forward propulsion. Therefore, looking at more cushioned shoes is beneficial.
"When pushing for speed, however, you may want to look at a more 'efficient' running shoe with optimized materials for energy return to explosively spring you off the ground."
Understanding your gait - simply your manner of running, including which parts of your feet hit the ground - is another important factor to consider. A gait analysis can give valuable insight into this.
For example, Cave confesses to being a midfoot striker so needs stable running shoes: "As a runner I overpronate so need that extra stability on my insole - the 361 trainer I use is specifically for stability. It also has a high arch to stop my feet from going inwards when I run."
She adds: "I want to ensure that I'm giving myself the right stability, mainly because of the high impact that comes with running."
As with workout shoes, grip is also a factor. "Depending on the purpose and terrain the rubber grip compound and pattern will differ," says Solberg. "For example, trail running shoes will feature deeper studs or 'lugs' that digs into the mud, whereas road running shoes will have a grip pattern that performs best on flat and hard surfaces."
Can I wear running shoes to workout - and vice versa?
If you love both running and cross training, should you stick to one trainer or have different ones? "If you are going into the gym to do more cardio-based exercises, such as plyometrics, then running-style trainers aren't so bad," says Suzie, "Or if you have worn-out running shoes that you don't want to run in anymore this could be the alternative."
However, bear in mind that running shoes are also made specifically for forward motion, so may not be stable enough when performing multidirectional exercises that require more lateral stability.
As for whether you can run in workout shoes? The answer is a conditional yes.
"Cross training shoes are best suited for short runs or during workouts that include some running, as well as gym workouts, classes, and lifting weights," says Solberg.
"Due to the firmer nature of the cross training shoes, you may find yourself pounding the pavements in less comfort than in your running shoes."
Get the Fit&Well Newsletter
Start your week with achievable workout ideas, health tips and wellbeing advice in your inbox.
Sarah is a freelance journalist who writes about fitness and wellbeing for the BBC, Woman&Home and Tech Radar. During lockdown she found her love of running outside again and now attempts to run around 50 miles a month. When it comes to other fitness, she loves a sweaty cardio session – although since she's been working out from home she's sure her downstairs neighbors aren't too happy about it. She also loves to challenge herself - and has signed up to do hiking holidays, intense bootcamps and last year she went on her dream activity holiday: paddle boarding around deserted islands in Croatia. On her rest days, she loves to recover with a simple yoga flow session – the perfect antidote to her active fitness schedule.