Black Friday rowing machine deals 2021: What we know about the upcoming bargains
Here's everything we know about the 2021 Black Friday deals –including all the upcoming rowing machine discounts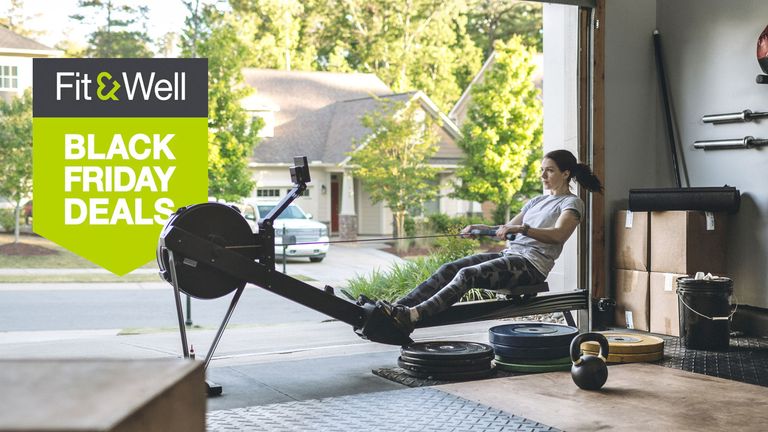 (Image credit: Getty Images)
By Matt Evans
Last year's Black Friday deals saw phenomenal discounts across the health and fitness sphere. Although last year's deals bonanza may be well and truly over, preparations are already being made for this year's crop – and for many people, rowing machine deals are still top of the list. 
If you're in the market for one of these calorie-torching machines, it's likely going to be an expensive purchase, one that needs a bit of consideration. After all, you're looking for a large piece of apparatus to fit in your garage, spare room, shed, flat or wherever else you're going to stash it. If you're looking to spend a few hundred dollars on a high-quality, good-looking piece of fitness kit, it's worth holding off until the early sales begin to emerge. 
If you've been considering buying a rowing machine for home use, then Black Friday is undoubtedly the time to do it. What was once for many an expensive piece of fit kit can soon be a reality thanks to a plethora of great Black Friday deals. US retailers to watch include Best Buy, Walmart and Dick's Sporting Goods, if last year was anything to go by. UK retailers included Amazon, Argos and a surprising number of deals from Sweatband.com.
With the prices we saw across a variety of retailers last year , you can add a rower to your home gym set up without breaking the bank - including some of the best rowing machines on the market today. Take a look at some of the best bargains from last year below, which should give you a great indication of what's in store. 
Not interested in rowing? Perhaps you're looking for other cardio machines. Check out our Black Friday treadmill deals, check for discounts on the best elliptical machines and peruse our Black Friday exercise bike deals pages for major discounts on these key exercise machines. 
When is Black Friday 2021?
Black Friday will fall on Friday 26 November 2021. However you can expect quite a few "early bird" deals to pop up across the week in the run-up to Black Friday. Now BF is a bona fide shopping event rather than an incidental side-effect of Thanksgiving, expect the deals to run across a slew of retailers right up until the following Monday.
Known as "Cyber Monday" due to the online boom, this used to be a simple matter of retailers attempting to get rid of their excess BF stock at knock-down prices. However, this has since grown into a day as full of deals as Black Friday itself. If you miss out on a bargain on the Friday itself, don't despair: you've got until Monday night to snap up a discount rower, and we'll be there to point you in the direction of the latest deals every step of the way. 
US Black Friday rowing machine deals (2020)
Below are a few examples of 2020 deals from the US and the UK, to demonstrate the sort of deals we can expect to see this year.
Best rowing machine deals (2020)
UK Black Friday rowing machine deals (2020)
The UK's top rowing machine offers (2020)
Thanks to the UK's months-long serious lockdowns in which gyms have closed, demand for rowing machines has been driven even higher than before. Consequently, deals are few and far between, with brands like John Lewis completely selling out of its range of top-of-the-line rowing machines and Water Rowers. 
If you can't find what you're looking for, keep checking back: we'll update this page with all the latest deals as they land.
Black Friday rowing machine deals: What to look out for?
All rowing machines work your back muscles, arms, legs and core in addition to your cardiovascular fitness. However, they do this using a few different mechanisms.
The first, and cheapest, are lever systems with hydraulics. These are most often used for collapsible budget machines, and while they're good for casual fitness fans and those looking to get their workout in anytime, anywhere, it's the most limited in terms of range of motion.
Those serious about their fitness will want to look at the next category, using a fan belt and a cable pull. These use either magnetism or electrical resistance artificially applied in addition to the pulls needed to activating the fan.
Serious athletes and those that want the best kit will want water rowers. These accurately simulate the feeling of rowing by using a small tank of water. When you pull the cable, rotary blades turn and work against the water. The harder you pull, the harder the blades work against the water, so the machine performs to your fitness levels automatically rather than using set resistance levels. 
Most rowers are customisable, allowing you to adjust the ergonomic moulded seat, height and pedals to your body, while the rail itself will often fold up for storage or stand on its end, allowing you to store it somewhere discreetly with ease. This isn't an issue if you have space for a permanent fixture, but collapsible ones makes for a great option for people in apartments rather than houses with garages and basements. 
Lastly, check for warranties. For example, the ProForm 440 rowing machine comes fully covered with a five-year frame and motor warranty. 
Matt Evans is an experienced health and fitness journalist and Channel Editor at Fit&Well. He's previously written for titles like Men's Health and Red Bull, and covers all things exercise and nutrition on the Fit&Well website. 
Matt originally discovered exercise through martial arts: he holds a black belt in Karate and remains a keen kickboxer and runner. His top fitness tip? Stretch.