Concept2 RowErg review
The Concept2 RowErg is an ultra-reliable rowing machine built to last a lifetime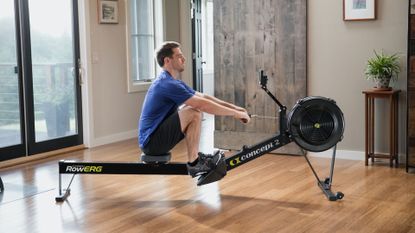 (Image credit: Concept2)
The Concept2 RowErg deserves its reputation as the rower's go-to machine. Built to last a lifetime and backed up by unparalleled customer service, it's comfortable, super-reliable, and provides all the data you could wish for. The only thing it doesn't give you is fancy graphics or a program of workouts.
Reasons to buy
+

Industry-standard metrics

+

Built to last

+

Excellent value for money
Reasons to avoid
-

Lacking in style

-

Basic graphics

-

No classes or workouts
It's no surprise that the Concept2 RowErg is considered one of the best rowing machines in the world. Solidly built with aluminum and stainless steel, the Concept2 RowErg's simplicity is its secret weapon. There's very little to go wrong so it's one of the most reliable machines you can find. It delivers a comfortable row and is incredibly easy to assemble.
The Concept2 RowErg is one of the best rowing machines and used for many of the main indoor rowing competitions, so you're getting industry-standard data that you can use to rate yourself against others, as well as all the rowing machine benefits such machines offer.
What you won't get is advanced graphics or a program of classes. If you're happy with that, the Concept2 RowErg offers great value and is one of the most durable machines you can find.
Concept2 RowErg: price & features
The Concept2 RowErg is available for $900 / £860 (standard - formerly the Model D) or $1,050 / £1,000 (tall legs version - formerly the Model E). The only difference between the two versions lies in the seat height, not in the length of the monorail. The taller version isn't needed by taller users. If you have an inseam longer than 38-inches, however, talk to Concept2 about whether you need an extra-long monorail. We tested the standard version.
Plenty of accessories are available with the rowing machine, including seat pads and mats, but these won't be essential for getting started.
The Concept2 RowErg features an air resistance flywheel with 10 resistance settings. It has a PM5 display monitor that shows pace, watts, stroke rate, and calories, as well as an optional pace boat or force curve. It has Bluetooth and wireless ANT+ connectivity so you can sync the PM5 with your heart rate monitor.
There's no built-in app or workout program with Concept2 rowing machines, but it does connect with the ErgData app and a variety of other third-party apps, and the latest models come with a phone and tablet holder.
The RowErg measures 96-inches long (244cm), 24-inches wide (61cm) and 50-inches high (127cm) to the top of the monitor. It comes apart into two pieces for storage, and can be stored on its end. This is less of a faff than it sounds; it's one of the easiest rowers to assemble.
Concept2 RowErg: design and assembly
At first glance the Concept2 RowErg doesn't look that impressive - there's no HD touchscreen, no glossy wood, or elegant curves. But don't be fooled - this is a brilliantly designed machine that is built to last.
It's made of aluminum and steel, and there are very few small, fiddly parts, so there's very little to break or go wrong. You're advised to do some basic maintenance on it, as with any machine, such as oiling the chain regularly, and Concept2 will gladly advise on this if required.
Spare parts are easily obtainable (and encouragingly, this applies to older models as well, so you're unlikely to find yourself with an obsolete machine in years to come) - in fact, it's a point of pride with Concept2 that people keep their machines for decades.
The customer service is superb, with advice both on the website and via advisors. I even had a reply out of hours to one query.
The Concept2 RowErg is easy to assemble, taking a fraction of the time required to assemble more complex rowing machines. There are no fiddly parts to figure out and you won't find yourself cursing over impenetrable instructions - you simply screw the legs onto the body of the machine, and link the body to the monorail by popping a hook over a small bar. There's a helpful video on YouTube showing you how to do it.
The same goes for storage. The RowErg comes apart easily - just by lifting a flap and pulling the monorail away - and it can be stood on its end to save space. If you're thinking of buying the optional cover (which is great for keeping the dust off), be aware that it only fits the machine when it's assembled.
Concept2RowErg: performance
As you might expect from a machine used by elite rowers the world over, the Concept2 RowErg feels great to row on. It's designed with ergonomics in mind, unlike some machines that are not comfortable for long periods of time.
It has an adjustable footplate which is helpful for achieving the best rowing position for your body size and type, and the handle is angled to be ergonomic. The seat is made of plastic. Some people find it a little too hard for comfort over long periods, but if you need a little bit of extra padding you can buy a seat pad from Concept2. The monitor is backlit and its height is adjustable, making it suitable for pretty much everybody.
The rowing action itself is smooth, and will remain so if you keep the chain and monorail clean. Because resistance is provided by air passing through the flywheel, it does produce a whooshing sound, but this isn't unpleasantly loud. You'll likely need headphones if you're listening to something while you row.
Concept2 RowErg: tech and data
If you're after a machine with an HD screen or a Peloton-style program of workouts, this is not the machine for you. If you don't mind accessing your workout via your phone or tablet, there are plenty of apps with good rowing programs such as asensei and EXR that are getting better and more comprehensive each month.
The PM5 monitor looks pretty dated compared with some rowing machines, and the games are very old-fashioned (the fish game would remind you of video games from the 1970s). What it does do well, however, is provide you with reliable, detailed, industry-standard data that can be used to compare your performance with other users around the world. You can choose between different styles of display, and opt to view meters, split (time/500m), watts, or calories. There's also an optional pace boat to measure yourself against, or a force curve to track your performance.
You can sync your data with the Concept2 logbook and enter standard workouts (such as the infamous 2km) into the World Rankings. Concept2 awards certificates and prizes for reaching certain landmarks such as a million meters rowed.
If you're planning to compete in indoor rowing competitions, these invariably use the Concept2 RowErg, so this would be the best model for you to train on. Although other machines also show a split per 500m, they are often differently calibrated so won't give you a reliable idea of what your split would be on a Concept2 RowErg and how you'd fare in a competition.
Concept2 RowErg: user reviews
The Concept2 RowErg scores a staggering 4.9 stars out of 5 on Amazon and most of the reviewers rave about it, praising its build quality and ease of installation and use.
"This machine rides like a Cadillac", says one enthusiastic reviewer, noting that it is also quiet and doesn't bother the neighbors. "It will outlive us," they add.
Criticisms of the machine focus mostly on the PM5 monitor which reviewers find dated and by far the weakest element of the machine. "Less useful than my circa 1980 Seiko LCD watch," is the verdict of one reviewer, who nevertheless loves the machine in every other regard.
Concept2 RowErg: verdict
If you're looking for a premium rowing machine without any bells and whistles, which won't cost you a fortune, the Concept2 RowErg is the one for you.
Of superb quality and backed up by helpful customer service, the Concept2 RowErg should keep on going strong for many years to come - until long after you hang up your Spandex. It will give you a powerful workout and with its standard data and Concept2 logbook, you'll be able to compete against rowers around the world. If you fancy entering indoor rowing competitions you really shouldn't consider any other machine.
It's not for you if you want a rower that comes with an inbuilt touchscreen or membership of an online community (although you can find these on apps via your phone or tablet).
Also consider
If the functional look of the Concept2 RowErg is offputting and you'd prefer a machine that will look good in your home, consider the WaterRower Natural with its attractive wooden design (not to mention the lovely whooshing sound it makes).
If you want a contemporary-looking machine with an HD touchscreen and full program of live and on-demand workouts both on and off the rower, and have a bit more of a budget, the Hydrow would be a great choice.
Patricia Carswell is a freelance journalist, specialising in health and fitness. She has written for a huge variety of national newspapers and magazines, including Healthy, Top Santé and Women's Fitness, and writes a monthly column for British Rowing's content hub. She's the founder and host of rowing blog and podcast, Girl on the River, where guests have included Sir Matthew Pinsent and multiple Olympian Frances Houghton MBE.
She won Rowperfect's Rowing Blogger of the Year several years in a row, the Endurance Award in the MyProtein Blog Awards and was runner-up in the Sports & Fitness Category in the UK Blog Awards in 2017.
She keeps fit by rowing, walking and swimming, and is at her happiest when on or in the water.