Hydrow review: a beginner-friendly rowing machine for enjoyable workouts
Our Hydrow review covers everything you need to know about this connected home rowing machine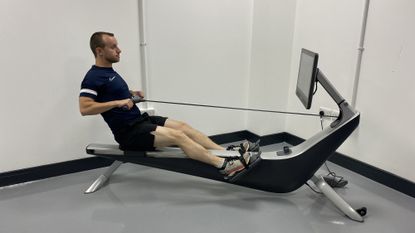 (Image credit: Future)
The Hydrow connected rowing machine is a beginner-friendly way to start exercising at home. The app-based workouts are led by relatable instructors that make rowing accessible for everyone. Your membership also includes a companion smartphone app for yoga and strength classes when away from the machine. The Hydrow is expensive, but it's also one of the best.
Reasons to buy
+

Accessible, friendly, effective virtual workouts

+

Quiet magnetic resistance system

+

Membership includes live classes and on-demand rowing, yoga, and strength workouts
Reasons to avoid
-

Expensive compared to similar machines

-

Not foldable and upright storage kit costs extra
Why you can trust Fit&Well Our expert reviewers spend hours testing and comparing products and services so you can choose the best for you. Find out more about how we test.
If you've been looking for a Hydrow review to help you decide whether this smart rowing machine is suitable for your home, we can help. We put the Hydrow to the test, trialing the device and the company's All-Access Membership for on-demand and live workouts.
The Hydrow rower often makes its way onto the best rowing machine roundups, and we wanted to see how it fared against similar and often cheaper options. It has a lot going for it; quiet magnetic resistance, premium design, and over 3,000 virtual workouts.
While the company focuses on rowing rather than spin or indoor cycling, fitness enthusiasts sometimes compare Hydrow to the Peloton Bike. After trying it, we can see similarities, but Hydrow has its own style, approach to exercise, and entirely different hardware.
The connected rowing machine is more comparable to the Echelon Smart Rower, an alternative connected rowing machine with a subscription service for virtual on-demand and live workouts.
But at almost $1,000/£800 more than the Echelon machine, is the Hydrow worth the investment? Whether you're new to rowing or an experienced rower, Hydrow's accessible, clear approach to exercise and high-quality equipment make it one of the top options for at-home workouts.
Hydrow review: price & features
The Hydrow is a premium rowing machine with a price to match. The connected rower is available from Hydrow directly for $2,495/£1,995. This makes it considerably more expensive than the industry-standard Concept2 RowErg or the similarly-featured Echelon Smart Rower, both of which retail for less than $1,500/£1,000.
On top of this, you'll also need an All-Access Membership for $38/£38 per month to get the most from your new machine. The Hydrow has a Just Row mode, which you can use without a subscription if you want an independent rowing workout. Still, the main selling point of this machine is the company's live and on-demand virtual workouts streamed to the integrated 22-inch Full HD display.
Your membership includes a daily selection of live workouts (usually scheduled for US timezones), over 3,000 on-demand classes that you can take whenever you fancy, and an in-workout leader board. Some people enjoy this competitive element, which is why the cycling-based Peloton Bike, with its own leader board, is so popular. We decided to hide it during our Hydrow workouts, though.
When we sat down at the machine, we spotted what looked like a camera just above the display, but there's no mention anywhere about personalized or coached workouts. However, when we contacted Hydrow about this, they said, "current Hydrows [include] a lens at the top that gives the appearance of an onboard camera. However, no camera is actually installed in this housing." So the reason for this is a bit of a mystery.
Some rowing machines make quite a noise while exercising, depending on the resistance mechanism. Air-based machines are the loudest, while magnetic ones are generally the quietest. The Hydrow comes with a magnetic system, so you'll be able to exercise without disturbing others in your home. The machine is Bluetooth-enabled, so you can pair a set of the best workout earbuds for streaming the workouts.
Hydrow review: design & assembly
Before you can exercise, you need to set up the machine. Rowers are large, heavy objects, so the ease of assembly is an important consideration. The Hydrow comes in three parts; the feet, the main body with the resistance mechanism, and the display. Only a few large screws are needed to fit everything together, but it's a two-person task to do it safely.
Once we plugged the rower into the mains, getting the digital side set up was easy. The touchscreen display guides you through the initial setup, including connecting to the Wi-Fi, installing updates, and creating your personal profile on the machine. You can add an unlimited number of other users later in the settings so that the whole household can exercise with the Hydrow.
By the time the rower was ready to use, it was easy to appreciate the sleek overall design. Rowing machines are often split into two distinct parts; the resistance mechanism and the seat slider. This helps for transport, but the Hydrow's unibody design is surprisingly minimalistic and hides some of the more unsightly mechanical parts beneath the surface.
Other than the display, you only really need to touch the feet plates and the handlebar. We found that the plates were pretty easy to adjust to the correct size, but they did feel like they were made of slightly cheap plastic. This is understandable, as they need to flex under your foot, but the clip mechanism wasn't as elegant as the slider found on other rowing machines.
The Hydrow machine has a moderate footprint—86 x 25 x 47 inches—but it's not foldable. So, unless you buy the upright storage kit for an extra $80, you can move it around, but it'll always take up the same amount of space. Given that you're buying an expensive premium machine, we were disappointed that Hydrow doesn't include the storage kit with the rower.
That aside, there's little not to like about the machine. It looks good, has wheels so you can move it around your home, and feels easy to work out on. We were also impressed with how little maintenance you have to do. For the most part, you only need to give the Hydrow a quick wipe-down after your workout, and the app has a short video showing you how to clean the sliding rail.
Hydrow review: performance
The Hydrow does have a Just Row mode if you want to pick up the handles and start rowing. However, you can only access this option if you don't have an active subscription. So, we used our All-Access Membership to test out the machine's virtual workouts instead. You're not left to fend for yourself and dive right into a live class if you're new to rowing.
When you set up a new profile, the software highlights introduction classes, instructional videos, and guided tutorials to get you started. If you feel ready to go straight to the classes, you can skip these, but we still recommend taking 30 minutes to run through them. The instructors—Olympic athletes, fitness experts, and personal trainers—use their knowledge to turn technical concepts into something relatable.
We tried Olympian Aquil Abdullah's introduction sessions filmed on location next to a very idyllic lake. Aside from the pleasing surroundings, Aquil's guidance was approachable, never condescending, and helped us focus on the three-part rowing process to get our form right. It's quite common for people to slump into the move slightly, but as Aquil explained, the key is a strong core and focused movements.
We used Laine Maher's leg warm-up, jumped into a 20-minute on-demand class, and tackled a one-minute river challenge (set on the River Thames in London). You can rotate the screen to the side for off-machine workouts, so we also decided to try a 10-minute core workout that was impressively demanding.
The accessible but challenging workouts were effective, fun, and motivating, but the machine was also a pleasure to use. When choosing a rower, you have to decide between water rowing machines vs magnetic vs air-based models. They all have their strengths, but the Hydrow takes a slightly different approach.
The company refers to the resistance as the drag, and it's set to 104 by default. You don't need to worry about what the number represents either, as Hydrow encourages you not to adjust this. According to Hydrow, "drag is not a generic "difficulty setting" for rowing on Hydrow." Instead, they recommend focusing on your form and technique to get more from your workout.
Hydrow review: tech & data
The Hydrow is a capable rowing machine with a subscription-based app for virtual workouts in its most basic form. This may not sound like it justifies the price, but the company has taken this simple concept and made the best experience possible. This is what separates the Hydrow from other smart rowing machines.
For instance, in our Echelon Smart Rower review, we felt that the company paired a high-quality machine with a mid-range digital platform, which devalued the overall rowing experience. That's not the case with the Hydrow—during testing, everything about the hardware and software felt well-designed, easy to use, and made to get out of your way.
The focus is solely on helping you get the most from your exercise. The on-screen instructions are clear, and the 22-inch display is about the same size as a small television or computer monitor, so we didn't find it difficult to read text. The large screen made the workouts feel immersive, particularly classes filmed on-location.
Your workout metrics like speed, distance traveled, and calories burned are shown on-screen while you exercise. After you're done, you can tap over to your Profile to see your performance and workout history. This makes it easy to track your progress over time, especially if you also use a compatible heart rate monitor, connected via Bluetooth or ANT+, to keep tabs on your heart.
The company also offers a companion smartphone app as part of your subscription. You can edit your profile, view recent activity, and follow other users, but the main feature is to access Hydrow's virtual workouts even when you're away from the machine. Although Hydrow manufactures a rowing machine, the app includes strength training programs, yoga classes, and mindful movement sessions.
Hydrow review: user reviews
The Hydrow rower scores 4.7 out of five on Trustpilot from over 9,000 reviews. Almost 85% of reviewers give the machine a perfect score, praising its ease of use and the instructors' personalities.
The fixed drag setting put some people off, but they grew to like it over time. One user even noted that "it doesn't take long to realize that it makes it so much more a pleasant experience and actually a better workout overall."
The app's Journey workouts, which take you on a virtual tour of locations worldwide, are also a big hit, with many reviewers requesting more destinations to explore. While most owners appreciate the app's strength training and yoga workouts, some commented that they're a bit too 'light' or entry-level, particularly if you already have some experience.
Critical reviewers often mention the overall price of the machine and membership. While they understand that a premium machine commands a higher price, they take issue with the high monthly membership cost. Still, most Hydrow owners feel that the rower helps them achieve their fitness goals in a fun, accessible way.
Hydrow review: verdict
You'll need plenty of space for the Hydrow as the machine isn't foldable, and you have to shell out extra for an upright storage kit if you want to free up some floor space. Whether you choose to take on a daily rowing workout, a bodyweight strength session, or a yoga class, you can access the virtual and on-demand workouts from the Hydrow's display or on your smartphone.
As sessions are motivational and fun, we found this makes it easy to turn using the rower into a habit. The instructors help, too, with their jargon-free explanations and accessible routines. Handily, if you need to cancel your subscription, the Hydrow switches to a Just Row mode, so your investment doesn't go to waste.
There's no denying that the Hydrow is an expensive rowing machine. You'll need to invest almost $2,500/£2,000 for the hardware and pay close to $40/£32 per month for membership—it's a lot. But in return, you get a high-quality rowing machine that's simple to assemble, quick to clean, and easy to use, which will help you enjoyably reach your fitness goals.
Also consider
1. Echelon Smart Rower
The Echelon Smart Rower is functionally very similar to the Hydrow; a high-quality machine with magnetic resistance and app-based workouts. However, the Echelon rower is less expensive and has a foldable design and handlebar controls. There's no display, so you'll need your smartphone, and the app could use a bit of work. Still, once you're in the middle of a workout, you won't notice these minor niggles.
2. ProForm 750R rower
The ProForm 750R rower is an excellent alternative to the Hydrow machine if you like to keep your workout varied. It doesn't have an integrated display, so you'll need your phone or a tablet to access your virtual workouts. However, it uses the iFit platform, which works with NordicTrack and ProForm equipment, including rowers, treadmills, indoor bikes, and dumbbells.
James is a London-based journalist and Fitness Editor at Fit&Well. He has over five years experience in fitness tech, including time spent as the Buyer's Guide Editor and Staff Writer at technology publication MakeUseOf. In 2014 he was diagnosed with a chronic health condition, which spurred his interest in health, fitness, and lifestyle management.
In the years since, he has become a devoted meditator, experimented with workout styles and exercises, and used various gadgets to monitor his health. In recent times, James has been absorbed by the intersection between mental health, fitness, sustainability, and environmentalism. When not concerning himself with health and technology, James can be found excitedly checking out each week's New Music Friday releases.