Best cheap fitness tracker deals: Get bargain bands from Fitbit, Samsung and more
These are the best fitness tracker deals on great brand names like Fitbit, Huawei, Garmin and more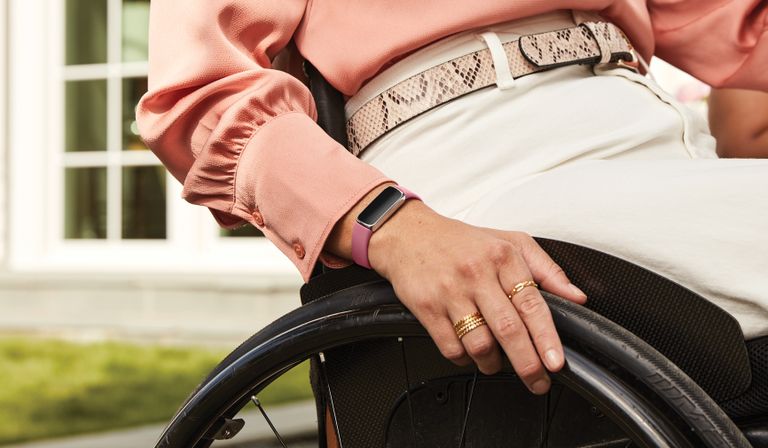 (Image credit: Fitbit)
Do you want one of the best cheap fitness tracker deals, or do you want to go the whole hog and get a fitness watch with a smorgasbord of features? That's the decision you'll need to make before committing to an intelligent wrist buddy.
Smartwatches are the all-singing, all-dancing wrist companion that does everything. Want to play third-party apps, play games on your watch, and take calls with a wrist-mounted speaker? A smartwatch is your best bet. These devices are lifestyle-orientated rather than exclusively fitness tracking, although they usually incorporate all the fitness tracking capabilities of bands.
If you're an iPhone user, an Apple watch is the natural choice due to how easily it interfaces with the software, and even syncs with Apple Fitness+. However, for Android, there's plenty of models available from Samung, Fitbit, Garmin and co.
However, what if you don't want all that on your wrist? If you're looking for something that offers a mroe sleek, streamlined, fitness-orientated experience (and isn't quite as hard on your wallet) fitness trackers fit the bill. Fitness trackers offer heart rate, sleep tracking, workout profiles, calorie counting... all the details we use to adjust our fitness routines, but in a simpler package.
Often the best Fitbit, Garmin or other fitness tracker for is the one that's got money off right now. That's why we've rounded up the best fitness tracker and running watch deals for you to peruse. The price widgets you'll see update automatically, showing you the best offers wherever you are in the world.
There are oodles of cheap fitness trackers on the market, so getting fit doesn't mean you have to do battle with your finances to get one. We've compiled a guide to some of the best cheap fitness tracker deals you can grab right now, and all without breaking the bank. Despite the cheap prices you'll find that bargain-basement fitness trackers can still pack in plenty of tech.
Many come with GPS to track runs, bike rides and more, heart rate monitors, sleep tracking and more besides. And, as you'll see from our cheap deals list, there are styles to suit all kinds of wrist, from the low-key though to more showy designs that look like they cost more than they actually did.
When it comes to the best fitness tracker, what you're going to be using it for is almost as important as budget. Garmin has excellent tools for keen runners and cyclists, while the Huawei, Amazfit and Honor bands offer great all-around functionality. Already a Fitbit app user? The Fitbit Inspire 2 or Fitbit Luxe might, ahem, fit the bill.
Fitness tracker deals by retailer
The best cheap fitness tracker deals right now
Fitbit Inspire 2
Granted, it might not (usually) be the cheapest of the many fitness tracker deals you can find, but it is one of the best. There's a premium design, great screen, heart rate monitoring, sleep tracking workout options and activity tracking and it's also compatible with Android and iOS. It's absolutely the best value for money you'll find in a Fitbit.
You get full waterproof credentials and a battery life of around 10 days, almost double that of the previous model, the Fitbit Inspire HR. days. Simple styling and a lightweight construction makes it suitable for all sorts of wrists. No GPS though.
Fitbit Luxe
The Fitbit Luxe is a little pricier, and more stylish. With an array of band options from functional to stylish jewellery-inspired-pieces, the Luxe is Fitbit's latest tracker and its attempt to turn wristbands into a fashion statement.
That's not to say it's a slouch in the metrics department. A bigger 19.3mm AMOLED screen is gorgeous in its presentation, and its 24/7 heart rate tracking, sleep data, calorie counter, and Fitbit's usual suite of workout features are all available on your wrist. It also contains Fitbit Sense's stress management feature, scoring you based on three sets of metrics. A shorter battery life than the Inspire 2, however, at only five days.
More great Fitbit deals right now
Huawei Band 3 pro
Bag a cheap deal on the Huawei Band 3 Pro and you'll be able to enjoy a host of features. The screen looks a treat, there's on-board GPS along with a pinpoint accurate heart rate tracker, activity tracking and a battery life of 14 days standby. It'll work in harmony with Android and iOS, while the overall design and feel is one of understated quality.
Honor Band 6
This is a bona fide bargain-basement fitness tracker, which for small change comes packed with quite a lot of decent tech. The Honor Band 6 design and build is fine, but the likes of a quality screen, heart rate tracker, activity monitoring and waterproof to 5 metres capability means you can use it for swim tracking too. Step and sleep tracking add to the appeal while there's 14 days or so of low use battery power, which makes it hugely practical.
Xiaomi Mi Smart Band 5
Another cheap-as-chips usual suspect, the Xiaomi Mi Smart Band 5 is one you can find in lots of fitness tracker deals roundups, that comes with a solid AMOLED screen along with battery life of up to 20 days, Bluetooth, compatibility with iOS and Android plus the ability to fend off water. The device is reasonably good on the eyes, it's very light and allows you to check your fitness levels using a variety of workout options.
Garmin Vivofit 4
Garmin's glorious little Vivofit 4, unlike the oldie-but-goodie Garmin Vivosport, boasts an always-on colour display and despite that the battery life is one whole year. The slimline design is compatible with iOS and Android plus there's Bluetooth. Features-wise you can keep track of steps, distance, calories and sleep too. There's no heart rate tracking or GPS, but the price reflects any minor shortcomings. Amazingly, it's still swim-proof too.
Honor Band 5 Sport
If you're a runner on a budget then chase down the Honor Band 5 Sport. There's a simple screen and, although you don't get heart rate monitoring or GPS, it is possible to keep tabs on run and step tracking while enjoying battery life of up to two weeks. It's a no frills affair, but the little Honor makes perfect sense as a secondary activity tracking device.
Amazfit Blip
This is a great deal if you want pseudo Apple Watch looks combined with excellent value. It's got a few of the usual fitness tracking capabilities and also sports battery life of around a month on one charge. The budget wearable also delivers push notifications, has Bluetooth and offers decent though limited workout tracking. Ideal for anyone wanting an Apple Watch, but who can't afford one.
Samsung Galaxy Fit e
Samsung has done a good job with this, the Galaxy Fit e as it's definitely cheap, but still manages to squeeze accurate activity tracking, heart rate monitoring and a week's worth of battery life inside the Android and iOS compatible design. The looks are clean and simple plus it's waterproof too, even though GPS is not a part of the package unfortunately.
Samsung Galaxy Fit
Spend a little bit more and you can bag yourself a bargain on the Samsung Galaxy Fit. This model features a neat looking screen, has a heart rate tracker and can keep you up to date on your activities too. It's also waterproof, has a battery life of just over a week and works happily with Android or iOS. The lack of GPS is a downside, but there's still tracking for the likes of running, swimming and cycling. Get a decent deal on it and the Samsung Galaxy Fit is a bit of a steal.
Withings move
If you like the look of conventional watches with analogue faces then the Withings Move is a great idea. It's got traditional styling but packs in sleep tracking and basic fitness tracking too, plus connected GPS if you want to take your phone on a run for company. Battery life is up to 18 months, which is staggering and it's also waterproof to 50 metres.
Fossil Sport
Fossil has done a great job with the design and build of the Sport. It looks cool, is lightweight but still manages to feature an awesome AMOLED touchscreen. You get heart rate monitoring, GPS, sleep tracking and smartphone notifications. Battery life is a not bad 24 hours or so and there's even Google Pay. On top of all that it's water resistant to a very precise 164 feet. So do NOT descend to 165 feet, whatever you do.
Tech expert Rob Clymo covers multiple bases when it comes to both reviewing and staying in shape, tackling everything from cars and bikes to coffee machines, as well as the latest fitness kit. Keen cyclist Rob can often be found working out, usually by manhandling very large kitchen appliances in and out of the house for testing purposes – one notorious incident saw his plasterwork damaged by LG's weighty and steam-powered 'smart wardrobe', the Styler.