I upped my water intake to improve my skin, and here's what actually happened
Chasing glowy skin, I decided to drink more water and see whether it really made a difference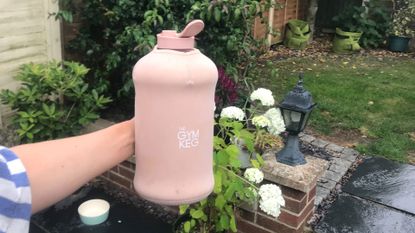 (Image credit: Sophie Bird)
Get the Fit&Well Newsletter
Start your week with achievable workout ideas, health tips and wellbeing advice in your inbox.
Thank you for signing up to Fit And Well. You will receive a verification email shortly.
There was a problem. Please refresh the page and try again.
Skincare is something I'm particularly passionate about. I've poured over countless books, articles, and products on a quest to improve my skin and achieve that highly desirable 'glowy' look. But, a method as old as time suggests drinking more water to improve your skin. A challenge I was definitely up for.
Now, I'm an adult but I can't be the only one who gets excited at the prospect of picking pretty versions of the best water bottles for the gym in order to bribe myself to drink more, right? Do I need a bottle with a fresh lemon infuser? Yes, I think I do. Do I also need a ridiculously large water bottle? Absolutely. So the first thing I did was invest in a decent bottle (or a few) and dot them around the house to make drinking water even easier. My personal favourite, the Gym Keg is actually 20% off today, down to $19.99 at Amazon.
And then there's the age-old debate of tap water vs filter. While tap water is mainly safe, according to the EPA, I'm not keen on the tap water at my home so I invested in the Amazon Basics 10-Cup Water Filter, which is 36% cheaper right now.
If you're thinking about increasing your water intake, the latest Prime Day fitness deals include some great savings, or keep reading to find today's best picks.
Amazon Prime Day Water Filter & Bottle Deals
Equipped with my water vessels, here's what happened when I upped my water intake.
1. My skin didn't improve, but my tiredness did
While I didn't notice a dramatic difference in my skin, even after a few weeks, I did notice that I didn't feel as groggy. My foggy head cleared more quickly and I was able to concentrate better on what I was doing.
2. I noticed when I was thirsty, not hungry
I was definitely guilty of reaching for something sweet when I was actually thirsty and while I'm definitely not suggesting you substitute food for water, sipping on water all day helps you distinguish between hunger and thirst.
3. Drinking more quickly became a habit
Many of us want to drink more water but unless you have a bottle by your side, it can be super easy to forget. Much like drinking a cup of coffee out of your favorite mug makes a difference, I found that picking out some water bottles and investing in a filter made this a habit I've been able to stick to without any extra effort at all.
Looking for other ways to prioritize your health? Check out the best protein powder for women.
Get the Fit&Well Newsletter
Start your week with achievable workout ideas, health tips and wellbeing advice in your inbox.
Sophie is Editor at PetsRadar and was previously Editor (Maternity Cover) at Fit&Well and has worked in digital publishing for over five years after starting her career in print journalism. Sophie has worked across some of Fit&Well's biggest sister sites including TechRadar, Live Science, and Top Ten Reviews where she was a Section Editor. Her previous experience includes reviewing products, feature writing, and creating a magazine for cancer patients to support them through their treatment journeys. Sophie's love of all things fitness began when she was studying for a degree in English Language & Linguistics and she took up running in between lectures, which she found fantastic for stress busting. Since then, Sophie's switched to gym workouts and is trying her hand at yoga (although her Crow pose is still a long way off). Her top fitness tip? Find a form of exercise you enjoy and it won't feel like a chore.