Prime Day fitness deals: Your last chance to bag HUGE bargains on workout gear
From exercise equipment to workout wear, don't miss out on these final Amazon Prime Day sales!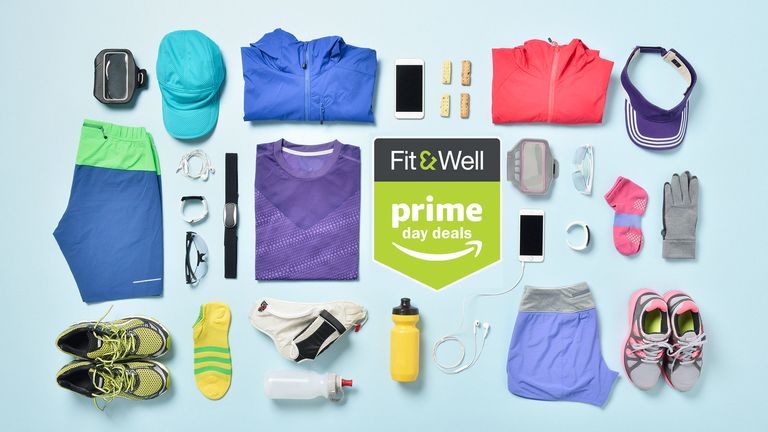 (Image credit: Getty Images)
The Amazon Prime Day event is almost finished! We've already seen hundreds of great deals come and go, and the rest of today looks like it's going to be no different. Hold onto your hats, folks – if you're after some great health and fitness deals, here is the place to be for the rest of the day.
Some of the best bargains often come in the event's final hours, so keep your eyes peeled for an awesome deal, especially on bigger-ticket items.
Yesterday and for the first half of today, we saw discounts on both the smaller-scale, cheaper stuff, such as resistance bands, dumbbells, activewear and yoga mats, and those larger fitness equipment deals on elliptical machines, exercises bikes and treadmills. Home exercise kit prices had risen over the last year as lockdowns created unprecedented demand, so it's great to see some top Prime Day deals creating bargains here.
Blenders, juicers, mixers, air fryers and health grills are all receiving great discounts too. Brands like Tefal and Ninja are proving a healthy diet doesn't have to be pricey: you can score deals on lots of ways to cook your favourites with less nutritional guilt. Our Prime Day Kitchen Deals page has all the information you'll need here.
We've also seen some VERY exciting Fitbit deals (take a look at our dedicated Prime Day Fitbit deals hub for the ones still live, if that's what you're here for), along with discounts on other fitness trackers and running watches.
And if you want to see all the best offers on everything from tech to toys and beyond, head over to the bumper Prime Day deals (opens in new tab) hub from our excellent colleagues at TechRadar.
Amazon Prime Day fitness deals available right now in the US
As the event is officially live, we're busy compiling some of the best deals we can find, and we'll of course keep you updated over the next few hours. Check out these deals below - and check back regularly for the latest offers as we get them...
Amazon Prime Day fitness deals available in the UK
Amazon Prime Day fitness deals - what's it all about?
Amazon Prime Day is, as the name suggests, a day (or, more accurately, days) of exclusive deals held annually that's aimed specifically at Amazon Prime members.
The first Prime Day took place in 2015 and it has since grown to become one of the biggest retail sale events of the year, with savings to Prime members amounting to an estimated $10.4 billion in 2020 alone - and over 2 million deals expected this year. So there's sure to be plenty of Amazon Prime Day fitness deals up for grabs!
You can currently get Amazon Prime for $119 per year or $12.99 a month in the US (£79 a year or £7.99 a month in the UK.
Over 200 million people have now signed up for the loyalty program, which is up from 150 million Prime members in 2020 and a significant increase from the 2018 figure of 100 million.
Handily, you can get a 30-day no-obligation free trail of Amazon Prime - so if you're not already a member, hit one of the links below to sign up ahead of Prime Day!
Once you're a member you'll be able to gain access to lots of discounted deals on anything and everything on Prime Day sale within the Amazon store. That's an awful lot of items, and if it's fitness equipment and apparel that you're after it makes a great time to enjoy super savings on items you've had your eye on. You'll need to sign up for an Amazon Prime membership in order to gain access to the Prime Day discounts, so you'll need to get that before you can start bagging the sale items.
However, there are plenty of other great reasons to become a Prime member, with money-off options on all manner of items during other sale periods along with access to the likes of Prime Video, Prime Music, Prime Reading services and more. You also get the benefit of Amazon Prime delivery, which is a step-up from the regular options.
When will Amazon Prime Day fitness deals be available?
Amazon Prime Day were held throughout Monday 21 and will be held through Tuesday 22 June. Prime Day 2021 kicked off at midnight PDT/ 3am EDT and runs through to 11:59pm PDT / 2:59am EDT Tuesday in the US.
It will also be happening in the UK, the United Arab Emirates, Turkey, Spain, Singapore, Saudi Arabia, Portugal, Netherlands, Mexico, Luxembourg, Japan, Italy, Germany, France, China, Brazil, Belgium, Austria and Australia. No dates have been announced for Canada or India due to the ongoing coronavirus pandemic.
It's a good idea to bookmark this page, if you haven't already, because we'll be updating it with hot new deals on fitness equipment and apparel as they become available. Crucially, there are frequent early-bird deals appearing all the time too. So, if you've got your eye on ball you'll be one of the first to bag any bargains that appear. Many items are on sale for a limited period, or stocks may run out, so it's wise to stay organized and be ready to snap up those bargains.
Amazon Prime Day fitness deals - what to expect
There's plenty more to look forward to in terms of this year's Amazon Prime Day fitness deals.
Demand for fitness equipment has gone through the roof since the pandemic arrived and people have been exercising at home a lot more than they did previously. While that's caused some issues with supplies, Amazon being the mighty global e-commerce store that it is means the online outlet often has stock where other stores don't.
With that in mind, we're hoping to see big discounts on some of the best home workout equipment (think gym-style machines) along with smaller items such as weights and bands.
Amazon's discounted Prime Day selection extends beyond fitness kit too, with great deals to be had on fitness apparel also. Clothing, trainers and more besides are all likely to feature in Amazon's global money-off sales extravaganza.
Similarly, health and wellness products are also on sale. For example, save 20% on healthcare products from Amazon Basic Care, along with wellness and personal care products from other Amazon brands, such as Solimo, Revly, and Amazon Elements. Lookout for discounts on 23andMe Personal Genetic Service DNA Test Kits too. It's all there for the taking.
It's also worth noting that Amazon won't be the only retailer offering fitness deals during the event - many other retailers typically get in on the act too, in a bid to lure you away from all those fitness goodies sitting on the Amazon website.
So as well as staying across all of the best Prime Day fitness deals on Amazon, we'll also be keeping a close eye on the likes of Walmart, Target, Nordstrom and Best Buy in the UK, and Very and Currys in the UK to bring you the best offers across the retail sector.
We'll also be watching more dedicated health and fitness brands or retailers, including big names like Adidas (opens in new tab), New Balance (opens in new tab), Nike (opens in new tab) and Puma (opens in new tab).
Tech expert Rob Clymo covers multiple bases when it comes to both reviewing and staying in shape, tackling everything from cars and bikes to coffee machines, as well as the latest fitness kit. Keen cyclist Rob can often be found working out, usually by manhandling very large kitchen appliances in and out of the house for testing purposes – one notorious incident saw his plasterwork damaged by LG's weighty and steam-powered 'smart wardrobe', the Styler.