Prime Day fitness deals 2023
Amazon Prime Day is officially over – and there were big savings offered across gear including trackers, clothing supplements, and more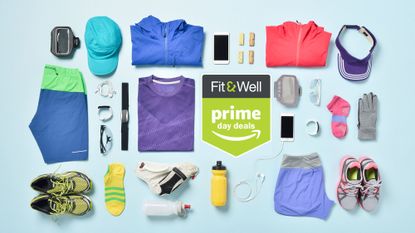 (Image credit: Getty Images)
Amazon Prime Day fitness deals have been and gone for another year.
The yearly occurrence, which officially kicked off on Tuesday 12 July through to Wednesday 13 July, saw savings across a wide range of fitness must-haves including popular Garmin models and Fitbit watches. But like in previous years, 2022's big money-saving event saw Amazon also offer money off items a little ahead of Prime Day in a bid to give spenders more time to shop and save on a range of bargains.
We saw the online retailer offer 37% off the popular Garmin Forerunner 945 Smartwatch, there was more than $200 off NordicTrack's T Series Treadmill, and you could pick up a Fitbit Luxe Fitness Tracker for 31% less. Essentially, the event enabled fitness fans to invest in some of the best rowing machines, the best treadmills, or smaller accessories like a new yoga mat, or a new kettlebell for much less.
Although Amazon Prime Day might be over for 2022, we still have next year's event to look forward to. But while we wait to hear when the next 48-hour event will kick off, keep this page bookmarked as we'll be keeping you up to date on the best Amazon Prime Day fitness deals as and when they happen.
Prime Day fitness deals FAQs
When do Prime Day fitness deals start?
We're yet to see 2023's date for Amazon Prime Day. In 2022, the event ran from July 12th through July 13th. While Prime Day occurred at a different time in 2020 and 2021 due to the COVID-19 pandemic, 2022 saw the event return to its original mid-year slot in July.
However, it wasn't just Amazon where you could find significant reductions this year. Other retailers, such as Best Buy and Dick's Sporting Goods in the US, and John Lewis and Decathlon in the UK, also slashed their prices.
Prime Day was first launched, by Amazon, in 2015 as a single-day event featuring exclusive deals on a range of products for Prime Subscribers. In 2017, for the third annual shopping event, Amazon extended Prime Day across two days in July.
The event continued yearly over two days until 2020, when the COVID-19 pandemic significantly impacted business and supply chains worldwide. As a result, Amazon moved Prime Day to October during that year while holding the 2021 event in June.
What makes a good Prime Day fitness deal?
Whether you want to mix up your workouts or improve your performance, fitness products can help. For instance, one of the best rowing machines can help you get a full-body session without leaving the house, and Prime Day is an ideal time to invest in a premium machine for less.
It's also worth considering which products will help you reach your fitness goals before making a purchase. Do you want to invest in the best ab roller to increase your core strength? Or is improving your flexibility through yoga your aim?
Next year there are also likely to be deals on the best workout shorts for whatever activity you enjoy, from running to cycling. Consult your doctor before starting a new workout or altering your exercise routine.
Fitness gadgets, including smartwatches and wireless earbuds, are a huge part of working out. The only trouble is that these usually come with a hefty price tag. However, Prime Day offers an excellent opportunity to save incredibly on the best workout earbuds while making your workouts smarter.
You should consider the practicalities of any Prime Day fitness deals, too. For example, if you have space for a dedicated home gym, then it may be worth investing in a treadmill or other large equipment like the best exercise bikes.
If you're tight on space, be on the lookout for foldable options, or easy-to-store alternatives like resistance bands or the best adjustable dumbbells.
Gemma Harris is a UK-based freelance journalist and health writer who blogs at thegutchoice.com and has specialist insight into gut health. She produces content for multimedia health and lifestyle platforms, including calmmoment.com, StomaTips, Planet Mindful and metro.co.uk because she has a passion for health and wellness. When not writing, she can be found walking or running in nature, at a yoga or spin class, swimming or having cocktails with friends.