"I'm building my own home gym for under $400 this Black Friday – here's how"
It's a real life hack working out from home and now with Black Friday savings happening we can help you build your own home gym for $350!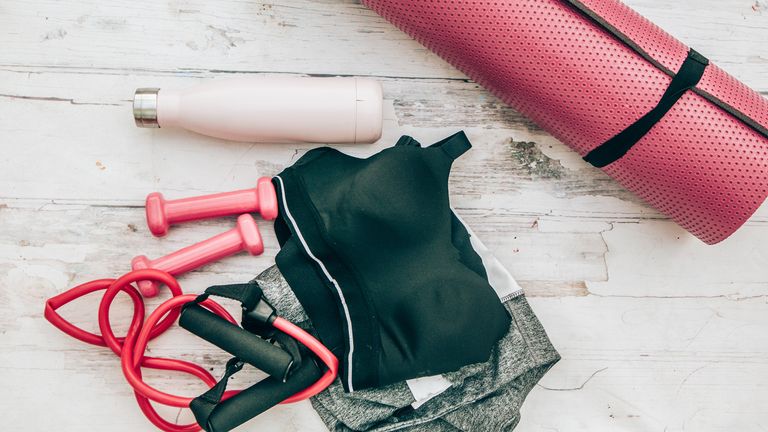 (Image credit: Getty)
By Jessica Downey published
Please note, these deals have now ended.

Home workouts don't have to end just because the gyms are open again. Plenty of us are shunning the gym since last year's lockdowns, and more and more people are decking out their homes with gym equipment. Now we understand this can get fairly pricey, but really it boils down to finding the right budget-friendly pieces like this. Our favorite bits of home gym equipment have been marked down in the Black Friday sales and we want to help you build your own home gym for less than $400!
You can effectively burn calories, torch fat all the while toning and building muscle with the following space-saving and affordable accessories: these Ambor Ankle weights are on sale right now at Amazon for $23.99, this Fitness LAT and Lift Pulley System is reduced to $65.98 at Amazon, this 150LB Barbell Set with Rack has nearly 50% off at Amazon, plus this Gaiam Yoga Mat has $6 off at Amazon.
I especially love how I can increase the intensity of a HIIT workout by adding in the ankle weights and adjustable dumbbells, but I can also switch up my resistance training with the lat pulley system. Not forgetting the importance of rest days, always ensuring to fit in some light stretching on my yoga mat.
The deals above are amongst some of the best Black Friday weights deals happening right now. If you aren't in the US we have you covered as we have included deals for your region below. You don't need a monthly membership to get the feeling of throwing yourself into a whole-body, resistance-training workout. And if you want the convenience of doing this at home, then take a look at the great savings below!
Our complete $350 home gym with pulleys, weights and more:
Fitness LAT and Lift Pulley System | was $99.99 | now $65.98 at Amazon
Fitness LAT and Lift Pulley System | was $99.99 | now $65.98 at Amazon
This is the perfect piece of equipment for a full body workout. You will be able to perform multiple functional exercises with this home gym accessory. It includes three detachable handles meaning you can easily switch the tricep rope for a honeycomb-shaped handle or finish up your workout with the LAT pull bar. Don't miss out on this deal and get it for $34 now!
CAP Barbell 150 LB Dumbbell Set with Rack | was $449.99 | now $233.89 at Amazon
This set of dumbbells stores away into an A-frame rack making them more space-efficient for your home gym. The set includes paired weights of 5lbs, 10lbs, 15lbs, 20lbs, and 25lbs. Pick your favorite colour of rack and get this set of dumbbells now for nearly 50% off!
Gaiam Yoga Mat | was $29.99 | now $23.99 at Amazon
This yoga mat is really great for transportating around with you as it is super lightweight yet 5mm thick which will make sure your back feels fully supported when practicing pilates or yoga on this surface. Grab one now and save yourself $6!
Now $23.99 | Saving $6 at Amazon
AMBOR Ankle Weights | Was $29.99 | Now $23.99 | Saving $6 at Amazon
Choose between four colors with these practical ankle weights that are perfect for intensifying any home workout. Or wear these on a walk or run to build on strength and stability. Get $6 off the 3LB set or get 20% off as well for lighter or heavier options.
Having a varied collection of different bits of equipment is ideal for keeping your home workouts versatile. Big expensive gym machines can come in handy but being able to resistance train is a real help for building all-round core strength, which will enhance your performance across lots of exercises.
The deals above feature some excellent savings and can bring together a nifty home gym step for under $400.
Fancy finding some more fitness deals? Be sure to check out Fit&Well's Black Friday rowing machine deals, or our guide to the best Black Friday workout clothes.
Black Friday fitness deals: US retailer quick links
Black Friday fitness deals: UK retailer quick links
All the best Black Friday health and fitness deals in one place
Jessica is Staff Writer at Fit&Well. Her career in journalism began in local news and she holds a Masters in journalism. Jessica has previously written for Runners World, penning news and features on fitness, sportswear and nutrition. She is a keen runner and is currently sweating her way through a 10k training plan. Jessica also enjoys building on her strength in the gym and is a believer in health and wellness beginning in the kitchen - which she loves sharing with others on her healthy living-inspired Instagram account, @jessrunshere. Despite her love for nutritious cooking, she stands by the saying 'everything in moderation' and is eagerly conquering the London food and drink scene!