Prime Day supplement deals 2022: Bulk buy with these vitamin savings
The best Prime Day supplement deals are back and quicker than expected — here are the top bargains to look out for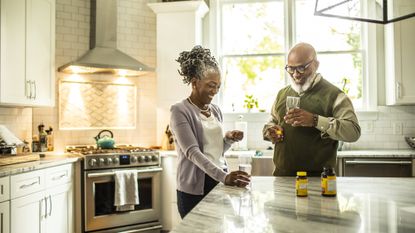 (Image credit: Getty Images)
We thought Prime Day supplement deals were over for another year. But just weeks ahead of Black Friday, Amazon has surprised us all by launching its Prime Early Access Sale.
The sale — which is more informally known as Prime Early Access Sale — kicks off on October 11 at 12 am PT and comes to an end on October 12 at 11.59 pm. The two-day event will see 'hundreds of thousands of deals' across a range of products including money off all the top Prime Day supplement deals.
So if you missed out on your chance to prioritize your health for less in July's Prime Day, don't panic. Thanks to the Prime Early Access Sale, you'll get another chance to add all the best Prime Day supplement deals to your basket.
The big money-saving occasion comes months after the last Amazon Prime Day sale in July, where we saw some impressive savings on everything from protein powders to essential daily vitamins to keep you feeling your best. There was also a range of the best fish oil supplements, menopause supplements, and the best protein powder for weight loss available at discounted prices.
Here at Fit&Well, we test a whole range of supplements from vitamins designed to help you as you age, to the best supplements for joints. So, we're using our expertise to help you find products that are genuinely worth the money during this Amazon Prime Day 2 event. Thankfully, some of the top deals have already started dropping. To discover all the best Prime Day supplement deals, keep scrolling.
Prime Day supplement deals: when do sales start?
The Amazon Prime Early Access Sale will start on October 11 at 12am PT and it will come to an end on October 12 at 11.59pm.
The previous Amazon Prime Day 2022 took place on July 12 and 13, 2022. This year, it was back to its original mid-year slot following adjustments in 2020 and 2021 due to the pandemic. However, this second Amazon Prime Day 2 comes weeks before the global online marketplace's Black Friday sales are due to begin.
Amazon first launched Prime Day in 2015 for Prime subscribers to shop with exclusive discounts on a range of products for a single day. For the third annual shopping event in 2017, Amazon extended Prime Day across two days in July.
The yearly two-day event continued until 2020, when the COVID-19 pandemic affected businesses and supply chains worldwide. In that year, Amazon shifted Prime Day to October and then held the 2021 event in June.
Prime Day supplement deals: what to look out for
While you can get most nutrients from your diet, it's not always possible to get everything your body needs from food alone. If you can't add oily fish to your diet, there are so many benefits of fish oil that it's a good idea to use Prime Day to stock up on these omega-3 supplements.
Similarly, if you eat a primarily plant-based or vegan diet, you may want to supplement your diet with vitamin B12, typically found in meat and other animal products. Our needs change over the years, so it's worth using supplements as you age, too but always seek advice from your doctor before taking a new supplement.
There may be discounts or savings on the best menopause supplements to help you manage hot flushes, mood swings, and night sweats as you go through menopause, while the best protein powder for women supports muscle growth and maintenance.
When you exercise, small tears appear in your muscle fibers. Your body uses protein to repair these, and protein powders are a great way to ensure your muscles get everything they need to promote recovery and encourage muscle growth.
How to find good Prime Day supplement deals
To get the most from Prime Day supplement deals, it's worth considering what type of supplement would best support your body. If you're unsure, talk to your doctor or healthcare provider about your specific needs.
Supplements are usually branded or marketed towards certain lifestyles. These might be just what you need, but if you're after a vitamin D supplement, you might not need a more comprehensive multi-vitamin.
If you eat a vegan diet, then fish oil supplements and B12 vitamins are a good way to top up your nutrient levels, but be sure to look out for brands that specifically mention that they are vegan-friendly, as not all supplements are.
When searching for a Prime Day supplement deal, price is often a significant consideration. Before we feature any deals, we investigate historical prices, compare them against other retailers, and put them into context so you can make an informed choice.
James is a London-based journalist and Fitness Editor at Fit&Well. He has over five years experience in fitness tech, including time spent as the Buyer's Guide Editor and Staff Writer at technology publication MakeUseOf. In 2014 he was diagnosed with a chronic health condition, which spurred his interest in health, fitness, and lifestyle management.
In the years since, he has become a devoted meditator, experimented with workout styles and exercises, and used various gadgets to monitor his health. In recent times, James has been absorbed by the intersection between mental health, fitness, sustainability, and environmentalism. When not concerning himself with health and technology, James can be found excitedly checking out each week's New Music Friday releases.
With contributions from