Save 30% on this weight loss protein powder during Amazon Prime Day!
Looking to up your protein intake in a bid to help you hit your goal weight? This Prime Day deal is here to help...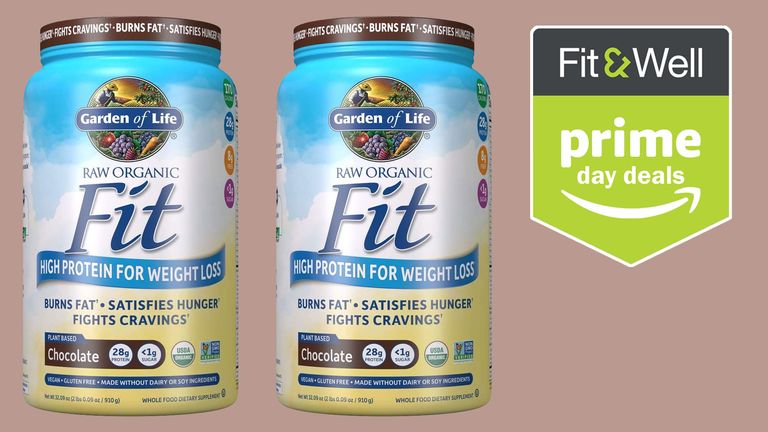 (Image credit: Amazon)
Please note, this deal has now ended.
We've been keeping a close eye on all the best Prime Day fitness deals, covering everything from exercise equipment and workout wear to nutritional supplements - and one deal has caught our eye.
If you're not attached to a single brand, you can save some money using our roundup of all the Black Friday protein deals from across the web. But if you're a fan of a specific brand, it's not the only way to find a great discount.
Garden of Life Raw Organic Fit Powder, a high-protein powder that's specifically designed to aid weight loss, is on offer right now, reduced from $61.99 to $43.39 in the Prime Day event (opens in new tab) - that's a saving of 30%. The discount applies to the 20-serving tub of the chocolate flavor, which is just fine by us - because who doesn't like chocolate?
And what's more, according to Amazon.com, new Prime subscribers can save an extra 20% when you start a FREE 30-day trial membership. Double winning!
Check out the deal in more detail below...
Garden of Life Raw Organic Fit Protein Powder for Weight Loss (chocolate, 20 servings) | Was $61.99 | Now $43.39 | Saving $18.60 (30%) (opens in new tab)
Featuring plant protein from organic peas and sprouted organic grains, seeds and legumes, this protein powder for weight loss is dairy- and soya-free and kosher certified. Containing Svetol green Coffee bean extract to burn fat naturally, it's designed to help you stay fuller longer, whilst also boosting energy levels and helping to build lean muscle mass.
When it comes to the best protein powders for weight loss, there's one obvious thing to look for - and that's high protein content (the Garden of Life Raw Organic Fit Powder contains a generous 28g per serving).
That's because studies (opens in new tab) have shown that a diet featuring high protein consumption leads to feeling fuller for longer than low-protein diets - meaning you're less likely to snack outside of meals, thereby increasing your daily calorie intake.
Working on the basis that, at its heart, weight loss relies on a calorie deficit (i.e. burning more calories than you consume), it's easy to see why protein can help you reach your weight loss goals.
Stephanie is Editor of Fit&Well. With 15 years experience, she has previously worked for titles including Woman&Home, MSN and Stylist, covering all aspects of women's lifestyle including health and fitness. Her preferred way of staying fit and well is sport: she regularly plays tennis and has been a keen netballer since her school days. She currently plays with her London-based team, Cool Runnings, and is also a qualified Level 2 Netball Coach. Stephanie recently started strength training, and can now regularly be seen hobbling around her local area as DOMS kicks in. Happily, she's since discovered the joy of recovery days. As a result, her top fitness tip is: invest in a foam roller!