This Black Friday Water Rowing Machine deal is nearly half-price, and it's under $500!
This Black Friday Water Rowing Machine deal is so cheap, we had to check it was real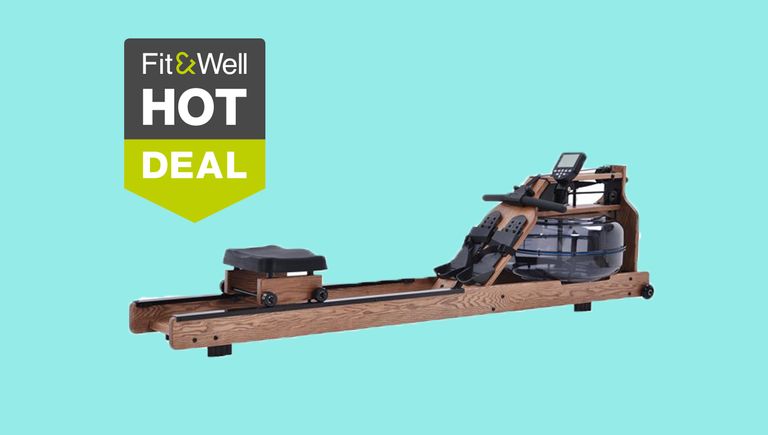 (Image credit: Walmart)
By Jessica Downey published
This Black Friday water rowing machine deal saves you almost 50% on the whole body workout machine. The Walmart rower is a more affordable friendly alternative to Hydrow and NordicTrack, and it comes in an ash-wood design making it a stylish addition to your home gym.
The water rowing machine is on sale right now at Walmart for $491.88, that's almost 50% off its original price of $899.99. The best rowing machines on the market right now all vary and this wooden textured model is most like a traditional rowing machine, providing resistance via a round water tank. You should feel a convincing real water rowing experience as you work out on this rower. Not in the US? Don't worry, you'll find the best deals on rowing machines in your region below.
Currently, the most impressive Black Friday rowing machine deal we've seen, this rower also has front feet and wheels built into it so that you can easily transport it and store it away without difficulty. This water rowing machine does exactly what it says on the tin and will be a great purchase for anyone looking to torch fat and tone up at home.
Check out the water rowing machine deal below to save an impressive $400 on this exercise equipment right now!
Black Friday water rowing machine deal
Water Rowing Machine | Was $899.99 | Now $491.88 | Saving over $400
This water rower will give off that real boating feel as you row. You have control over the pedal position and the seat is made mobile by four wheels that travel up and down two main tracks. With an electric monitor included you can be sure to keep up to date with accurate records of all your workouts. Hurry now and get this water rowing machine for almost half-price!
This water rowing machine will make you forget you are working out from home as it simulates rowing a boat on a calm body of water with its 20-inch water tank. Perhaps you don't rate the industrial gym appearance of many workout machines and will favor having a rower made with premium ashwood to feature in your home gym.
The water rower's dimensions are 82.5" x 21.9" x 14.8" and the fully assembled piece of equipment weighs 58lb. Being able to wheel the machine about makes transportation really simple plus it can be stored upright using up minimal floor space. Saving $400 on this water rowing machine is a real bargain.
If you are also on the hunt for additional home gym essentials then be sure to check out our Black Friday treadmill deals roundup or our Black Friday workout clothes deals essentials guide.
Black Friday fitness deals: US retailer quick links
Black Friday fitness deals: UK retailer quick links
Jessica is Staff Writer at Fit&Well. Her career in journalism began in local news and she holds a Masters in journalism. Jessica has previously written for Runners World, penning news and features on fitness, sportswear and nutrition. She is a keen runner and is currently sweating her way through a 10k training plan. Jessica also enjoys building on her strength in the gym and is a believer in health and wellness beginning in the kitchen - which she loves sharing with others on her healthy living-inspired Instagram account, @jessrunshere. Despite her love for nutritious cooking, she stands by the saying 'everything in moderation' and is eagerly conquering the London food and drink scene!